p 2023
---
---
JUNIOR CAPTAIN 2023, HARRY CATLIN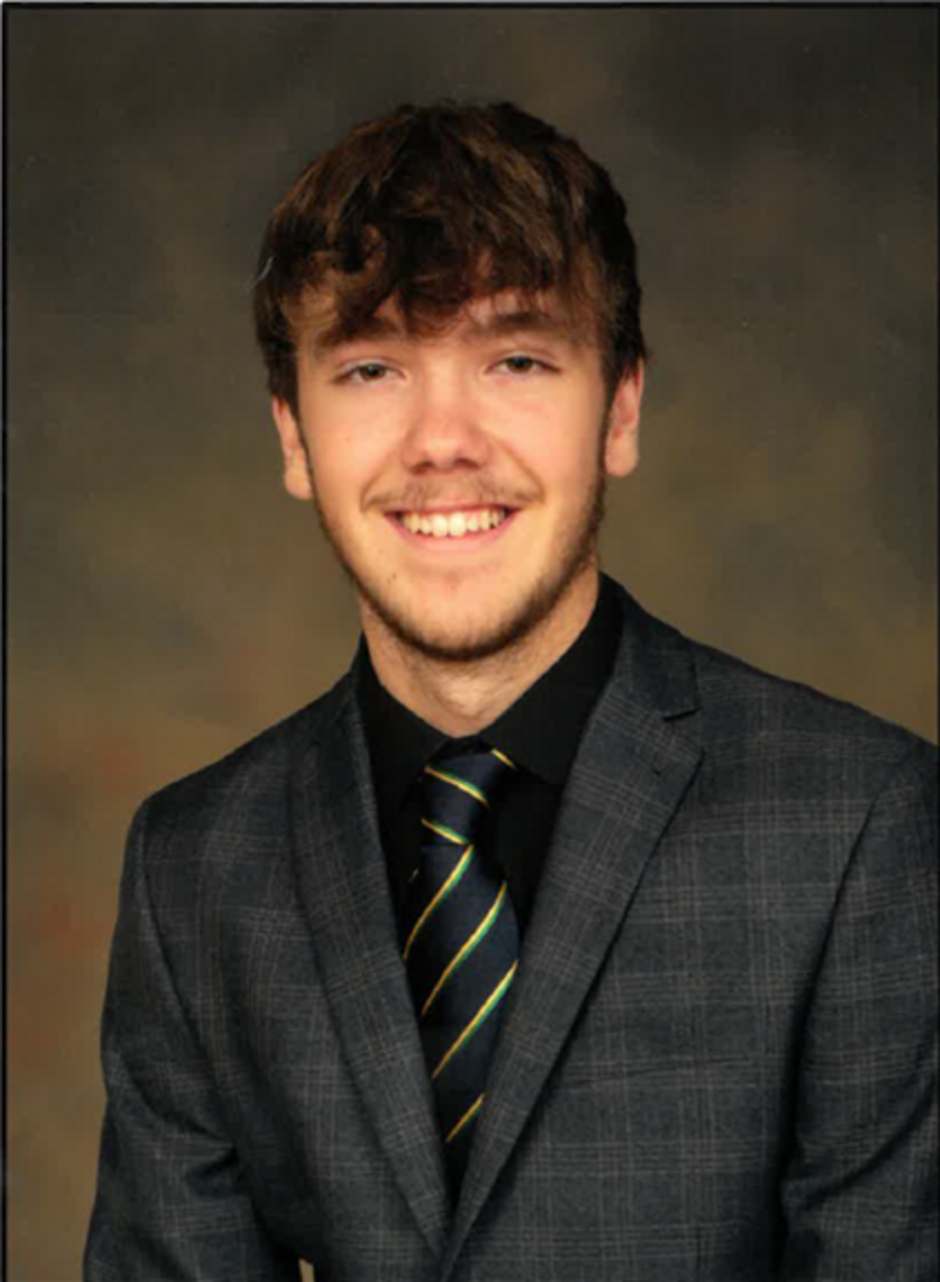 My name is Harry Catlin and I am the Junior Captain for Letchworth Golf Club 2023.
I have had the pleasure of being a member at Letchworth for 3 years during which time my handicap has come down to 5. I am part of the HGU County squad and have the pleasure of representing Hertfordshire in County matches & playing in Junior Opens throughout the county and South East region.
Junior Golf at Letchworth is unique and has produced some of the finest young golfers in England. We have fabulous training facilities and the unique Mike Amos Foundation who provides funding for entries to Junior Opens, subsidised coaching and supports golf for young people in Letchworth and North Hertfordshire.
We have some fantastic young talent at Letchworth and I am looking forward to captaining the Letchworth Junior team in all the matches that have been arranged.
On this website you can see the list of Junior competitions that are open to Heritage members and we are introducing lots of new initiatives for beginners and academy members in 2023 this includes weekly Roll Ups through the playing season.
I hope I get the opportunity to play with all the juniors during my year.
I wish everybody a fun time and look forward to seeing you soon.
Regards, Harry Catlin
---
JULIE CRANSTON KNOCKOUT DRAW 2023 - Click HERE
---
HRJ Foreman Laws Academy Cup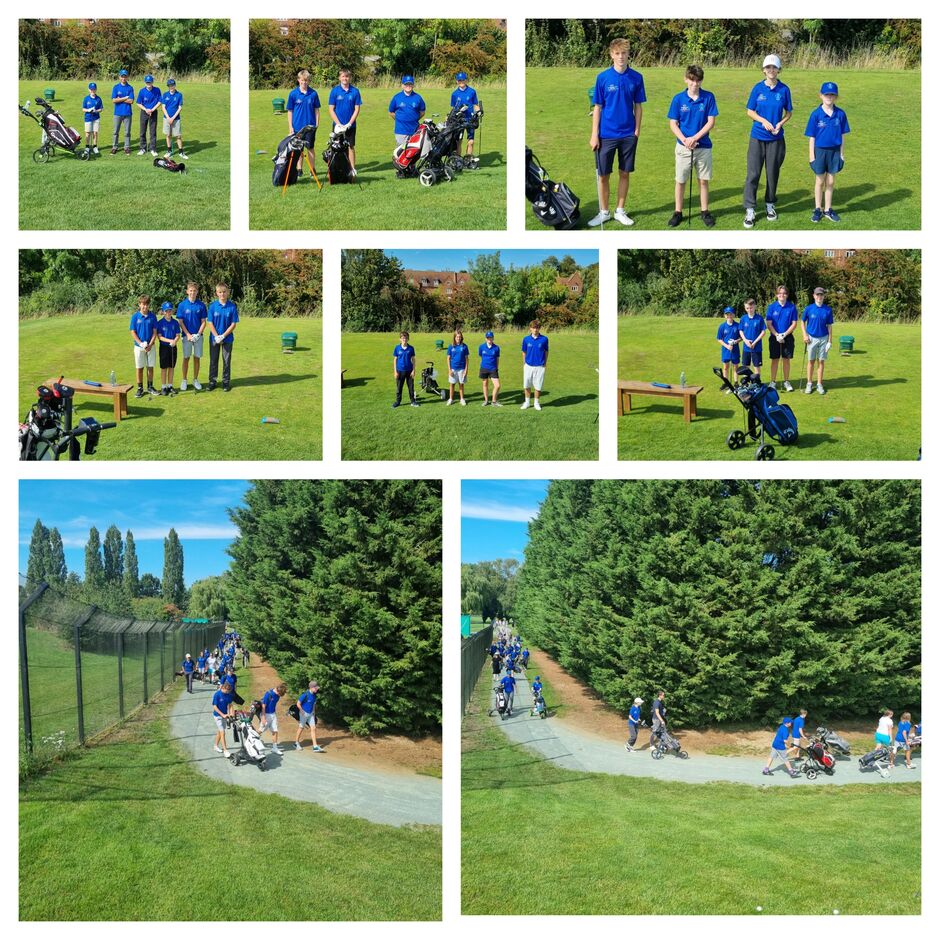 On Sunday 3rd September the junior section held their annual Texas Scramble on the Academy course with their sponsor, HRJ Foreman Laws.

The competition was played over 12 holes and included both Heritage and Academy juniors, with 24 players split into 6 teams.

The day was a great success, with every team captained by a Heritage junior and with the experienced juniors really looking after and encouraging the younger Academy juniors. Many of the younger players held their own in a close competition, with the winning team only 2 points ahead of the teams in 4th & 5th place.

The eventual winners of the HRJ Foreman Laws Academy Cup were Jayesh Patel (Junior Vice Captain), Ben Andrew's, Lucas, and Hayden Minnis.

The junior section would like to extend a big thank you to their sponsors HRJ Foreman Laws for their continued support and for also sponsoring the days event. Thanks also to Club Chairman Ian Hammond for hosting the prize giving.

---
Juniors VS Thursday Gentlemen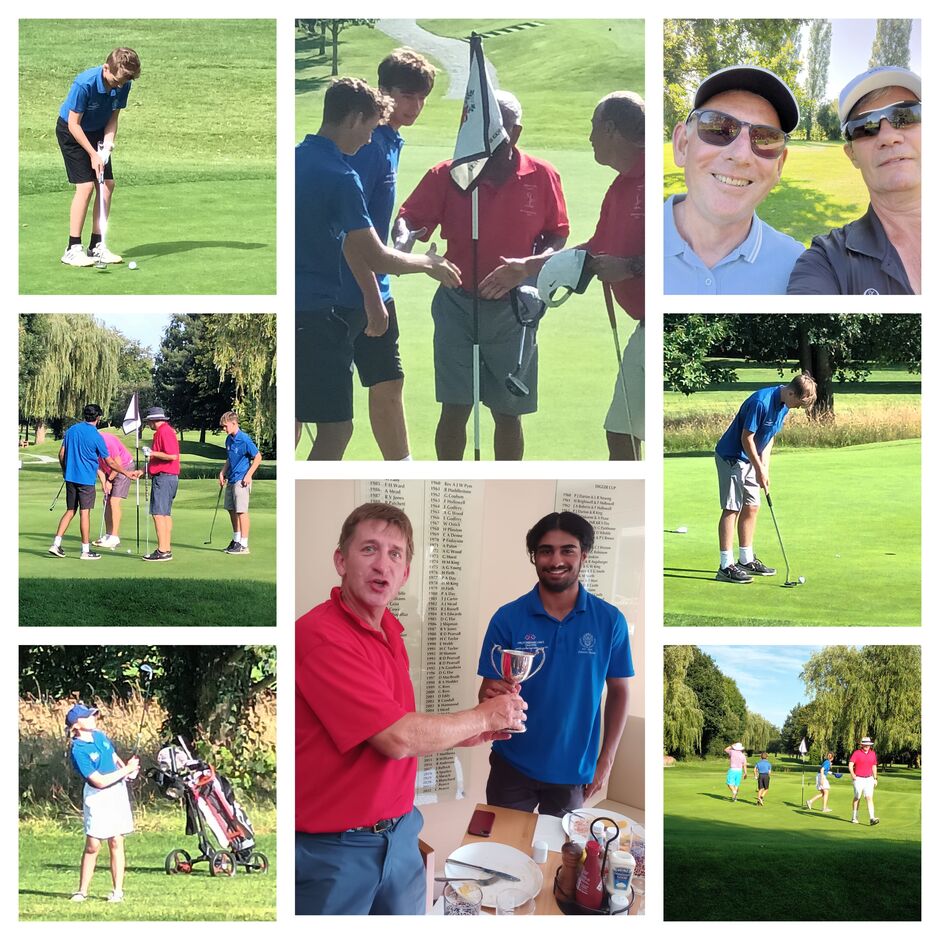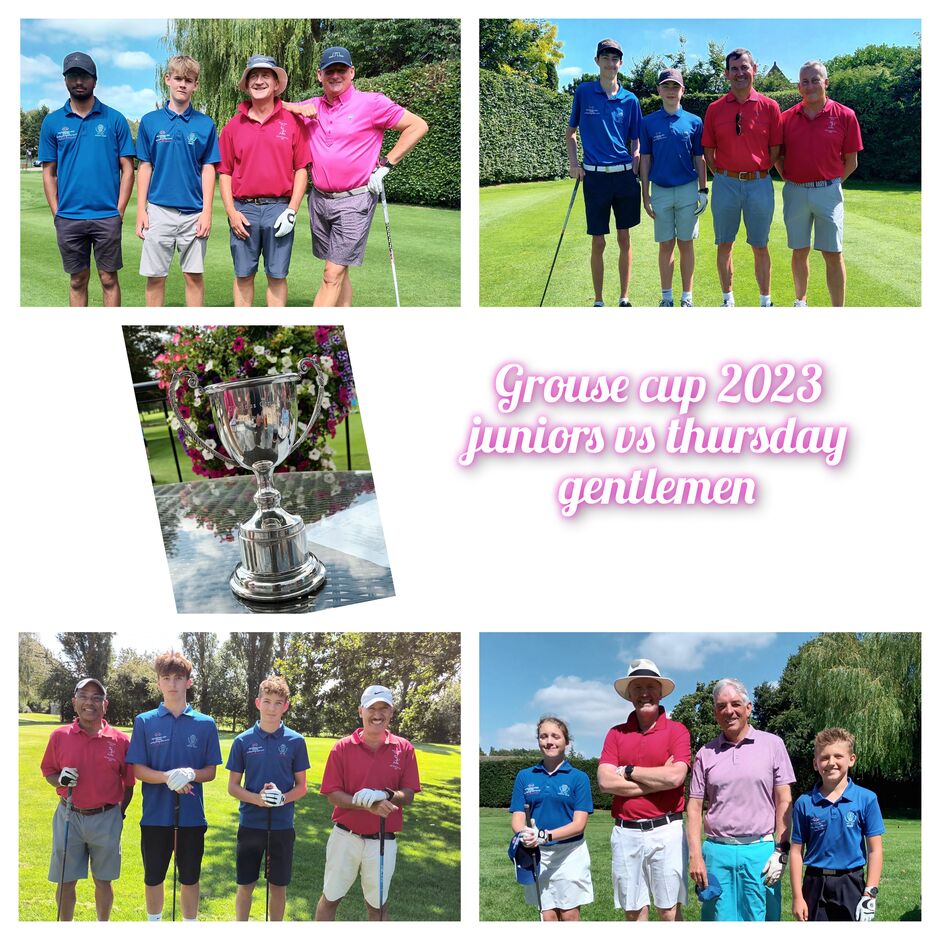 Congratulations to the Juniors on another win this season!
On Thursday 10th August two teams took to the fairways to win the Grouse Trophy. A great day for it and some excellent golf with an Eagle by Amelia on the 13th Hole.
Zac & Oscar vs George & Jothi - 1 point to the Juniors 2 & 1
Kesir & James vs The Robs - 1 points to the Juniors 2 & 1
Amelia & Owen vs Ian & Matt - 1 point to the Juniors 2 & 1
Hayden & Harry vs The Andies - 1 point to the Thursday Gentlemen
Final result - Juniors 3 / Thursday Gentlemen 1
The Juniors are unstoppable this season and some brilliant golf all round.
---


JUNIOR OPEN 2023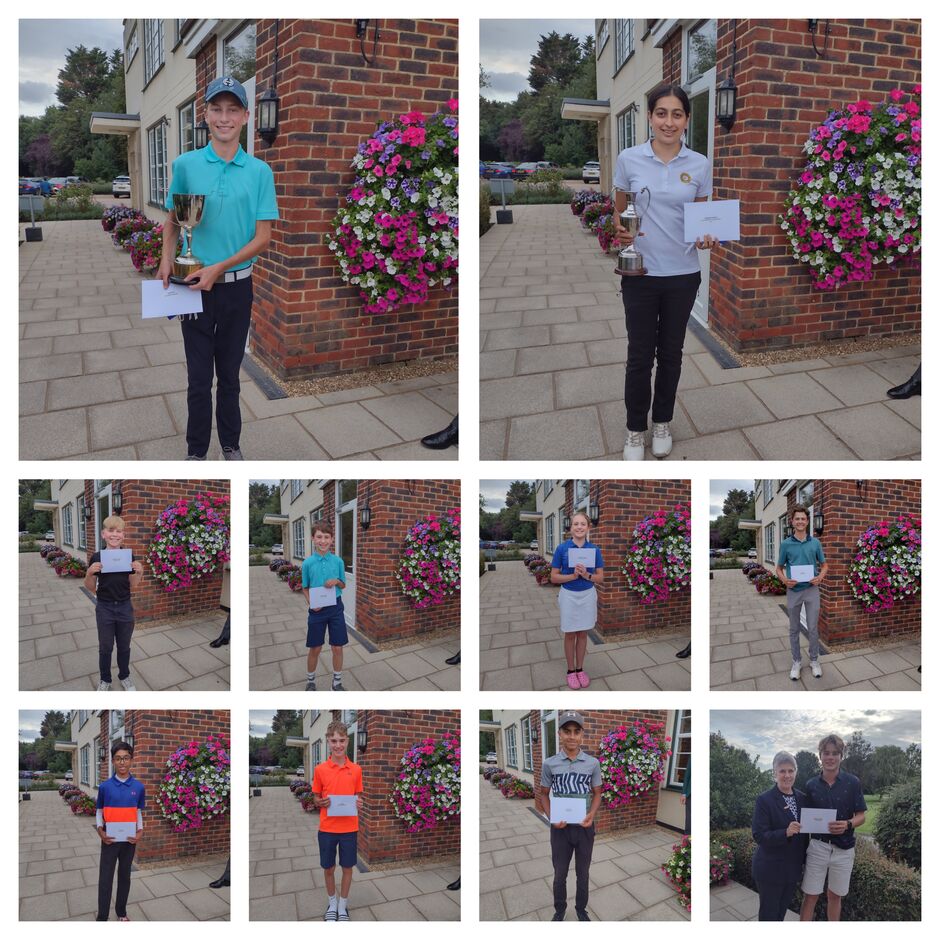 After 4 years since our last Junior Open, we saw 27 players from 15 clubs around the country take to our fairways. The day was perfect from start to finish and that included the weather which behaved long enough for our players to stay dry and enjoy our unique 36-hole event.
At lunch there were some great scores already in and it was a close one between Eddie Wade of Harpenden Common on Gross 72 and Ben Sessions from Bishops Stortford on 73. LGC own Kesir Sangha was in 3rd with a 79. So all to play for.
After the afternoon round the scores were definitely improved so it was going to be an exciting result. Ben managed to keep up his consistancy to shoot a round of 72 to follow his 73 and win the Junior Open title by 8 shots from Kesir who had shot a great round of 74.
In the Nett competition it was our very own Jacob Lovatt who shot his career best rounds of 71 / 68 to win by 1 shot from Aman Shah of West Herts.
The Ladies President Centenary Cup (Girls) was won by Mahika Shah of Stanmore with consistent rounds of 86 / 84. A special mention to LGC's Amelia Parker as this was her very first 36-hole event. An incredible achievement for her.
Out of the field of 27 players, 6 were from LGC which is brilliant and all performed amazingly well alongside being the perfect hosts.
CONGRATULATIONS TO ALL THE PLAYERS!
We look forward to hosting again on Thursday 8th August 2024.
---
Centenary Cup 2023
A pleasant day saw the opportunity for a low scoring medal competition.
9 Players took part with all of them tending to struggle on the first few holes. At the turn Oscar led the way on 41 James on 43 Harry C on 44. The only birdie on the front 9 coming from Rhianna on the 6th hole.
Scoring was easy on the back 9 as the wind had dropped. Harry with 39, Oscar with 43 and James with 44. The only birdie being Harry C on 16. A g reat days golf!
Final Results:
Gross 1st Harry Catlin 83
2nd Oscar Kahlow 84
Net 1st James Andrews net 64
2nd Oscar Kahlow net 66
Nearest the pin in 2 on 9th - Oscar Kahlow
---
The Holden Trophy 2023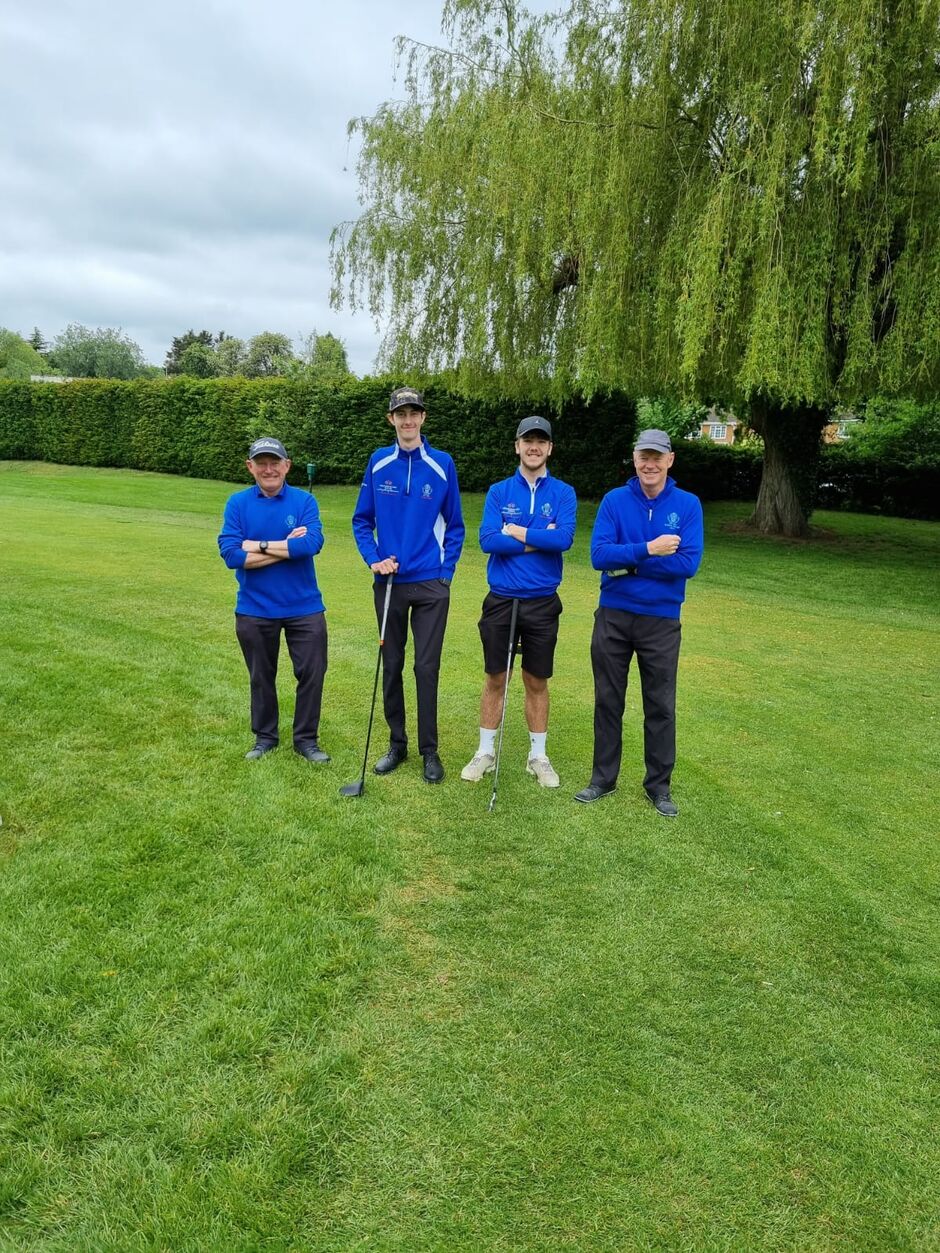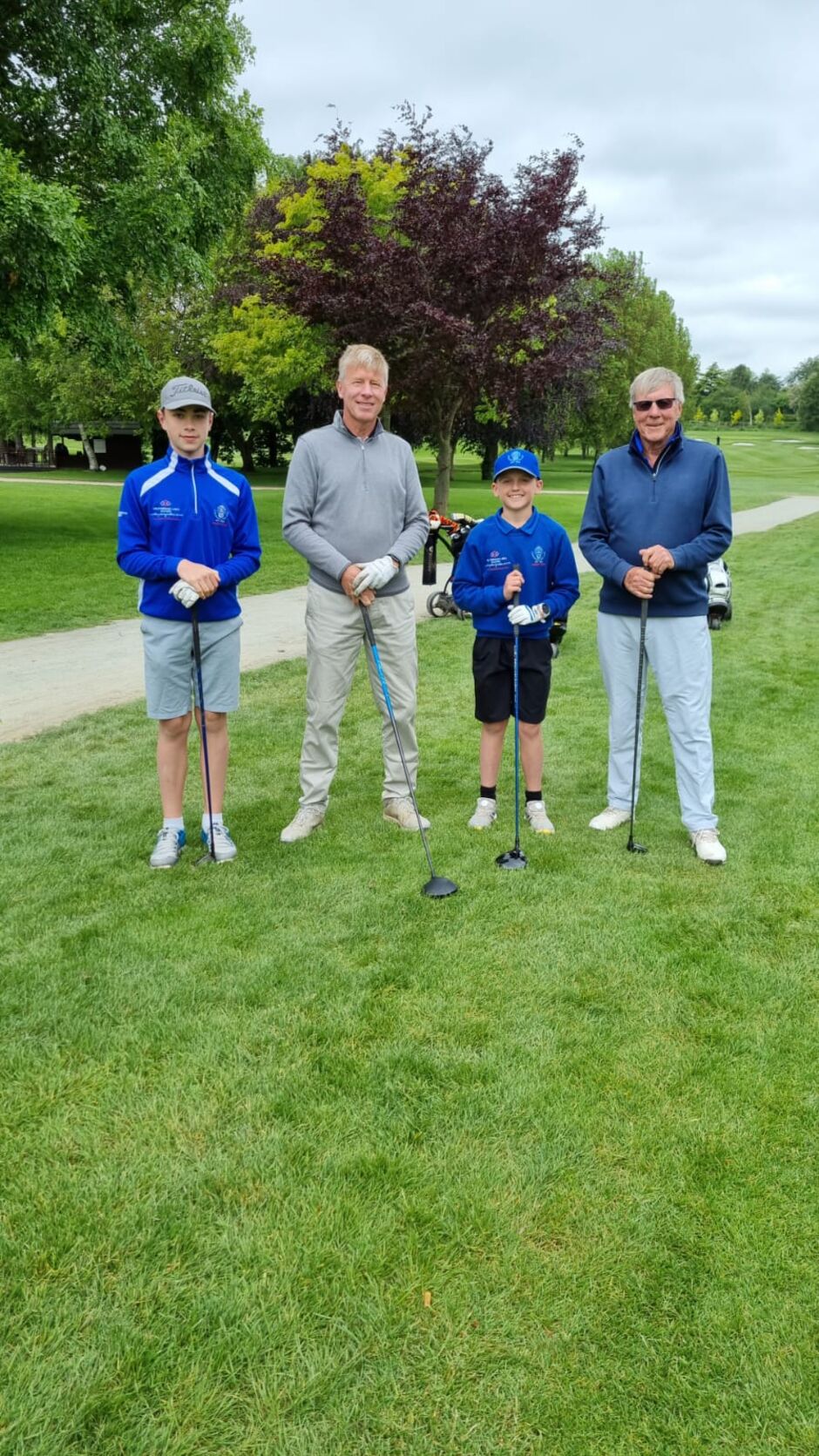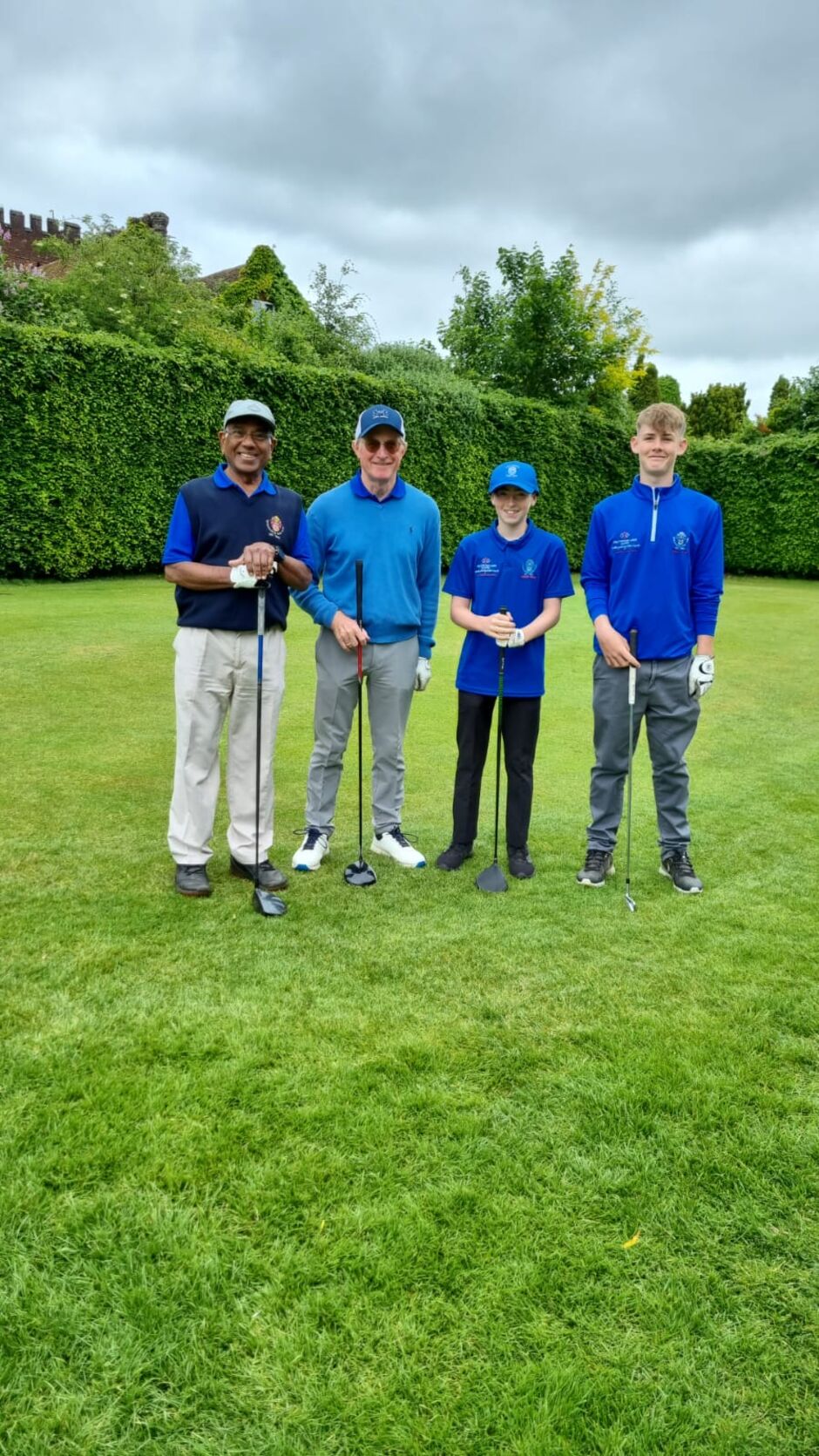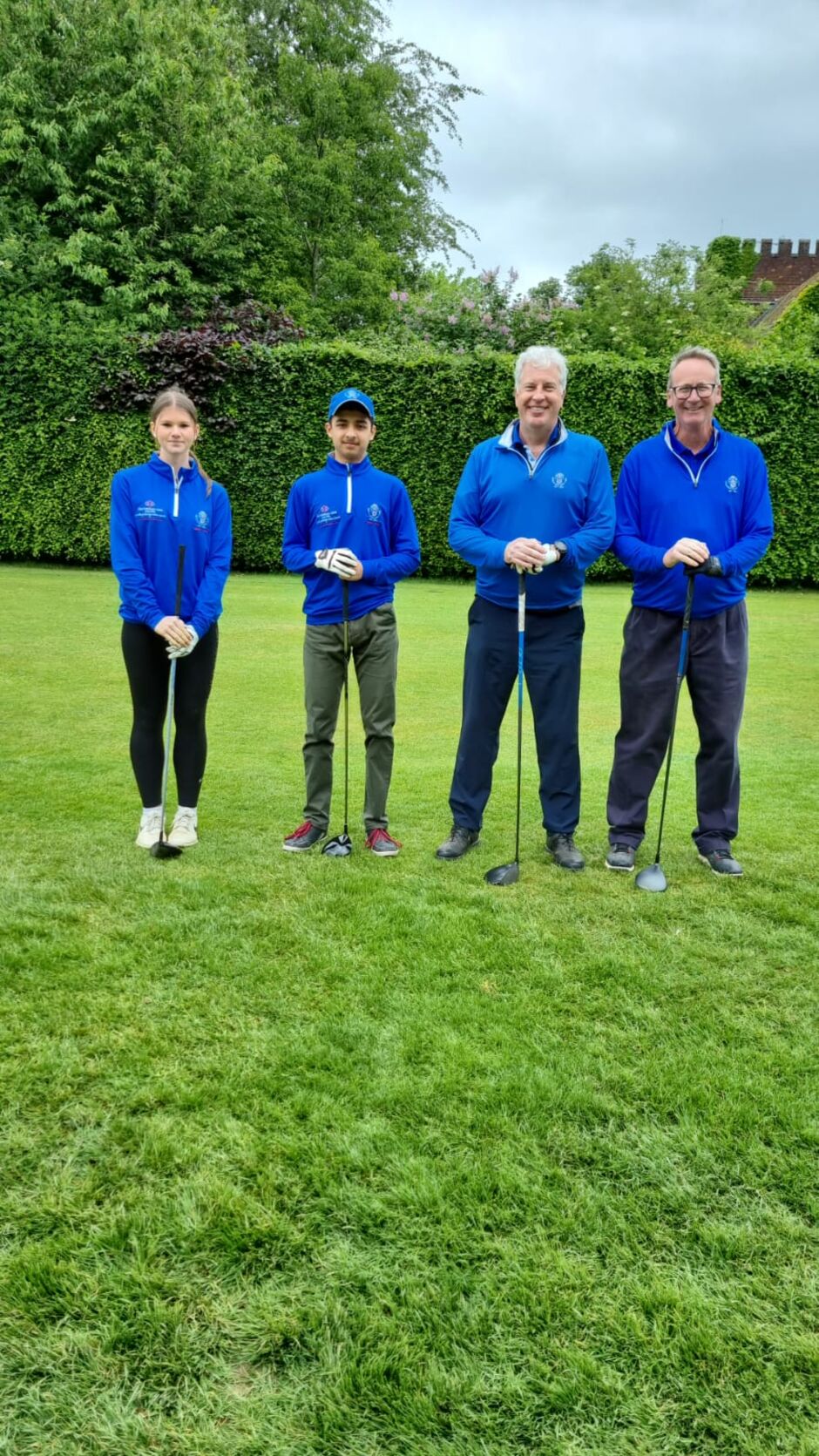 On Wednesday 31st May we saw the annual Holden Cup take place on the Heritage course. 10 players from each team, Seniors & Juniors paired up to play a little bit of matchplay.
| | | |
| --- | --- | --- |
| Junior Pair | Senior Pair | Result |
| Junior Captain Harry and Hayden | Seniors Captain Paul & Jeff | Seniors 1up |
| Owen & Harry | Paul & Peter | A/S |
| James & Jamie | Club Captain Ciaran & Saba | Juniors 1up |
| Jacob & Oscar | Satnam & Andy | Juniors win |
| Rhianna & Jayesh | Andrew W & Andrew S | Juniors win 5&4 |
A final result seeing the Junior retain the trophy with a 3.5 to 1.5 score.
Congratulations to all the players who played some great golf out there!
---
HERITAGE SCHOOLS TROPHY 2023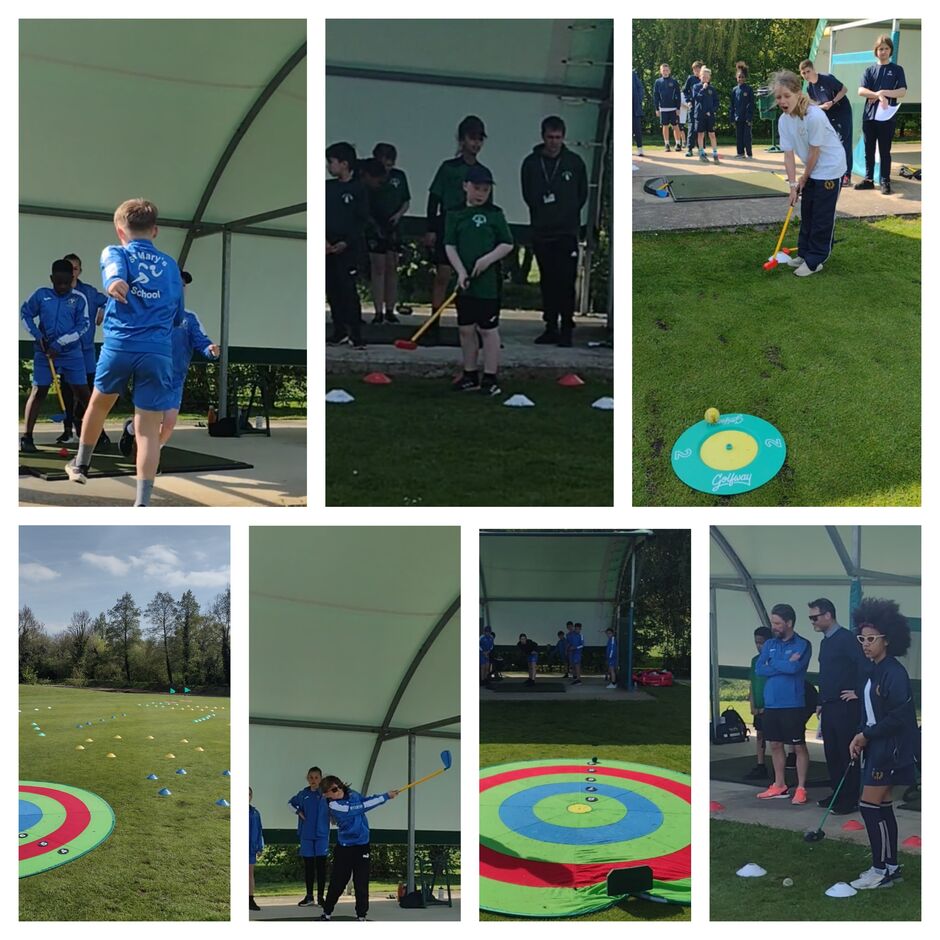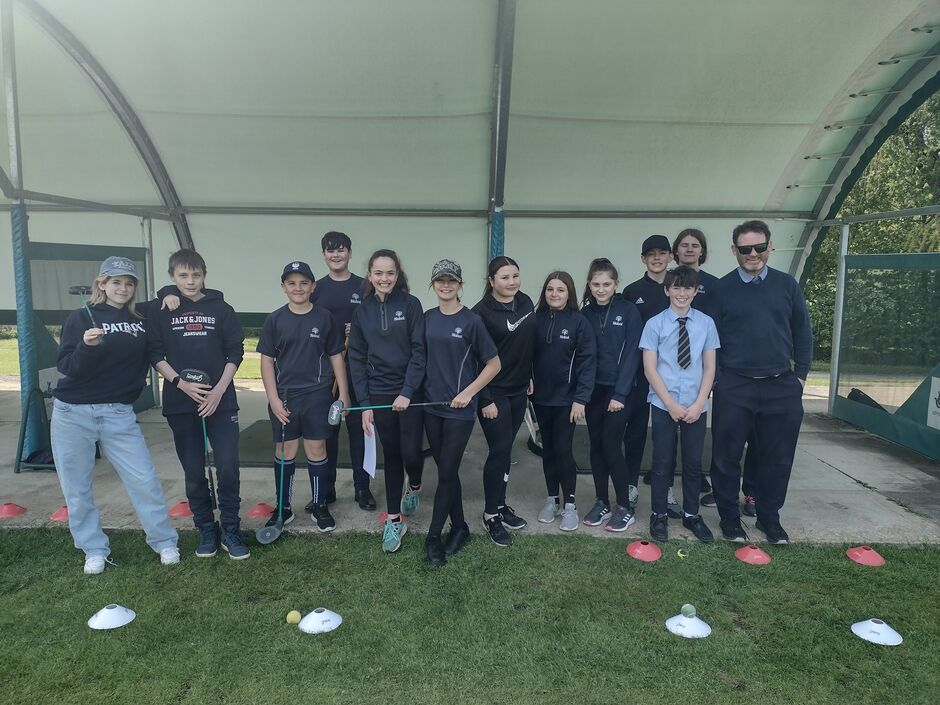 Wednesday 3rd May saw 54 pupils from 5 local schools come down to Letchworth GC for the annual Heritage School Trophy along with their PE teachers and volunteers. Schools taking part were Pixmore, St Marys, St Francis, St Christopher and Hartsfield.
8 games were played by each school in 10 minute intervals. Each school trying to get as many points as they could in the alloted time.
A huge thank you to all the volunteers on the day, making sure everything went smoothly from setting up to prize presentation. Rich Moore and his 13 Nobel school pupils who set up and ran each game. Debbie Hammond for lead organiser and time management on the day. Ann & Tom Coulter for their time spent supporting the games and being a great aim point at times.
Final results of the day saw Pixmore take home the trophy with an incredible score of 713 points. In second was St Francis Blues team with 682 points and in third St Marys A with 644 points.
Congratulations to everyone that took part and see you in 2024!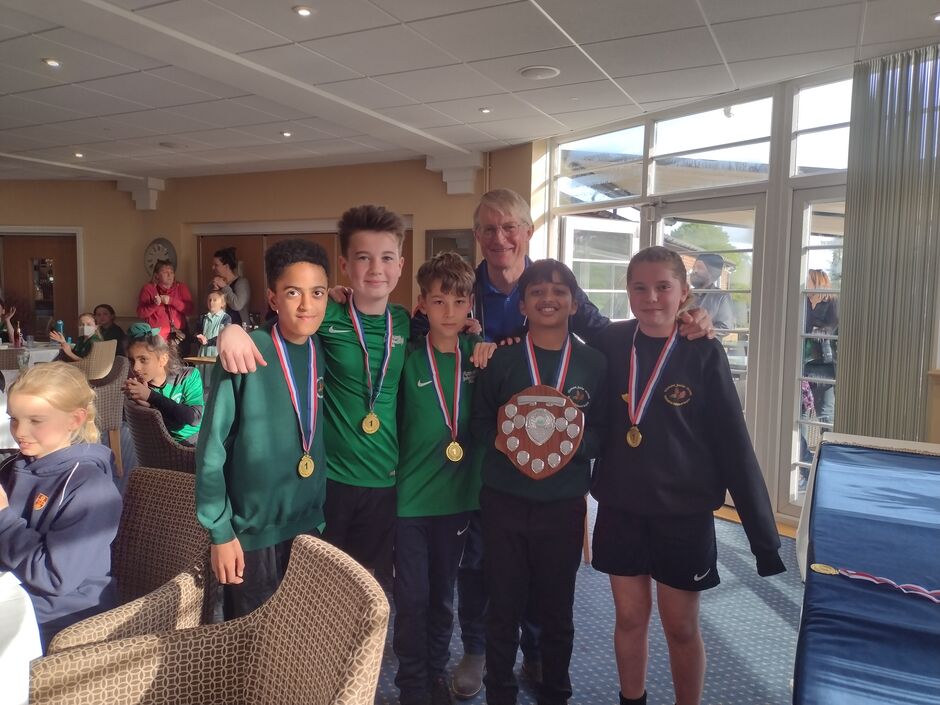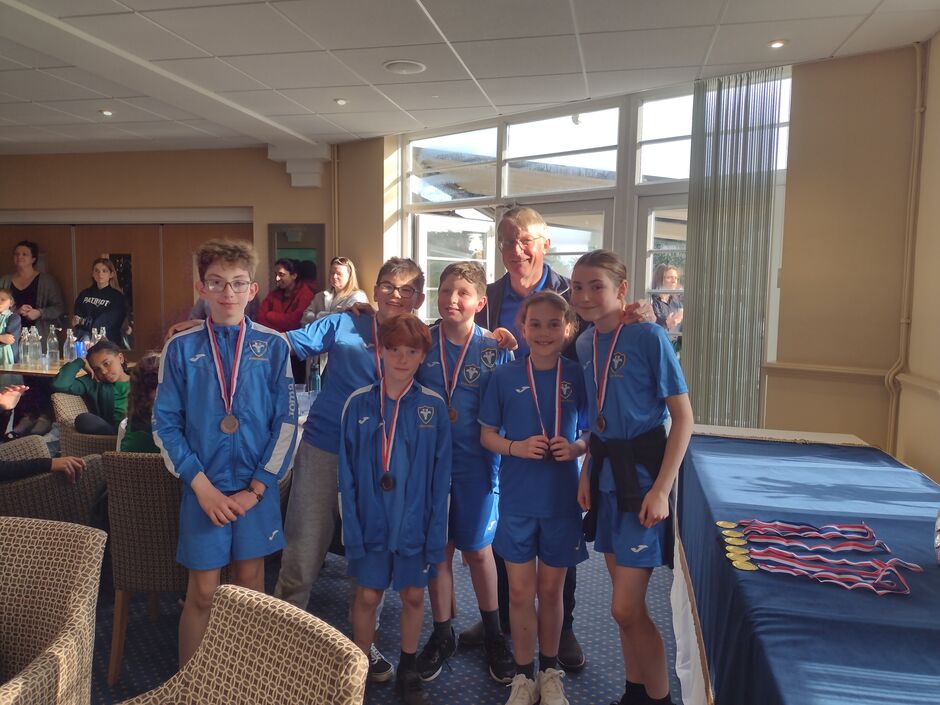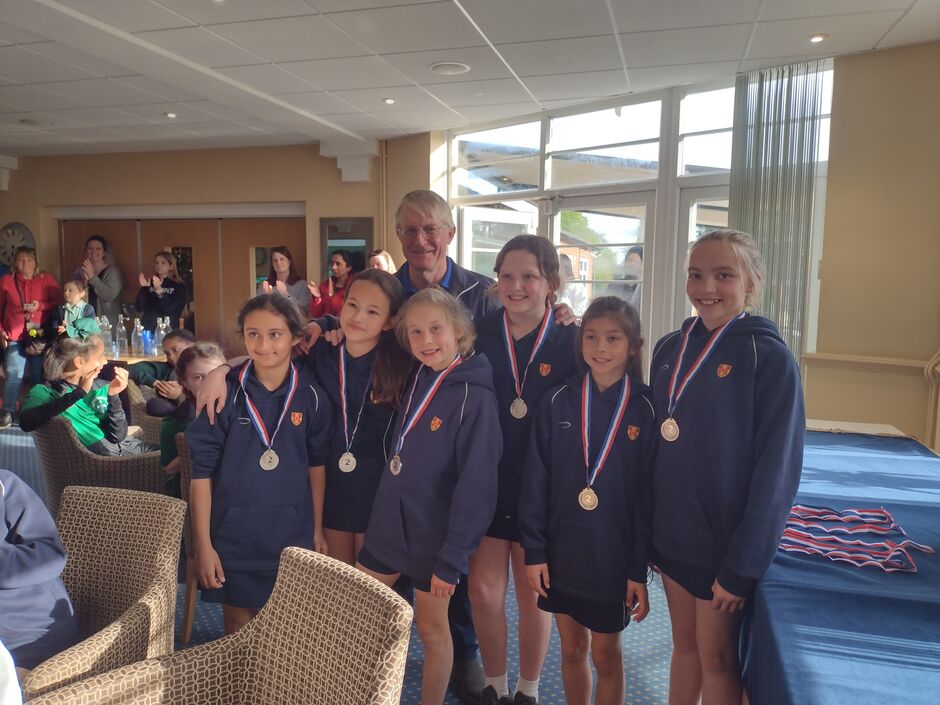 ---
NATS Trophy 2023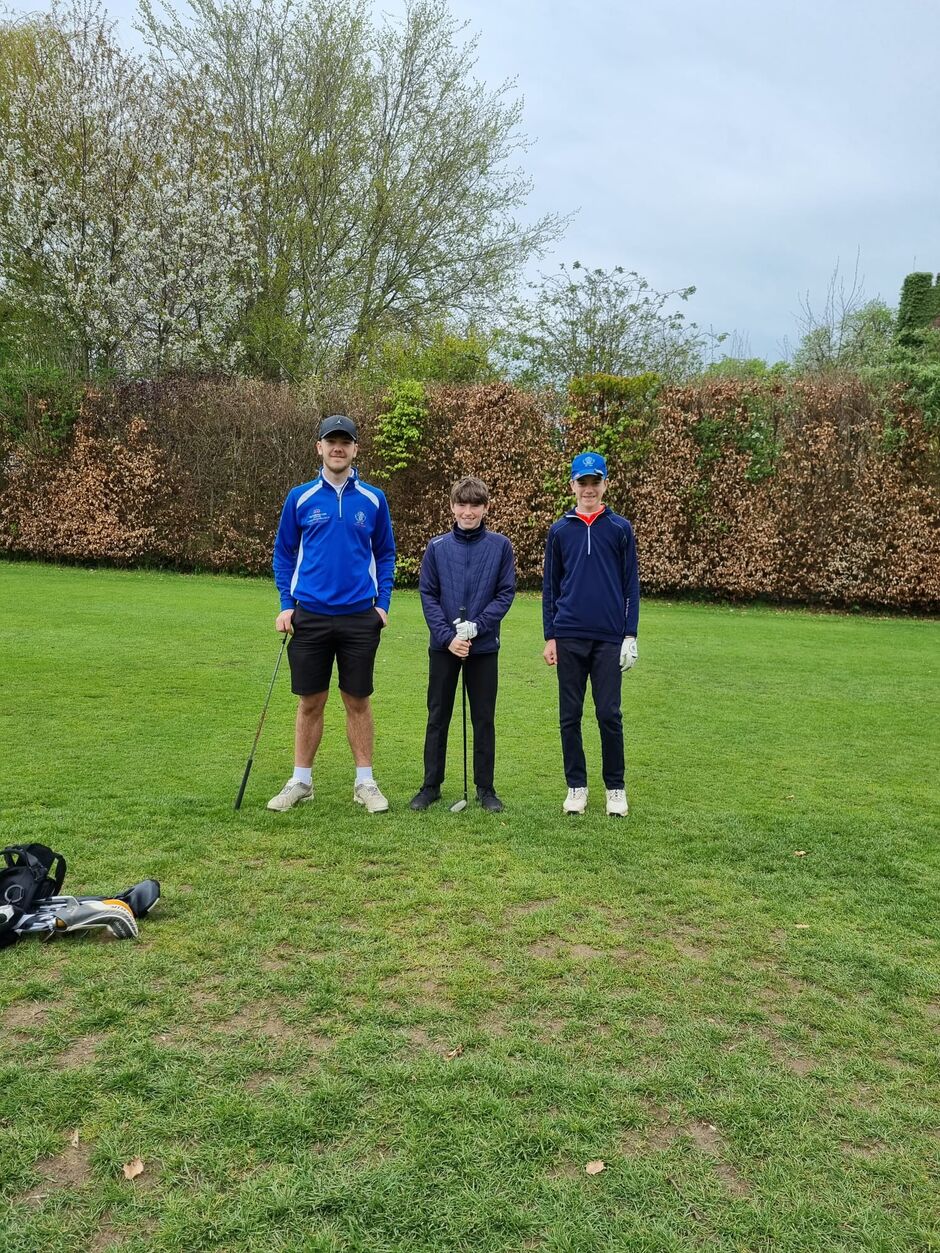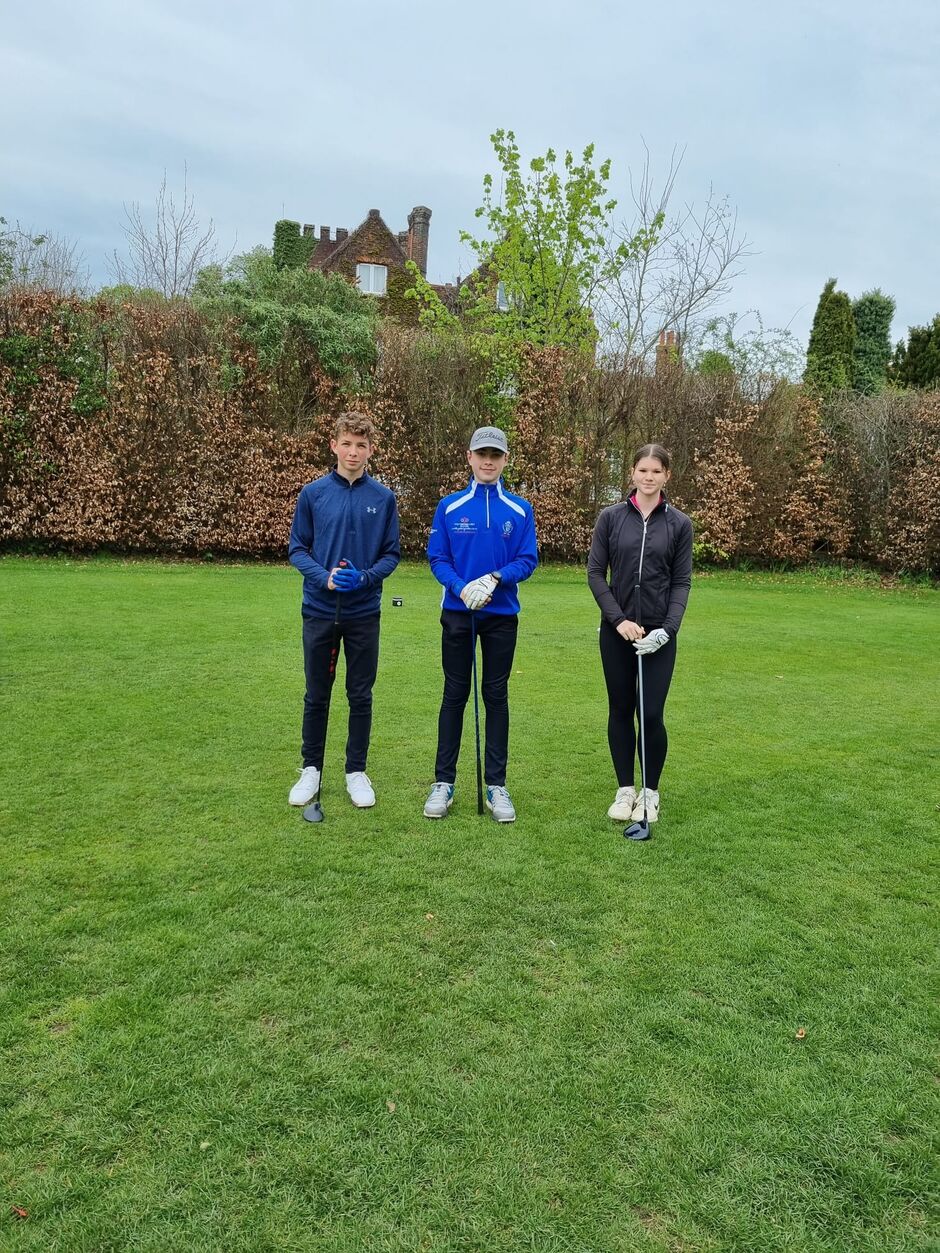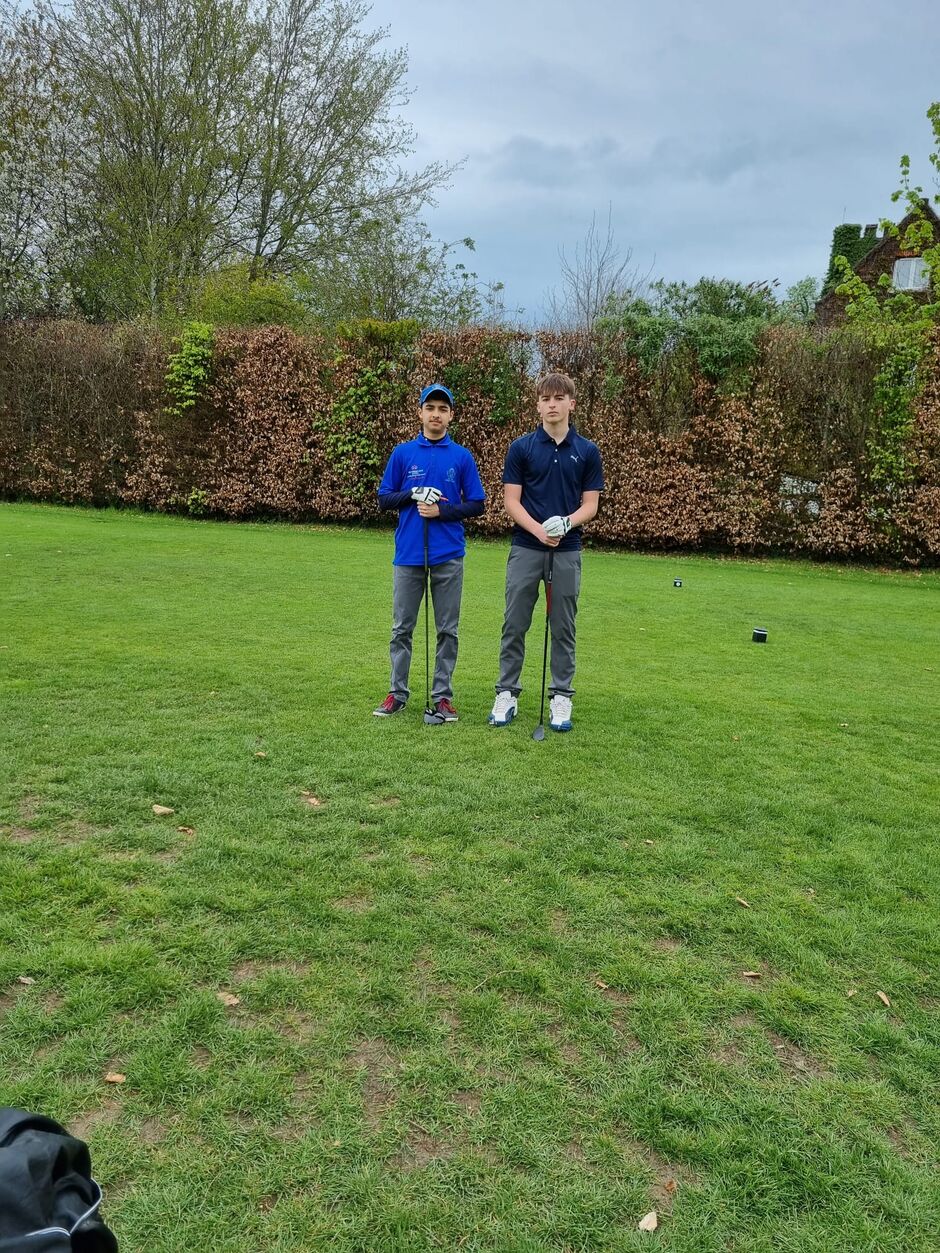 A pleasant day saw the opportunity for a low scoring competition.
Oscar and Jayesh went off first and in between some good holes there was some in different scoring which left both players slightly disappointed.
The second three of Harry Hall, Zach Gower and Rhianna Askey found scoring rather easier with all of them having impressive front nine, with Harry H getting a great birdie on 4. At the turn all 3 were below handicap with Harry + 8, Zack +9, and Rhianna +12.
On the back nine, all three found scoring harder with Rhinana finishing with 97, and Zack with a back nine of 49 to have a 93. Harry had a back 50 to finish with a 93.
The final group of Jacob, Jamie and Captain Harry Catlin started well and after 9 had posted scores of Jacob 46, Jamie 45, and Harry 39 with 6 pars. The back nine saw all three continue to play well with 15 pars between them with Jamie shooting 88, Jacob 91, and Harry Catlin 79.
Great days golf!
Final Results:
Gross 1st Harry Catlin 79 / 2nd Jamie Coxall 88
Net 1st Harry Hall net 65 / 2nd Zack net 66
Nearest the pin in 2 on 9 - Harry Catlin
Next Competition is the Matthew Amyotte on Sunday 21st May
---
LGC JUNIOR SEASON OPEN EVENT SUNDAY 2nd APRIL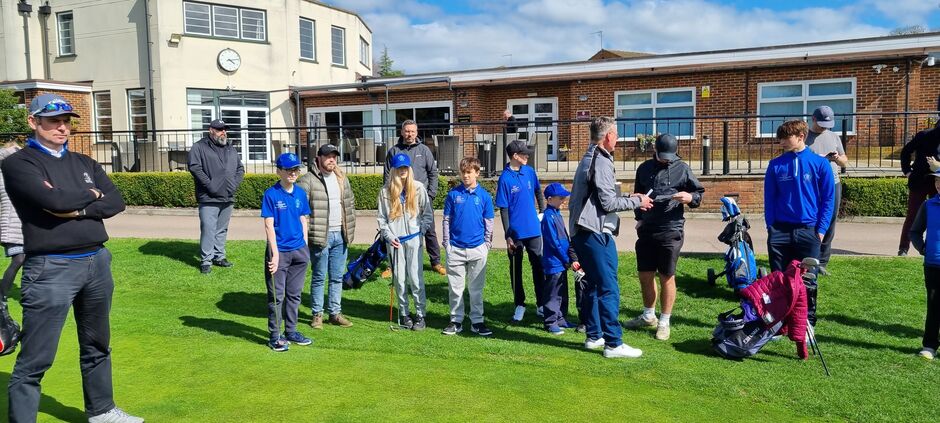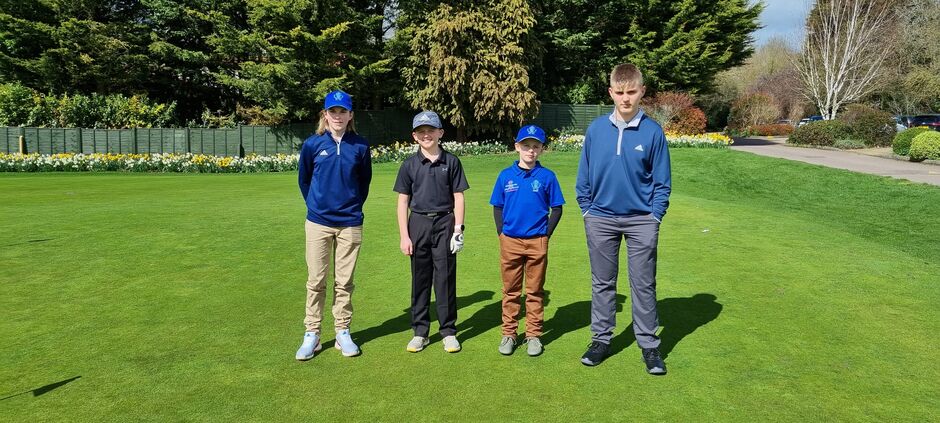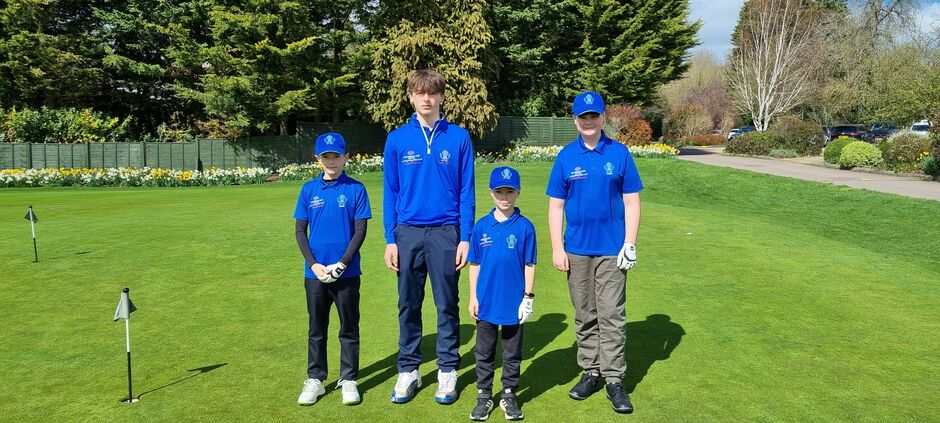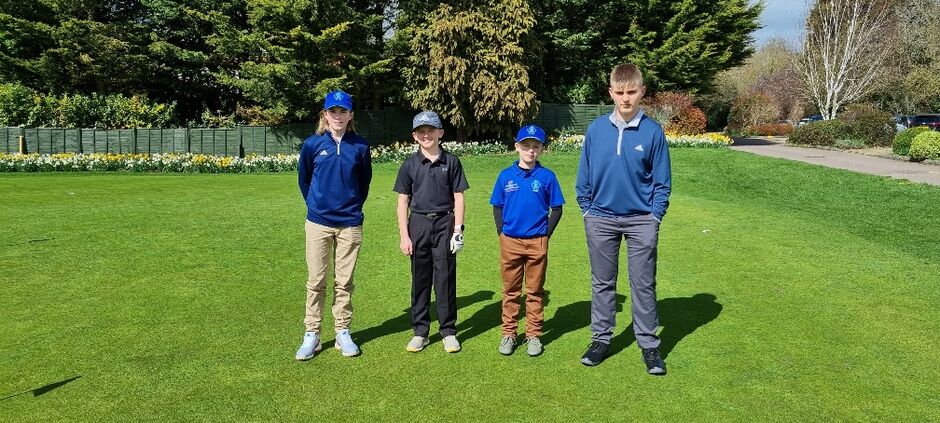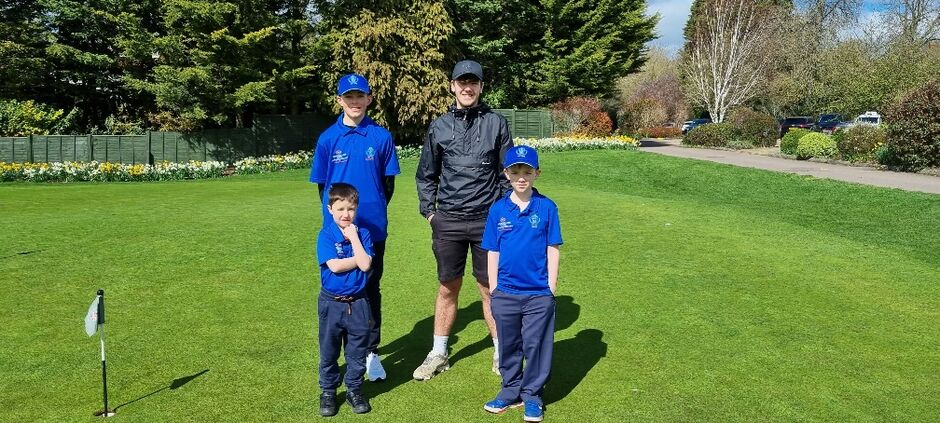 After the wettest March on record, we approached Sunday's Open event with trepidation however everything turned out well; the sun came out and everyone enjoyed a brilliant day.
Part one of the event was on the Academy course where we had 24 Juniors playing one round of 6 holes. There were 6 Teams with Heritage and Academy members aged 8 to 17. The format was Texas scramble with a prize for nearest the Pin on the 2nd hole.
Many of the players had their parents watching and it was lovely to see the course so full.
Despite wet conditions the scoring exceeded expectations.
Part two of the event was a putting competition. A tricky course lay out by Tony Pohlman tested the best putters but the girls team delivered the only under par score which shows the standard of Junior golf at Letchworth.
Players, parents & guests were treated to snacks and drinks which was followed by a prize giving by Club Captain Cirian McGill.
Every player received a prize.
In second place was the girls team captained by Rhianna Askey. This included Amelia Parker, Lauren Richardson and Anabelle Bessel.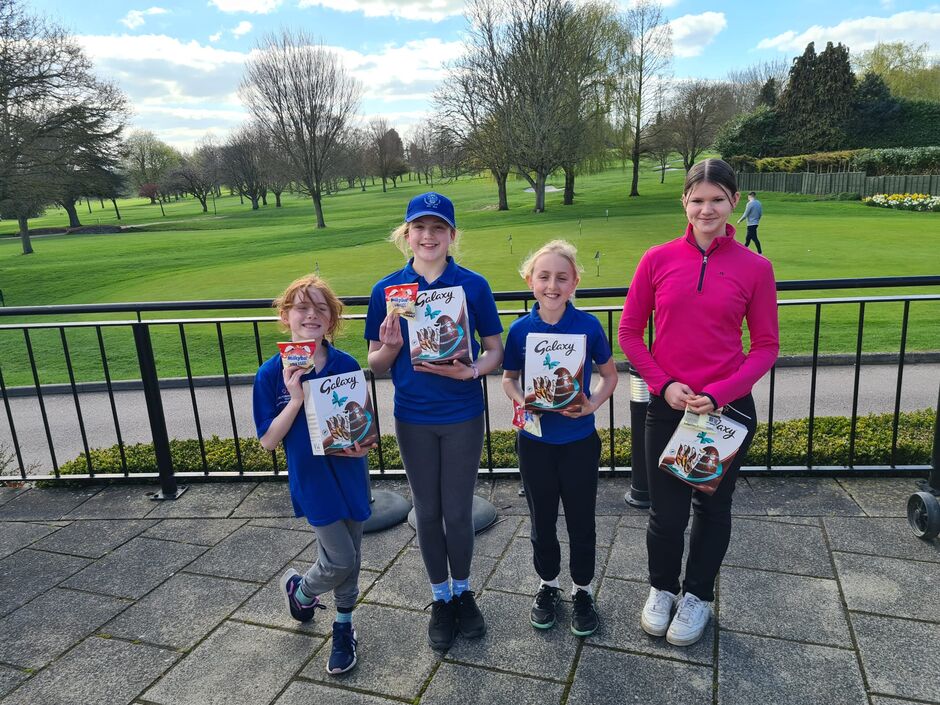 The winners of this event captained by Jamie Coxall were Jules Bennett, Luca and Hayden Minnis.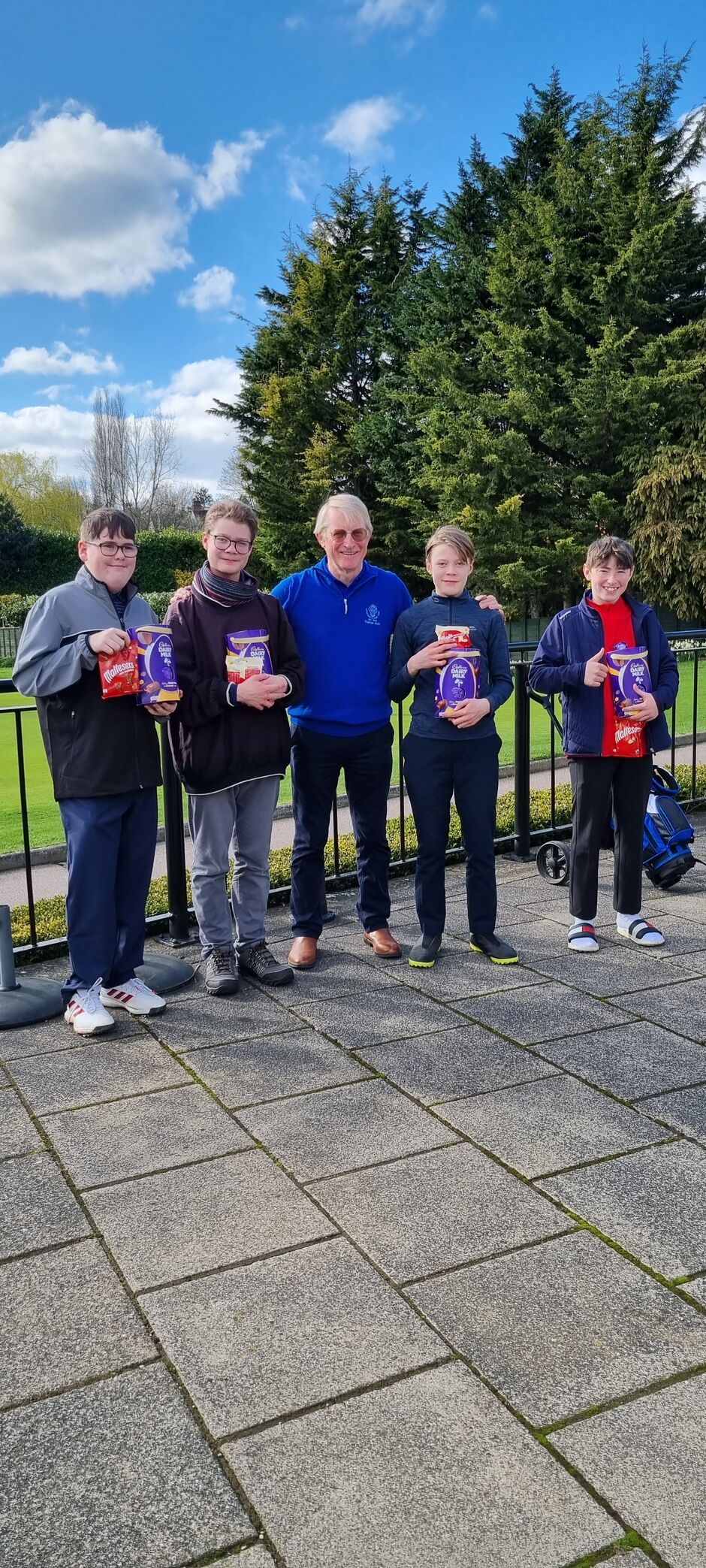 All prizes, drinks and food were funded by the Mike Amos Foundation so a huge thanks to them.
The next competition will be played on the Heritage course, this is the Nats Trophy on Sunday 23rd April – check the website for sign up.
---
Robert Rock Tour - Owen White wins the U12 category at London Club!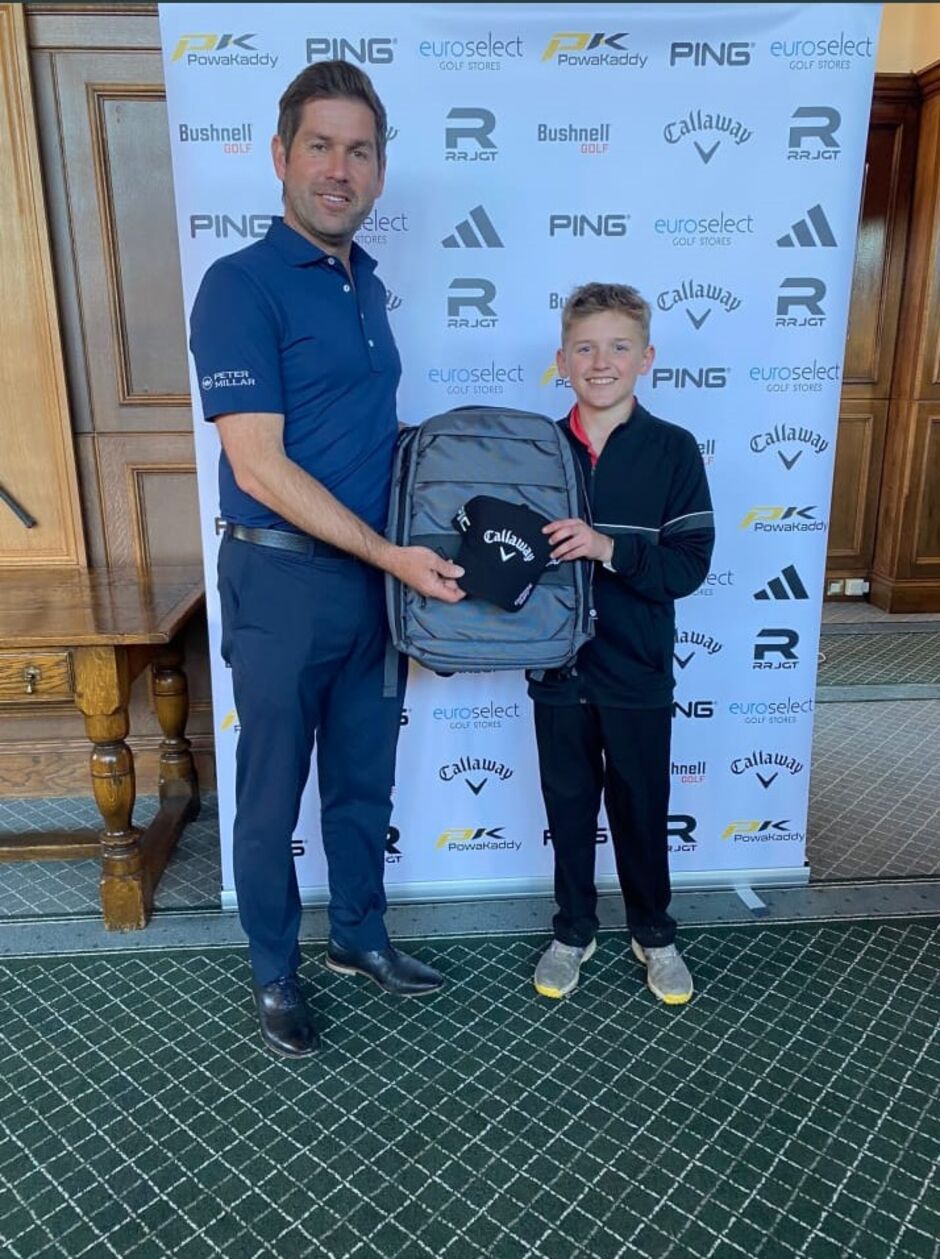 LGC own Owen White played amazing golf on Monday 3rd April at The Shire Golf Club. A huge congratulations to Owen on an incredible start to the season.
---
Bray Trophy 2023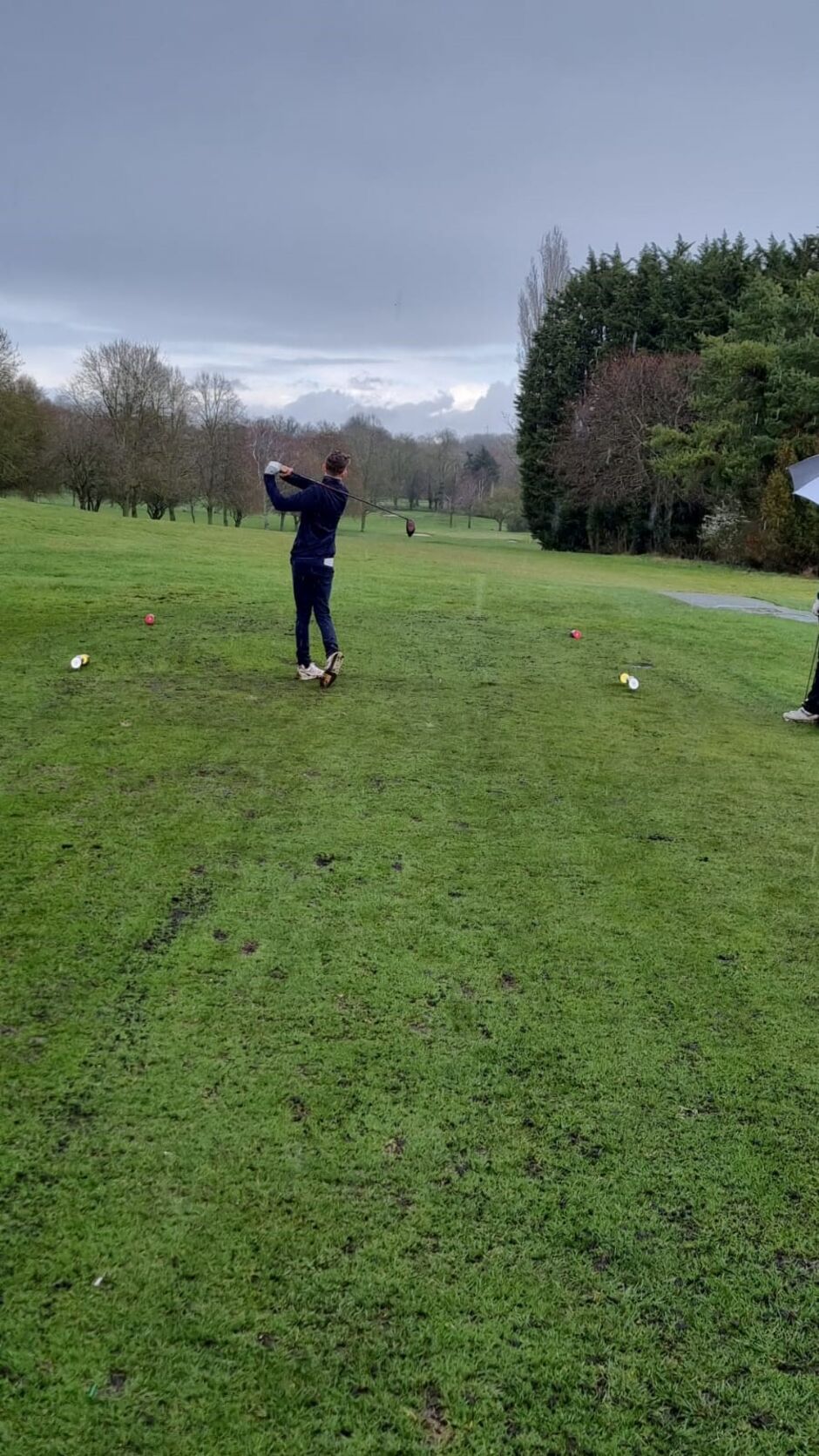 On a cold, and very wet Saturday afternoon 18th March - a field of 11 took to the course. The entrants included new member Jamie Coxall and last years captain Kesir Sagha. A very impressive set of drives on the first resulted in numerous pars and a birdie for Kesir, who drove the green. James Andrews followed an impressive par with a birdie on the second. As the groups went out on the front nine the weather started to improve. At the turn the leaders were James on 24, Zach on 21 and three players on 19 points.
More birdies followed for Kesir as he was fast approaching a level par round. The first group approach the last with Zach on 39 points, Harry on 32 and Felix on 29. Bogeys for Harry and Felix and an unfortunate 8 for Zach, saw Zach leading in the clubhouse.
The next group saw Kesir double bogey the last to finish with a gross 75 ( pictured below), Jayesh finish with 37 points and an impressive par for Owen saw him come in with 39 points. The third group of newbie Jamie 37 points, Oscar 30 points and clubhouse leader James 41 points. Final group in saw Rhianna with 31 and Jacob with 30 points.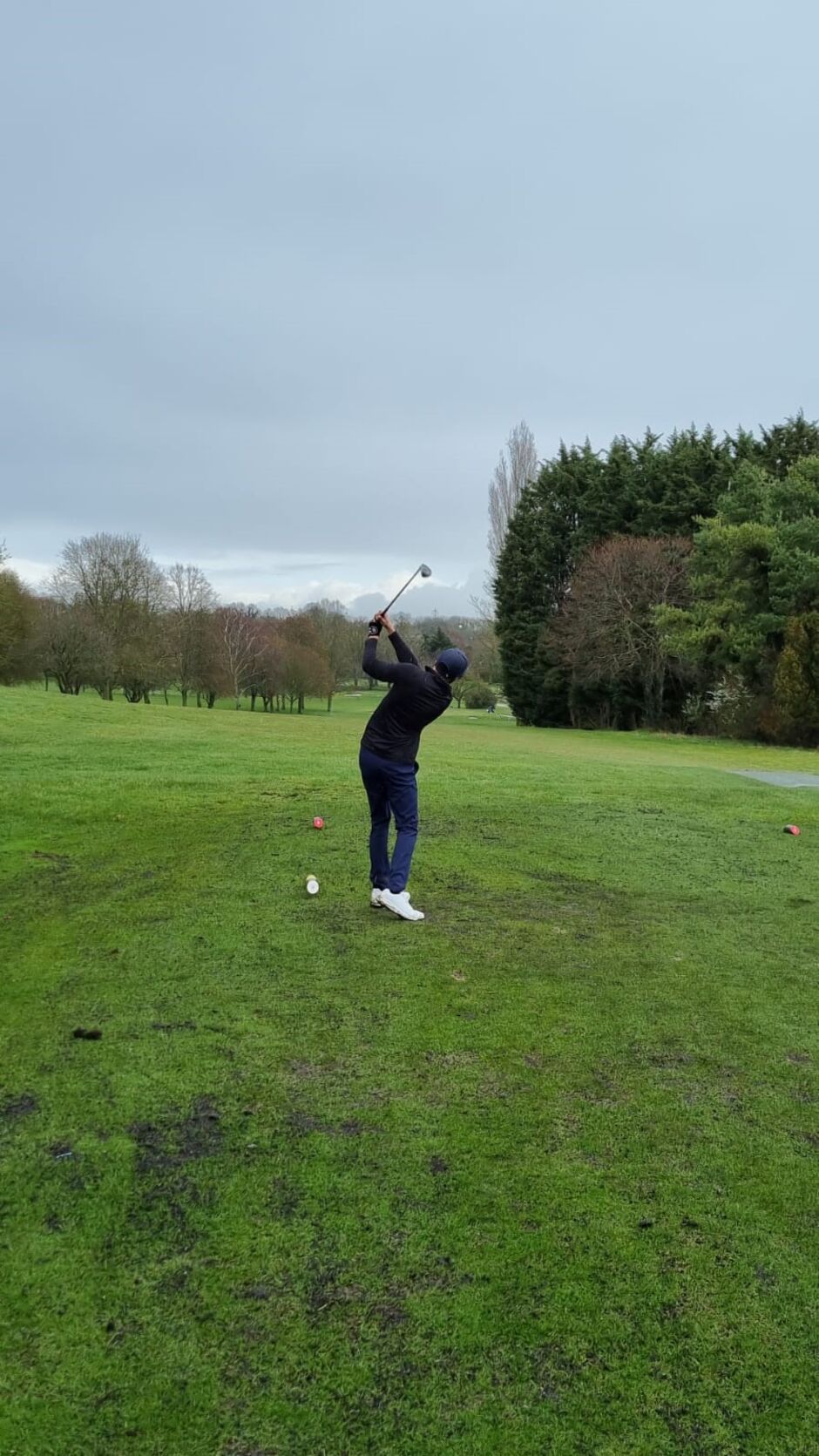 Final Results Gross - 1st Kesir / 2nd Harry Catlin. Net - 1st James / 2nd Owen and Zach
Nearest the pin in 2 – Zach. Nearest the Pin - Kesir
Next Competition is the NATS Trophy on Sunday 23rd April
---
Amos Trophy 2023
On a cold Sunday afternoon 26th February - a small field of 6 took to the course. Led off by 2023 Captain Harry Catlin and Owen White. Second Group out of Harry Hall and Oscar Kahlow and the final group of Vice Captain Jayesh Patel and Jacob Lovett. The first few holes saw the players struggle although there were pars for Jayesh and Jacob on the first couple of holes.
At the turn Harry Hall was leading thanks to 3 pars with 21 points followed by Jacob on 18 and Owen on 15. The back nine though saw scoring hard and the lead changing hands. As they stood on the 18th tee, there was only 1 point separating 4 players, with Harry Hall in the lead. Most of the players struggled with the last but it was Oscar, getting a 5 for two points making him the winner on countback with 33 points with Harry Hall finishing in second.
The next competition is on Saturday March 18th - We look forward to seeing you there.
---
Showcard Shield 2022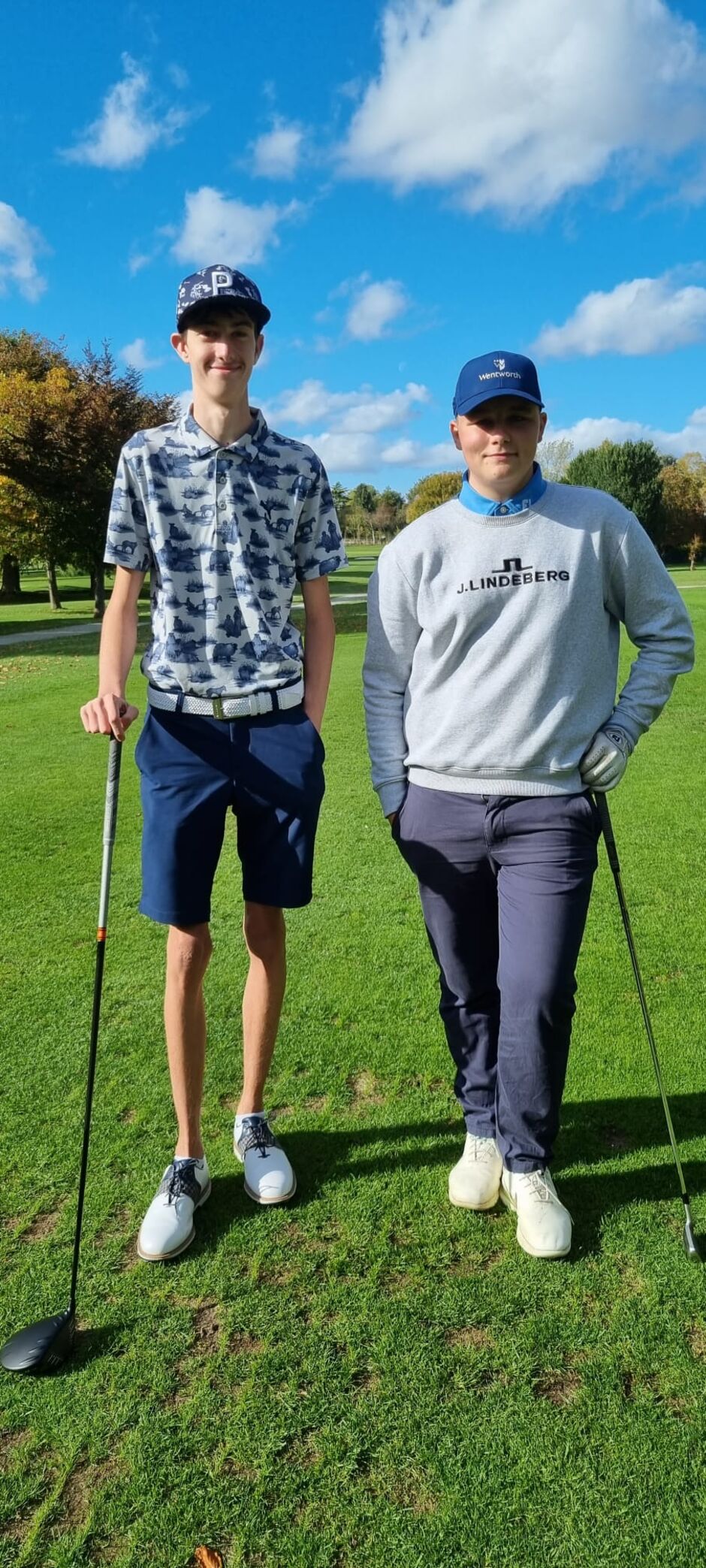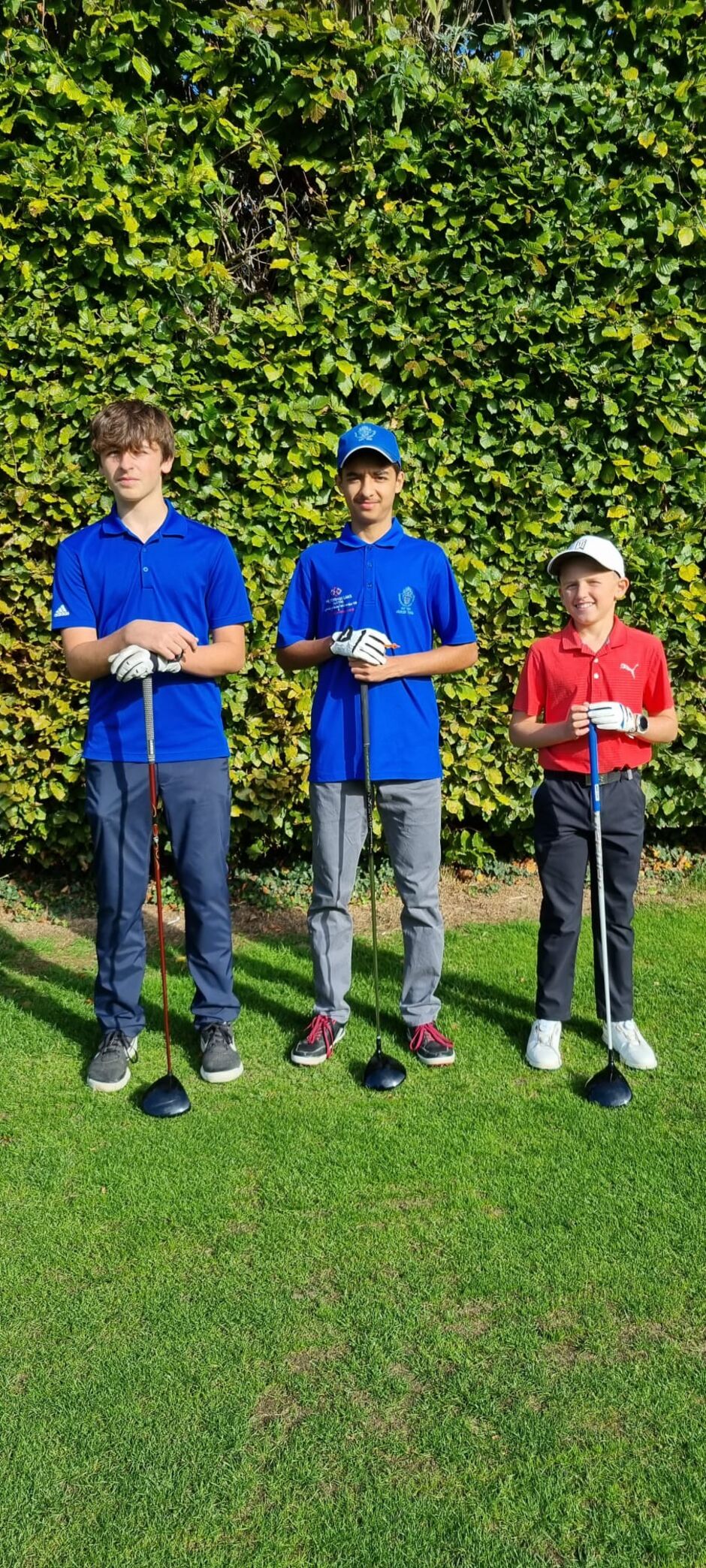 The Showcard Shield took place on the 16th October and although a smaller field than normal, it was a tightly contested event this year. An 18-hole stableford competition. The winner was Daniel Green with an incredible 39 points.
---
HRJ Foreman Laws Academy Cup 2022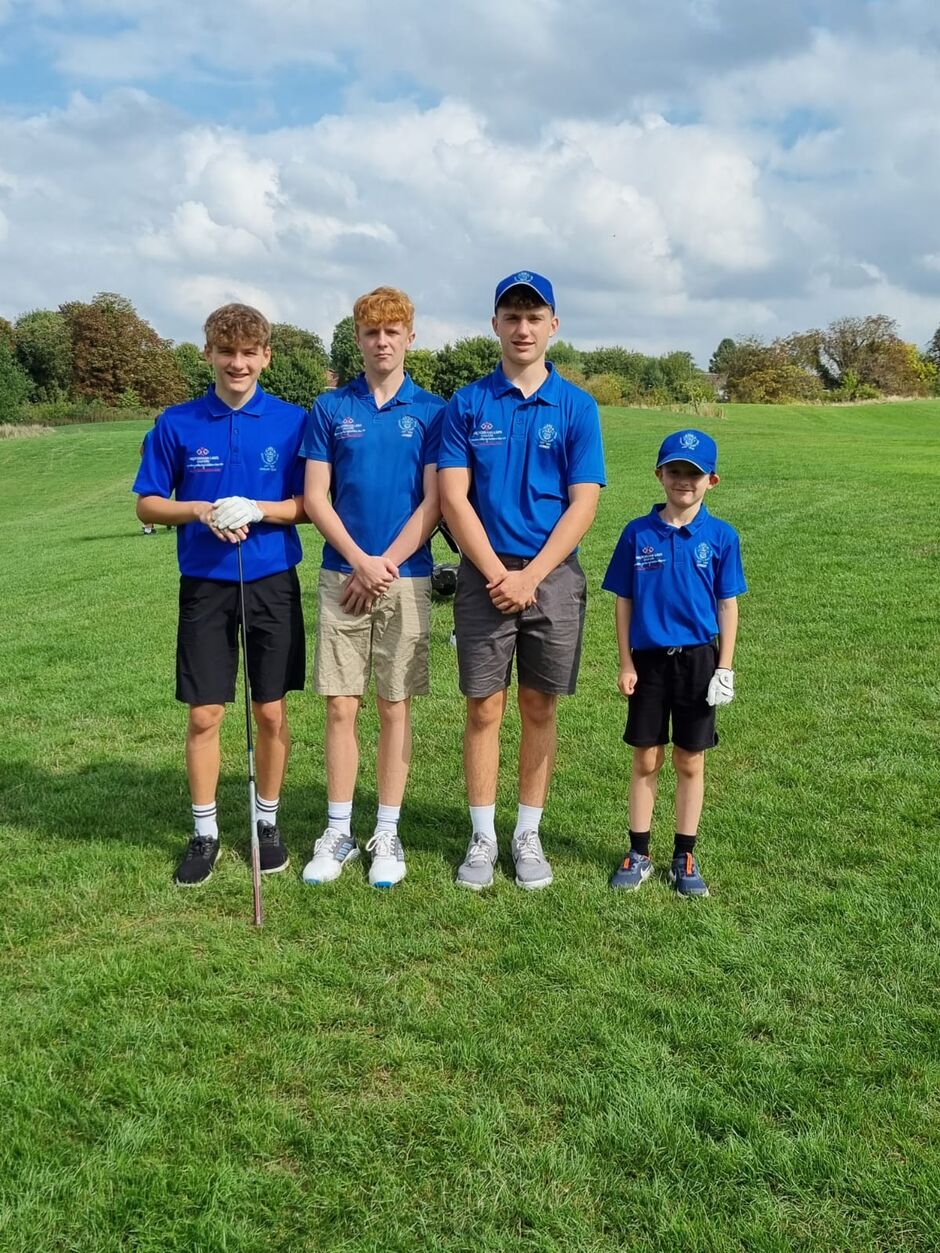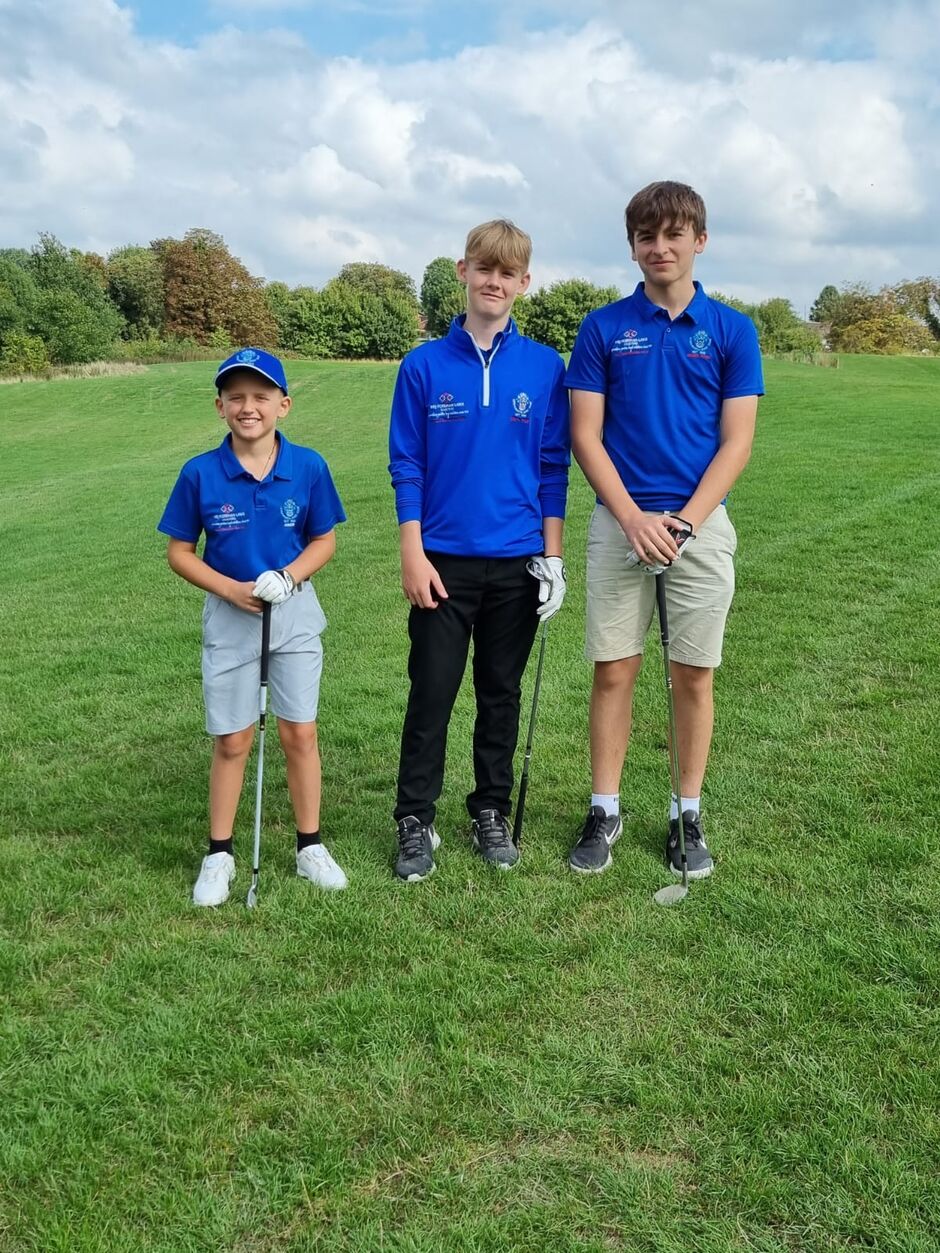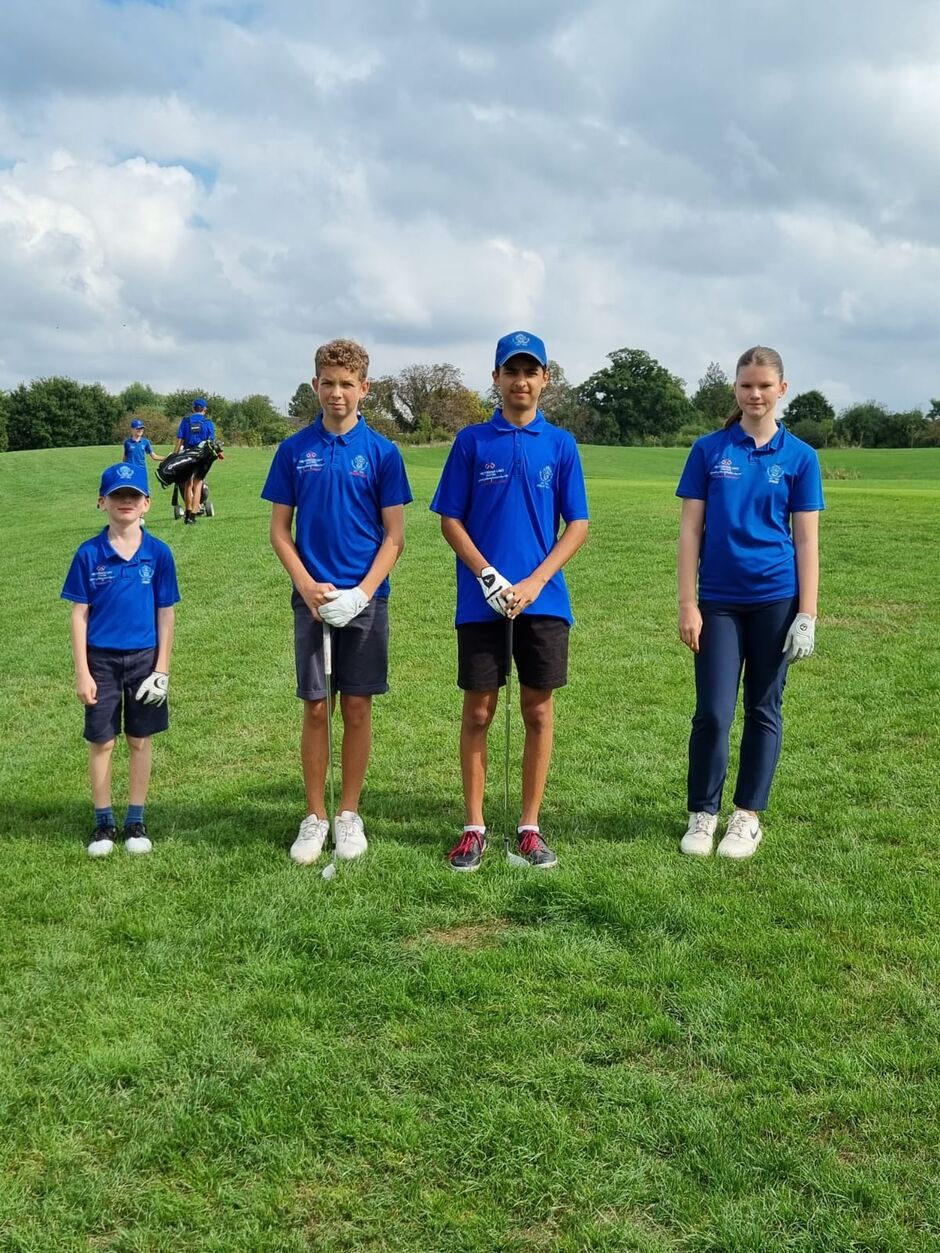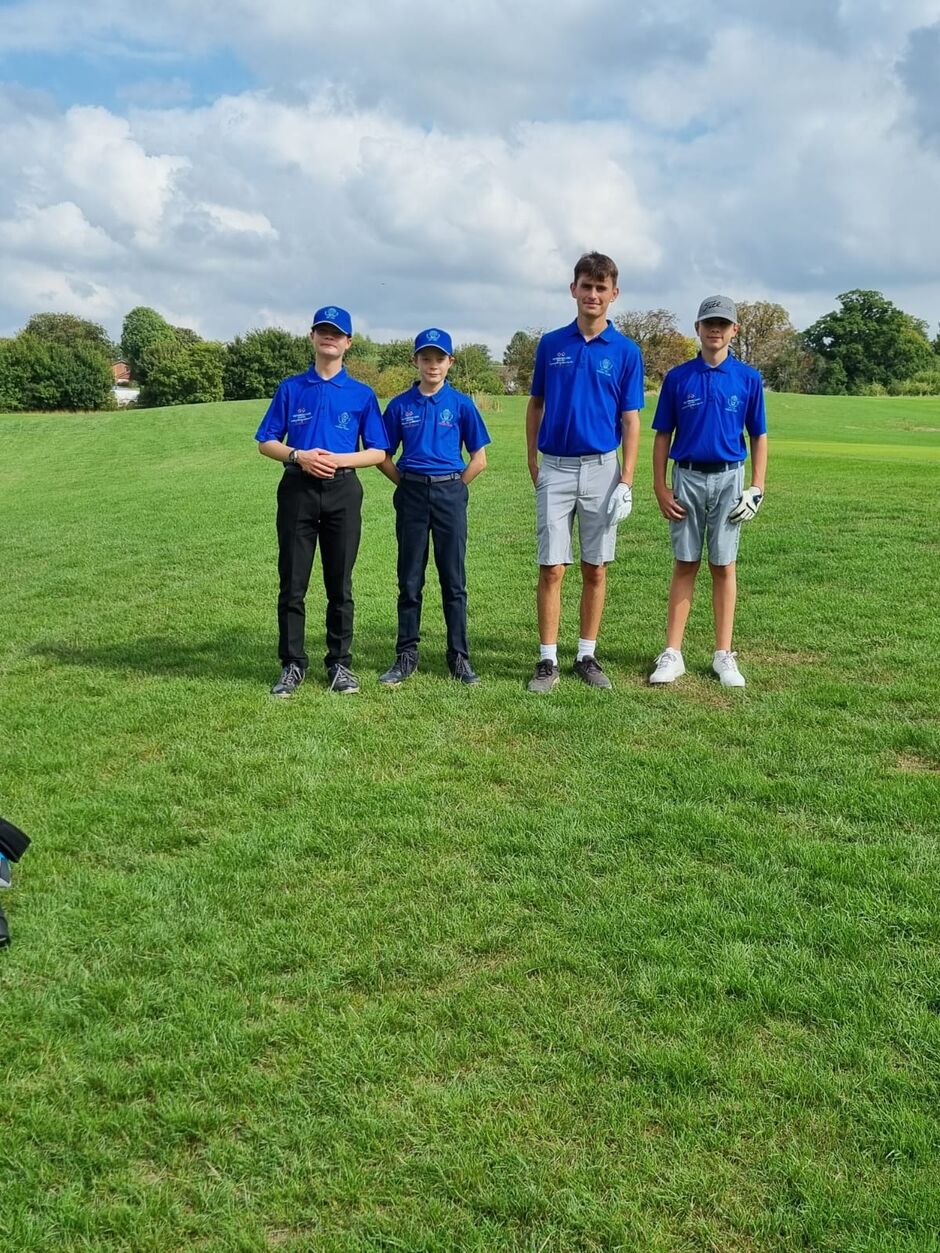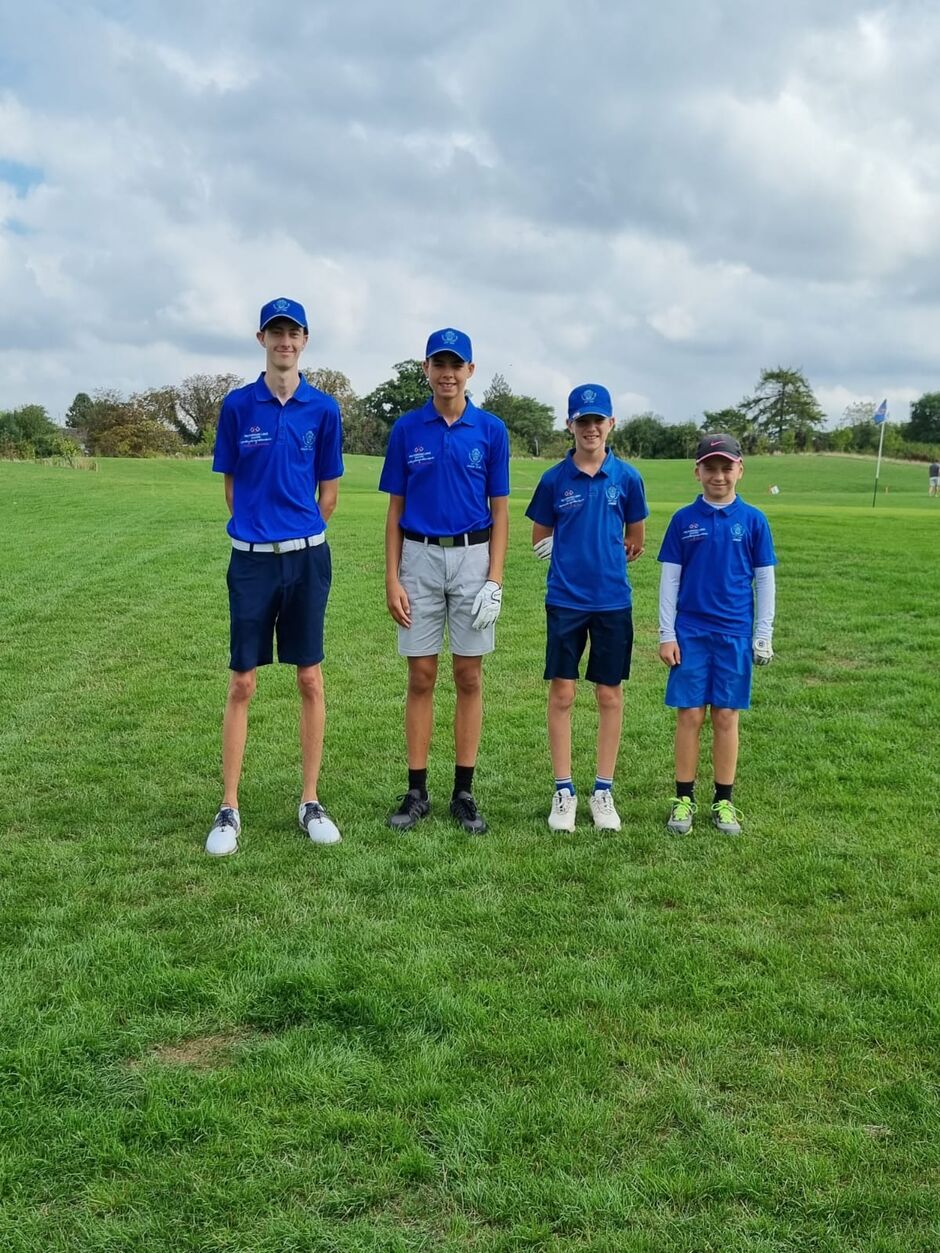 On the 11th September the HRJ Foreman Laws trophy was contested for between 19 juniors making up 5 teams. A format of a fun Texas Scramble on our Academy course played three times. The trophy is sponsored by HRJ Foreman Laws, who also sponsor the junior team kit each year.
With a lot of birdies between all the teams, it was an exciting afternoon for sure. In the end we had the team of Ed, Hayden, Robert and Jacob in third on a score of -2 (52). In second place on a score of -3 (51) was Joe, Harry, Lucas and Hayden. For the second year running we had a playoff, a putt-off if you like as Harry took on Owen on the putting green.
This years winners were the team of Oscar, James and Owen ( pictured with Janice O 'Donnell representing our sponsors), Congratulations!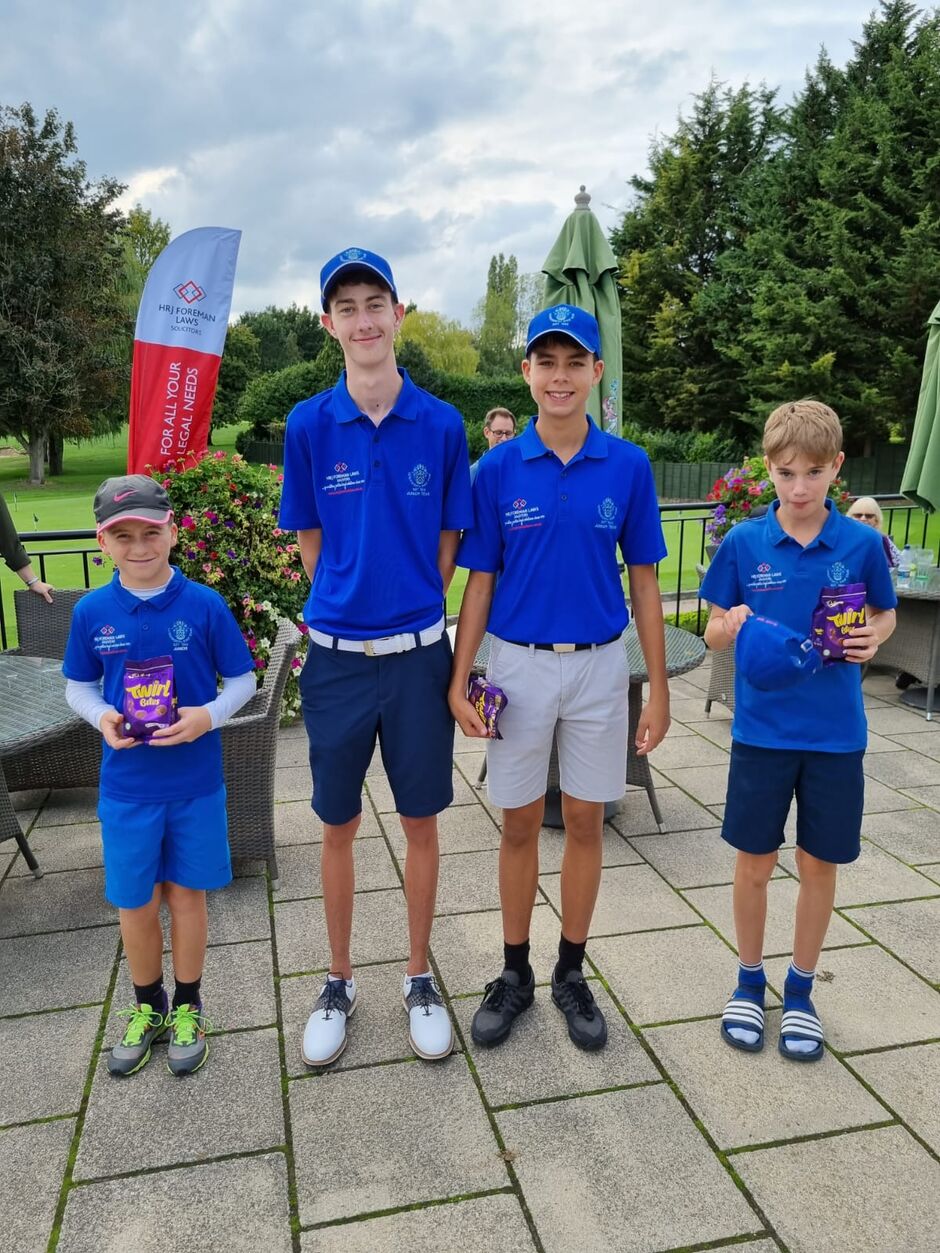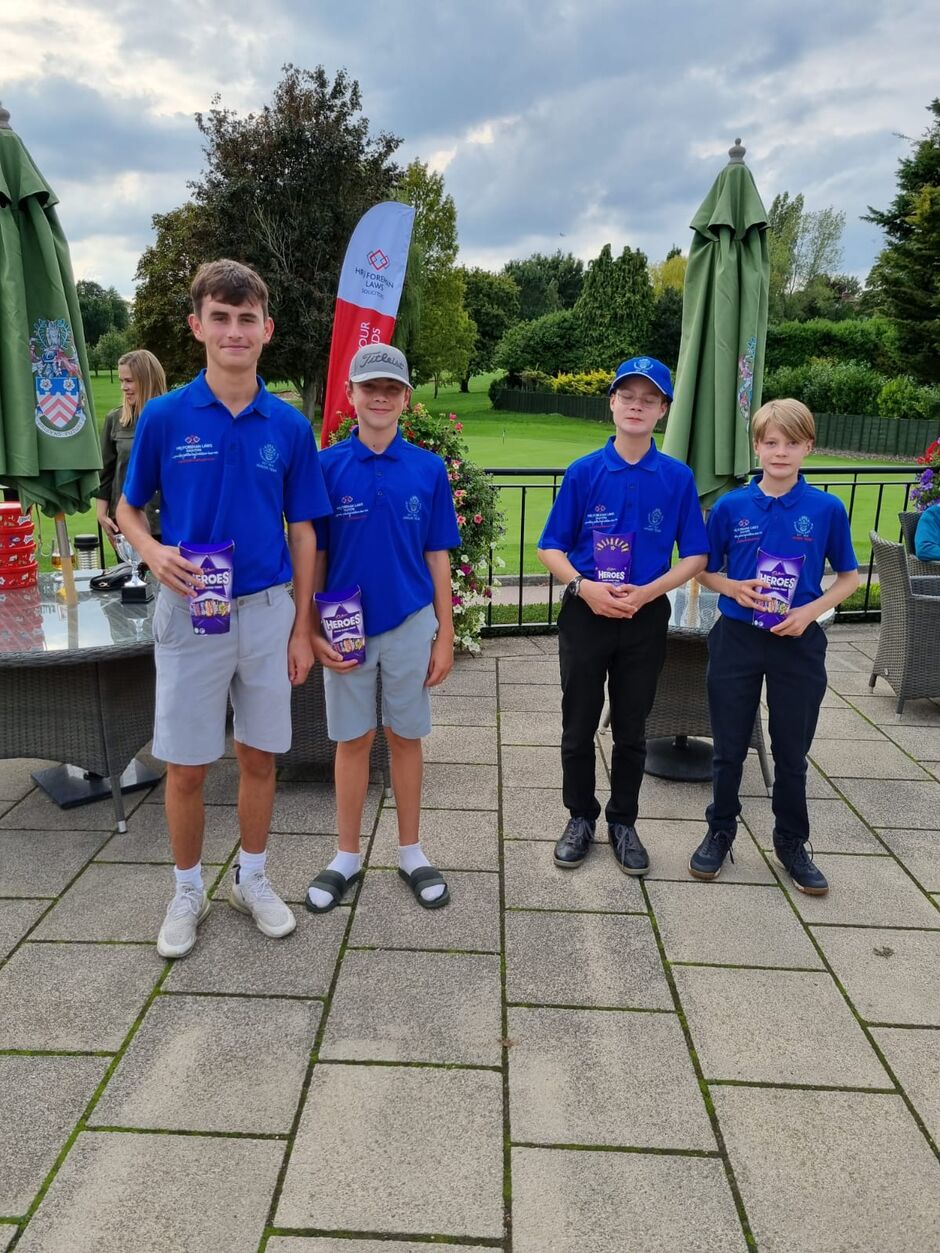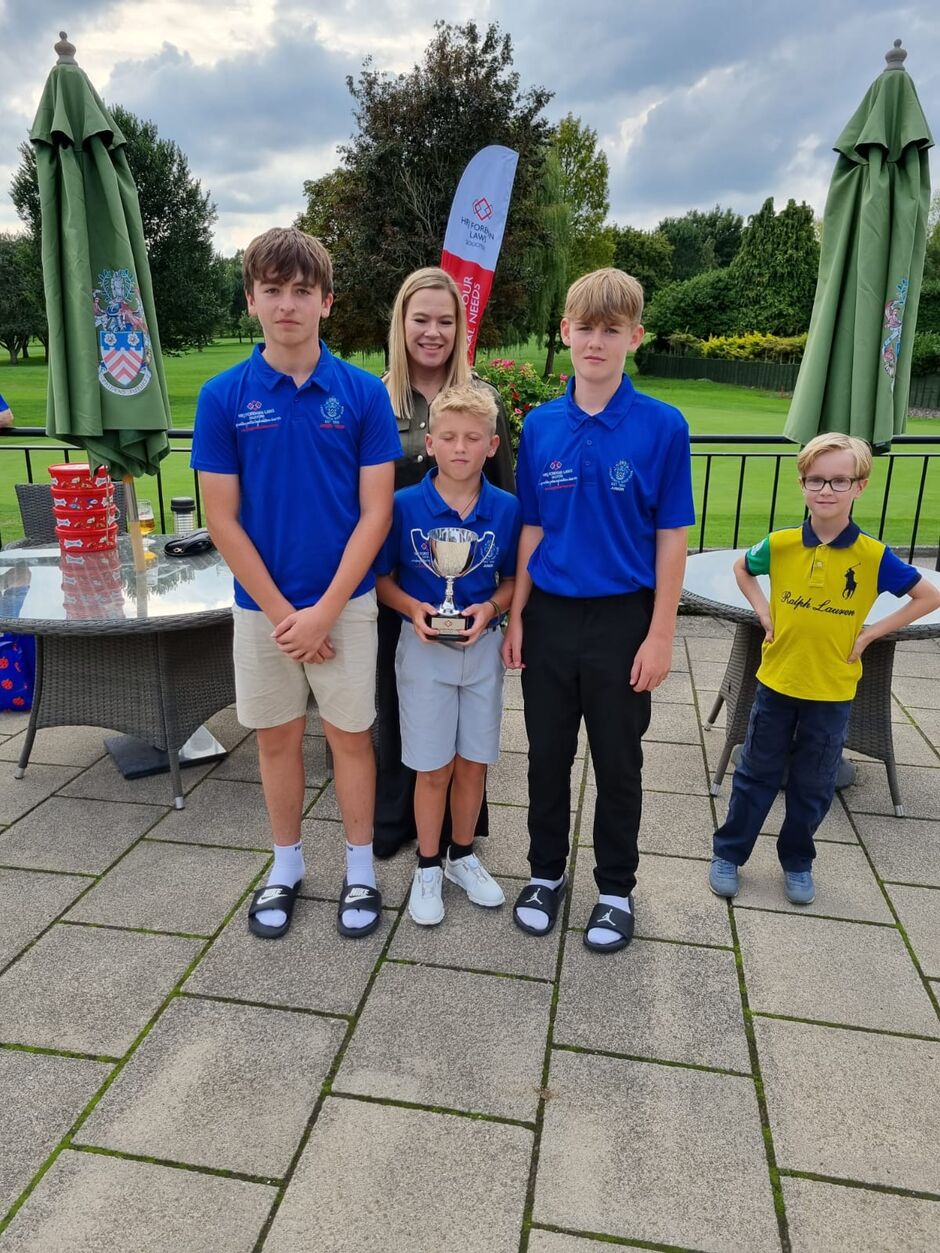 ---
County Golf Sixes Final 2022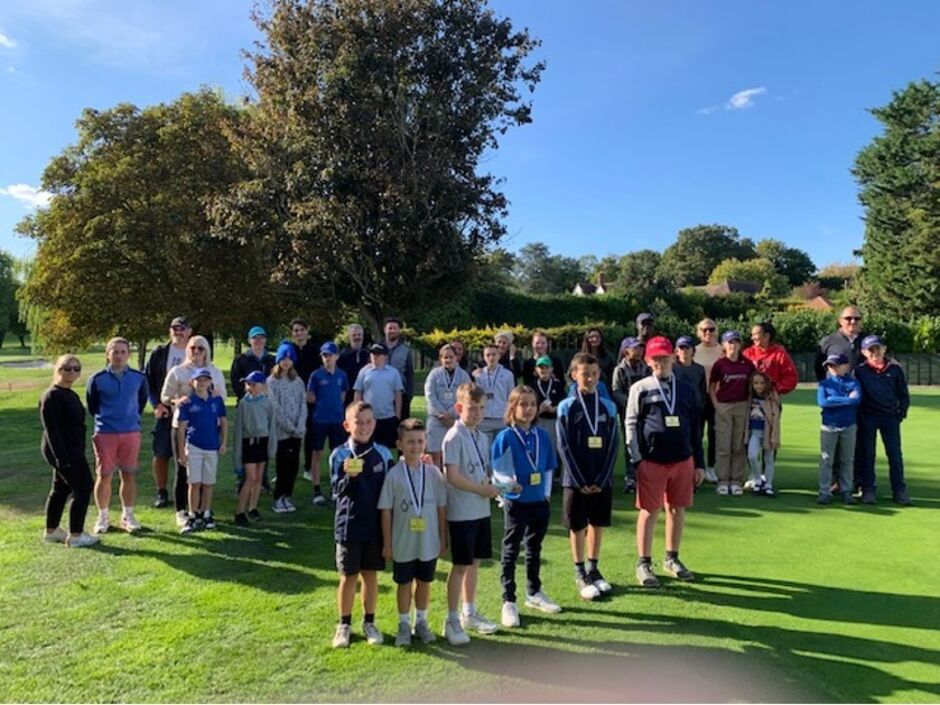 This final round of the Golf Foundation's Golf Sixes league, was a battle between two Hertfordshire clubs, The Hertfordshire and Ash Valley. The Hertfordshire were two league points ahead of Ash Valley at the start so it was a close one to call until the end results of this event.
For the first time Letchworth had a full team of six players, and romped home clear winners of the round with a score of 129 points, two points clear of Ash Valley, the eventual winners of the Hertfordshire division of the Golf Sixes league for 2022. The Hertfordshire finished runners up in the league as they finish fifth in the finals, allowing Ash Valley to overhaul them by 1.5 league points. Letchworth and Chesfield Downs finish joint 4th in the league. Cannon Brook, who were last years winners of the league, finished in 3rd and Mill Green in bottom place.
Many teams this season suffered from lack of players due to five of the league rounds being held in the month of August, the prime family holiday period. Never the less, both parents and children love this Golf Foundation initiative that was instigated in 2017 to encourage younger players in to golf.
In this Region there are seven divisions' with six clubs in each division. This means hundreds of children active in golf if you add up the divisions in the other seven regions.
A huge thank you and well done to Tony Pohlman who managed the league this year. Congratulations to all those who took part and heres to 2023!
---
GROUSE CUP 2022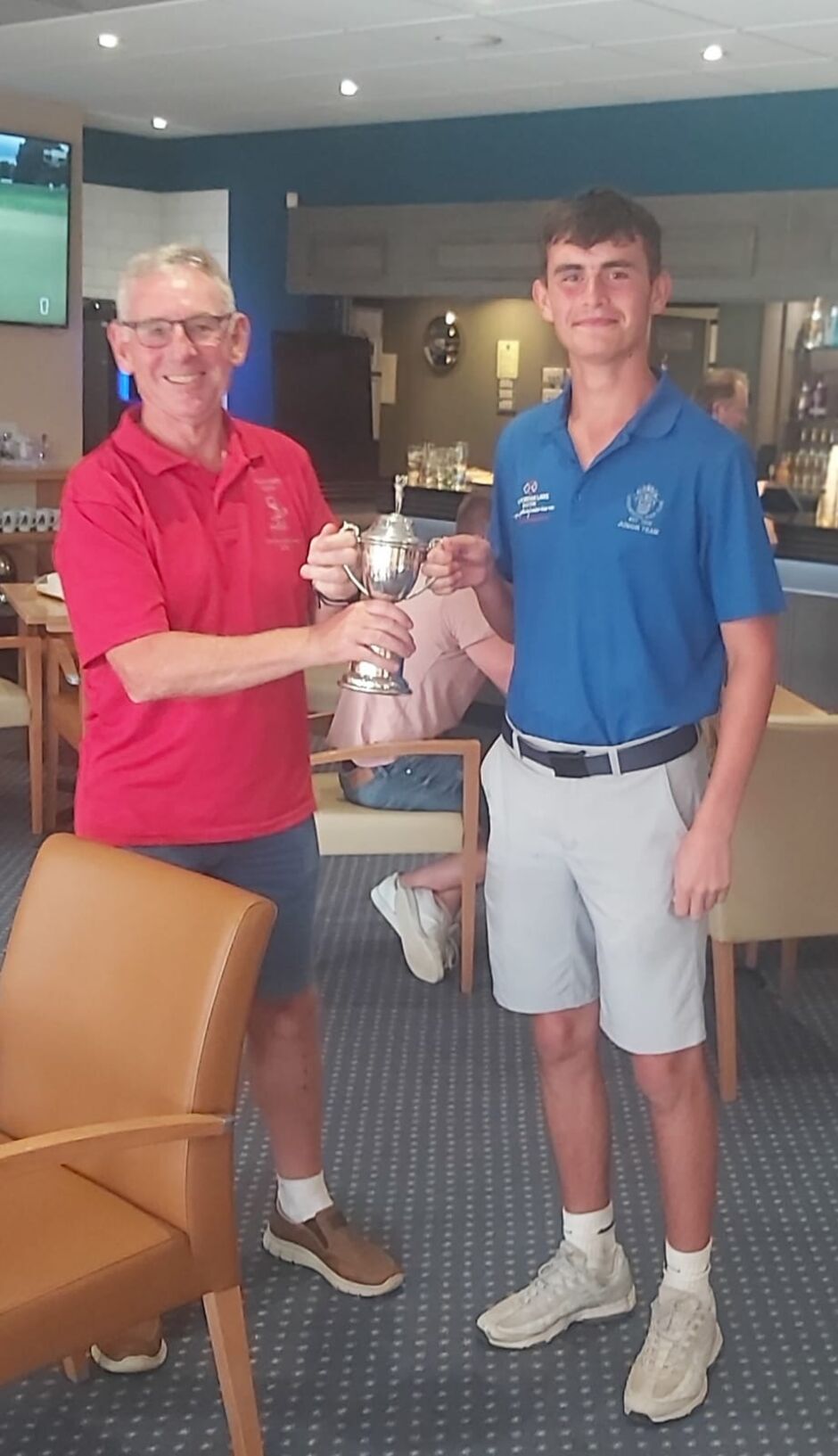 The inaugural Grouse Cup took place on the 11th August, Juniors vs Seniors. The pairings were Joe & Freddie vs Andy & Jothi, Harry & Jacob vs Andy & Bill, Lewie & Owen vs Bryan & John and the final group of Oscar & Jayesh vs Chris & Peter. It was all very close after 9 holes with two matches only 1 hole in it and another 2 in it.
The first point went to the Seniors at the 15th hole where Joe & Freddie lost to Andy & Jothi 4 & 3. Jacob & Harry got the next point to make it all even with two matches still playing. A halved match between Lewis & Owen vs Bryan & John meant it was all down to the last match. It was Oscar & Jayesh who brought in the much needed winning point for the team. Thats a 3 for 3 now for the Juniors after winning earlier in the season against the ladies and seniors.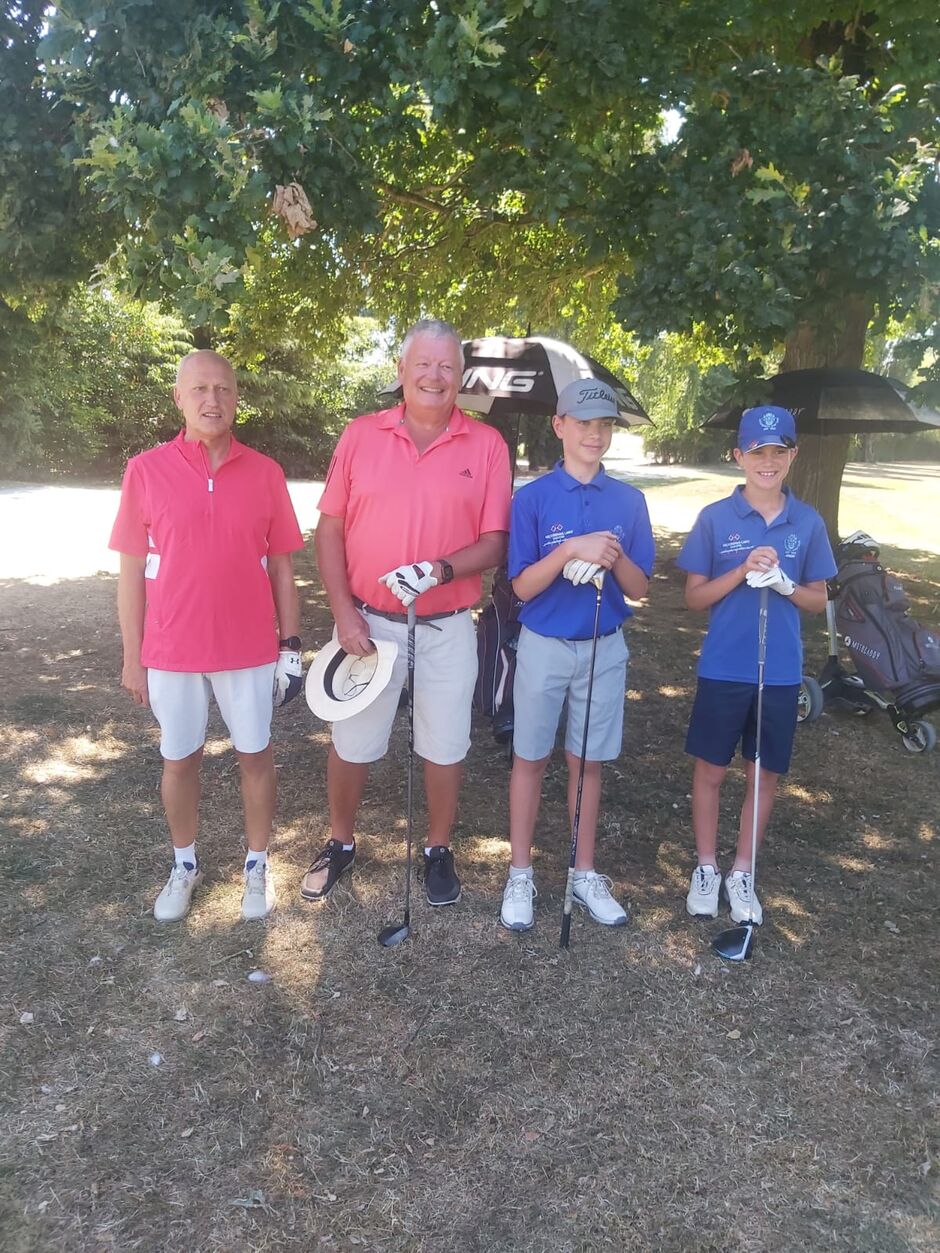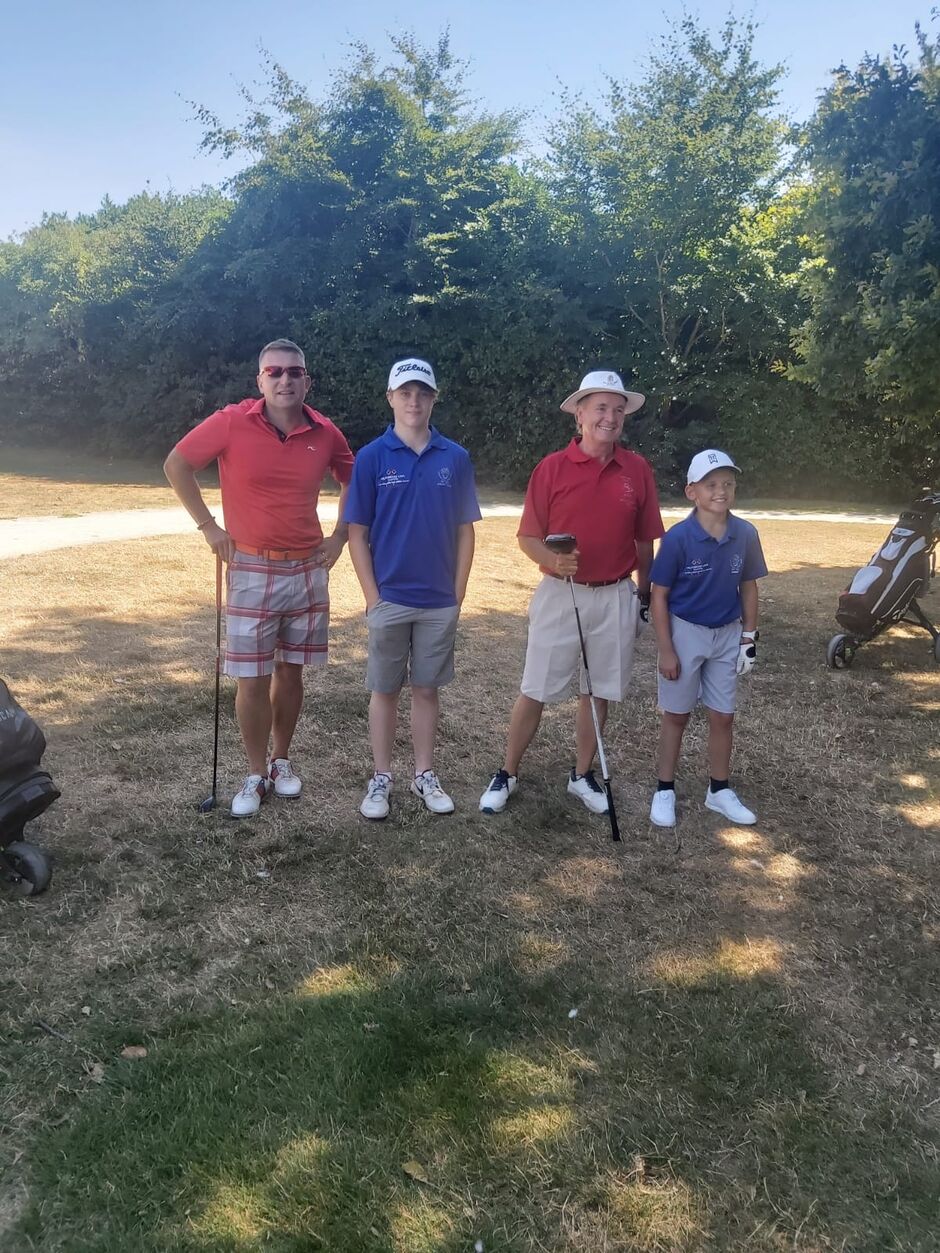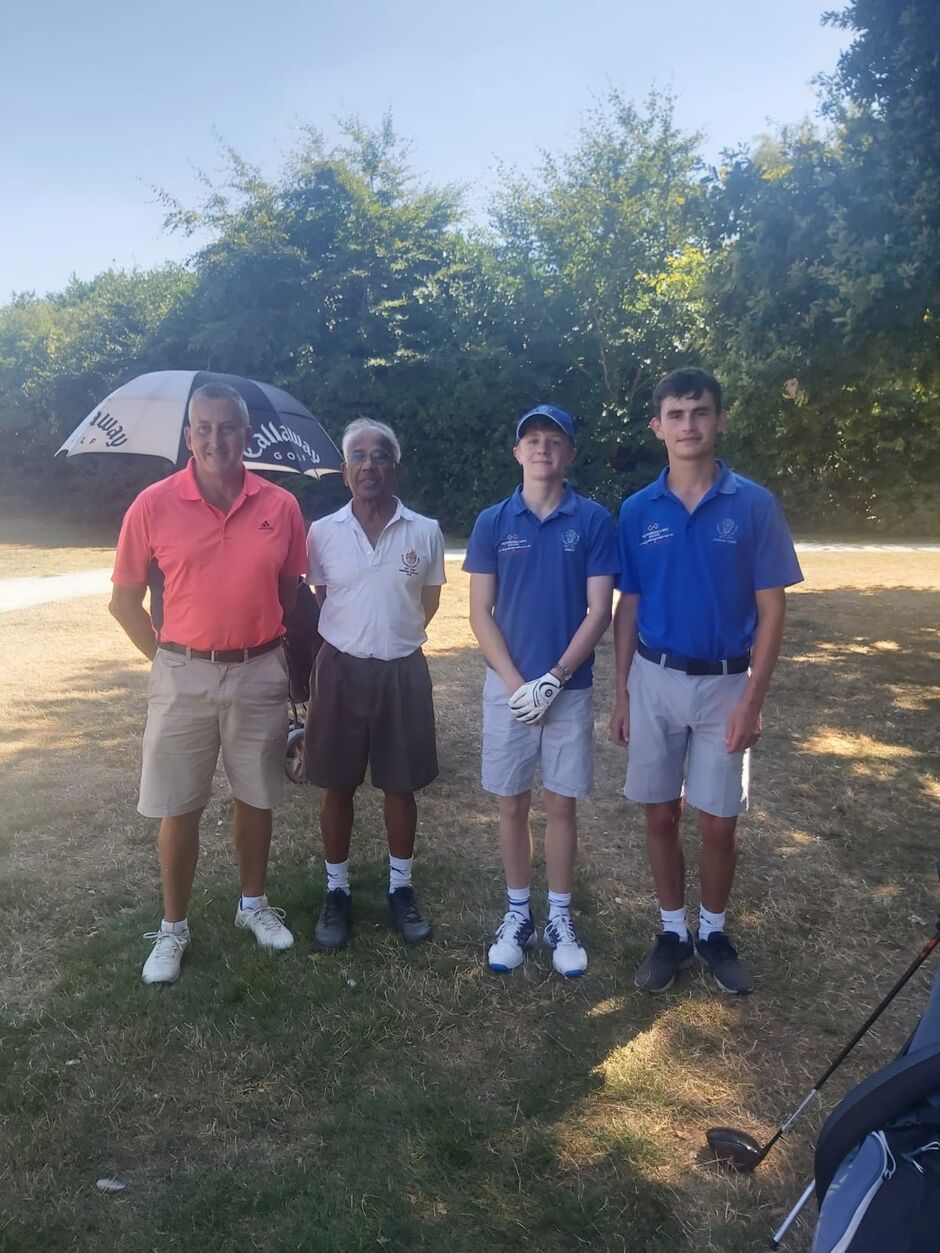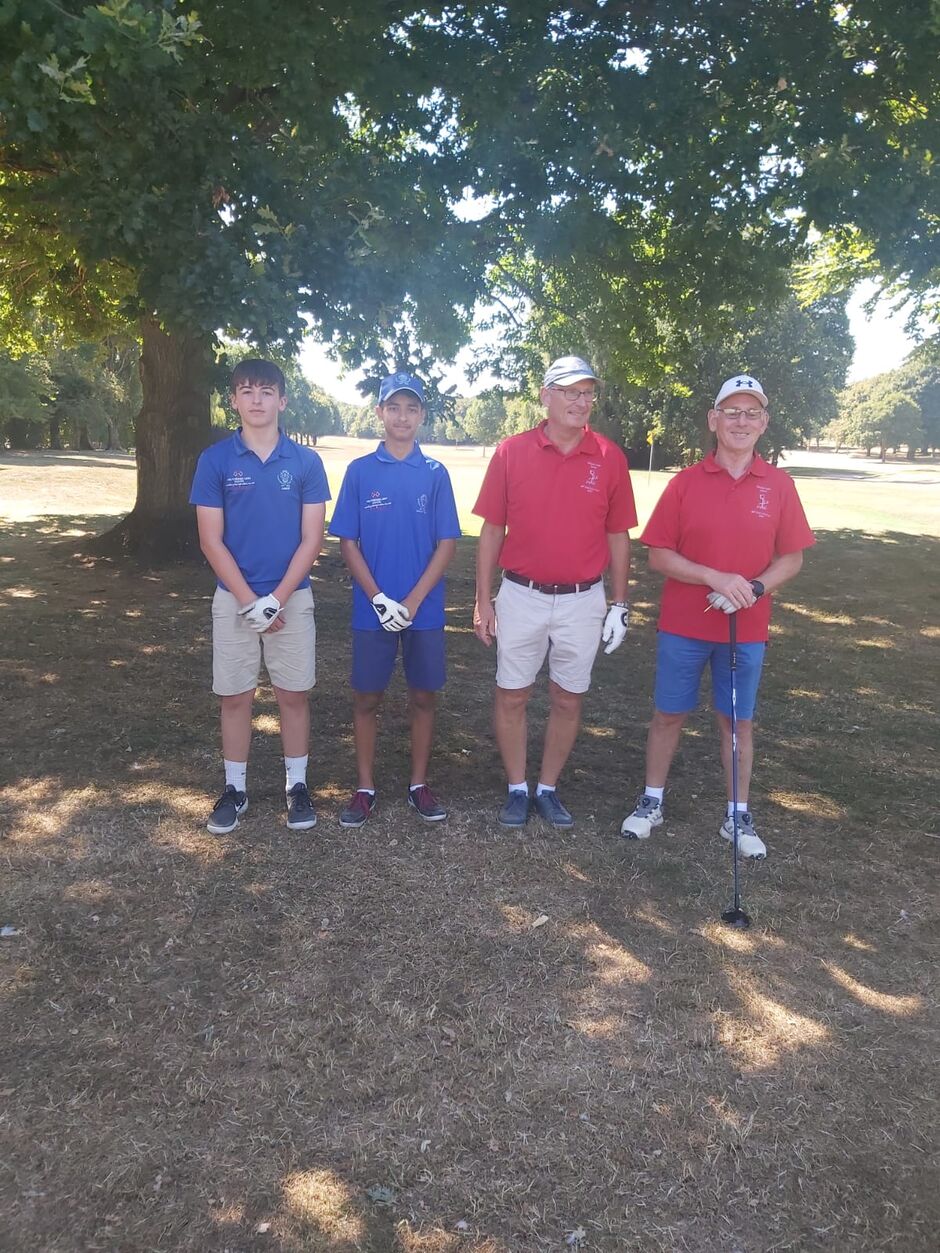 ---
HOLDEN CUP 2022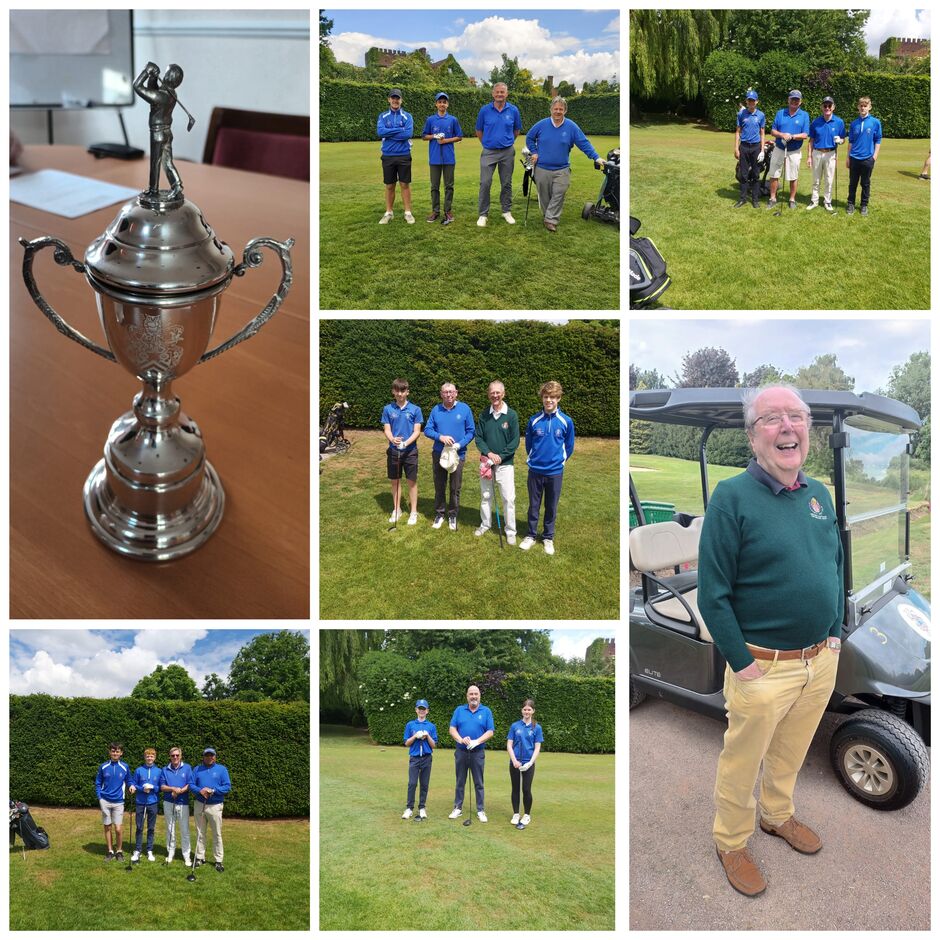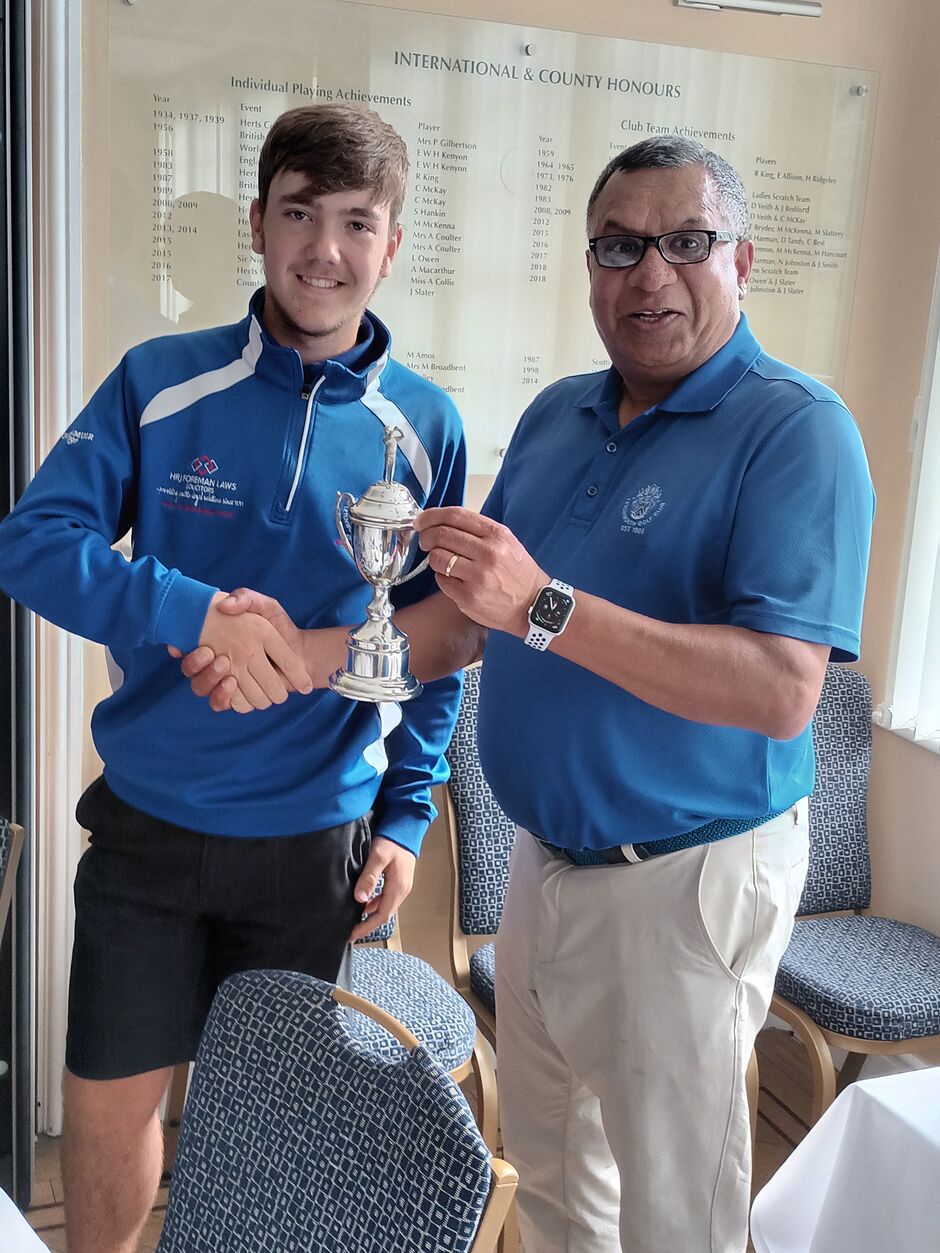 On the 1st June the Juniors had their annual match against the Seniors in the Holden Cup.
Pairings were:
Joe and Freddy VS Satnam Singh and Peter Scholes = Joe and Freddy 3 & 1
Robert and James VS Bill Price and Ciaran McGill = Robert and James win 1 up
Harry and Rhianna VS Bob Donovan = Harry and Rhianna win 2 & 1
Lewis and Oscar VS Terry Mchaul and Kit Millington-Hore = Halved match
Harry and Jayesh VS Andy Stevenson and Steve Foster = Harry and Jayesh lost 6 & 4
Overall = Juniors win the Holden Cup 2022!
Well played to everyone out there!
---
GOLF FOUNDATION GOLF SIXES LEAGUE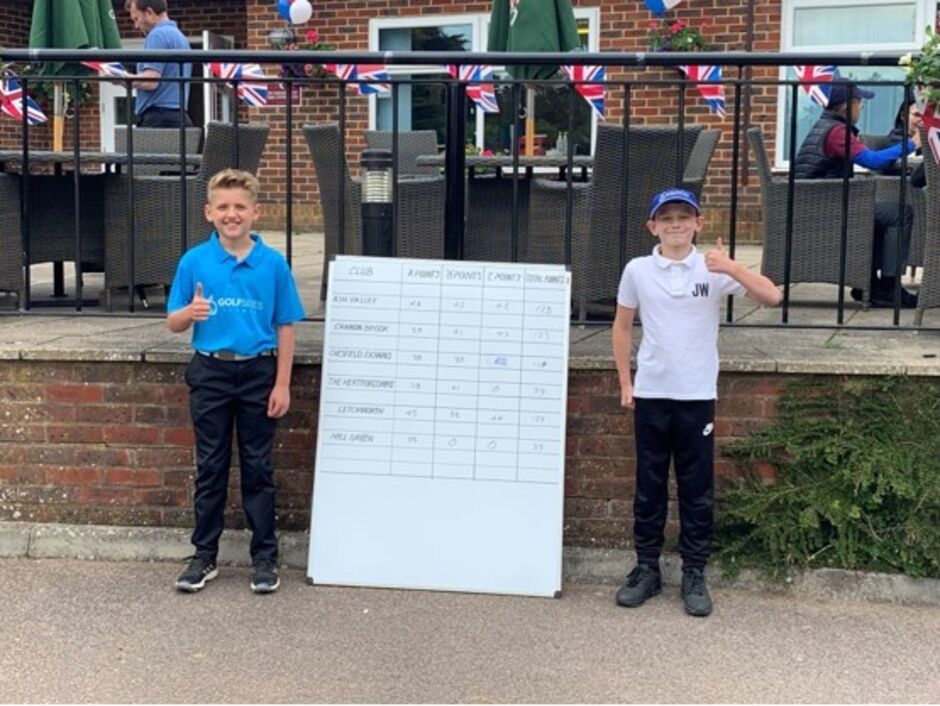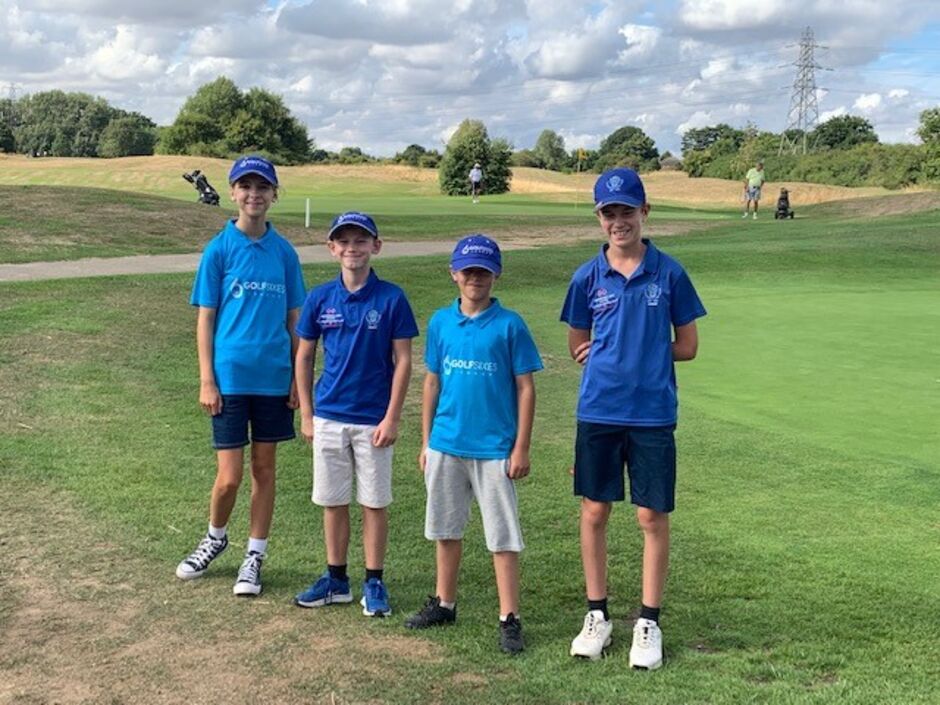 Trialled in 2017 with the support of Sport England, GolfSixes League was created to give juniors the chance to play in a competitive golf league with other local golf clubs. Its aim was to increase the number of regular players and junior members at golf clubs and our results show the format is working. What's more, GolfSixes League is attracting youngsters from non-golfing familes.
GolfSixes League involves children playing six holes in pairs using the highly inclusive Texas Scramble format, accumulating points for their team of six. This format is designed for non-handicap players, or 37 and above.
Letchworth are part of the League in 2022 and below are all the dates our team will represent the club.
| | | |
| --- | --- | --- |
| Venue | Date | Result |
| Letchworth | 1st June | Result |
| Ash Valley | 23rd July | |
| The Hertfordshire | 1st August | Result |
| Cannon Brook | 7th August | Result |
| The Hertfordshire | 15th August | Result |
| Mill Green | 23rd August | Result |
| Letchworth (FINALS) | 17th September | Result |
| | | |
---
MATTHEW AMYOTTE TROPHY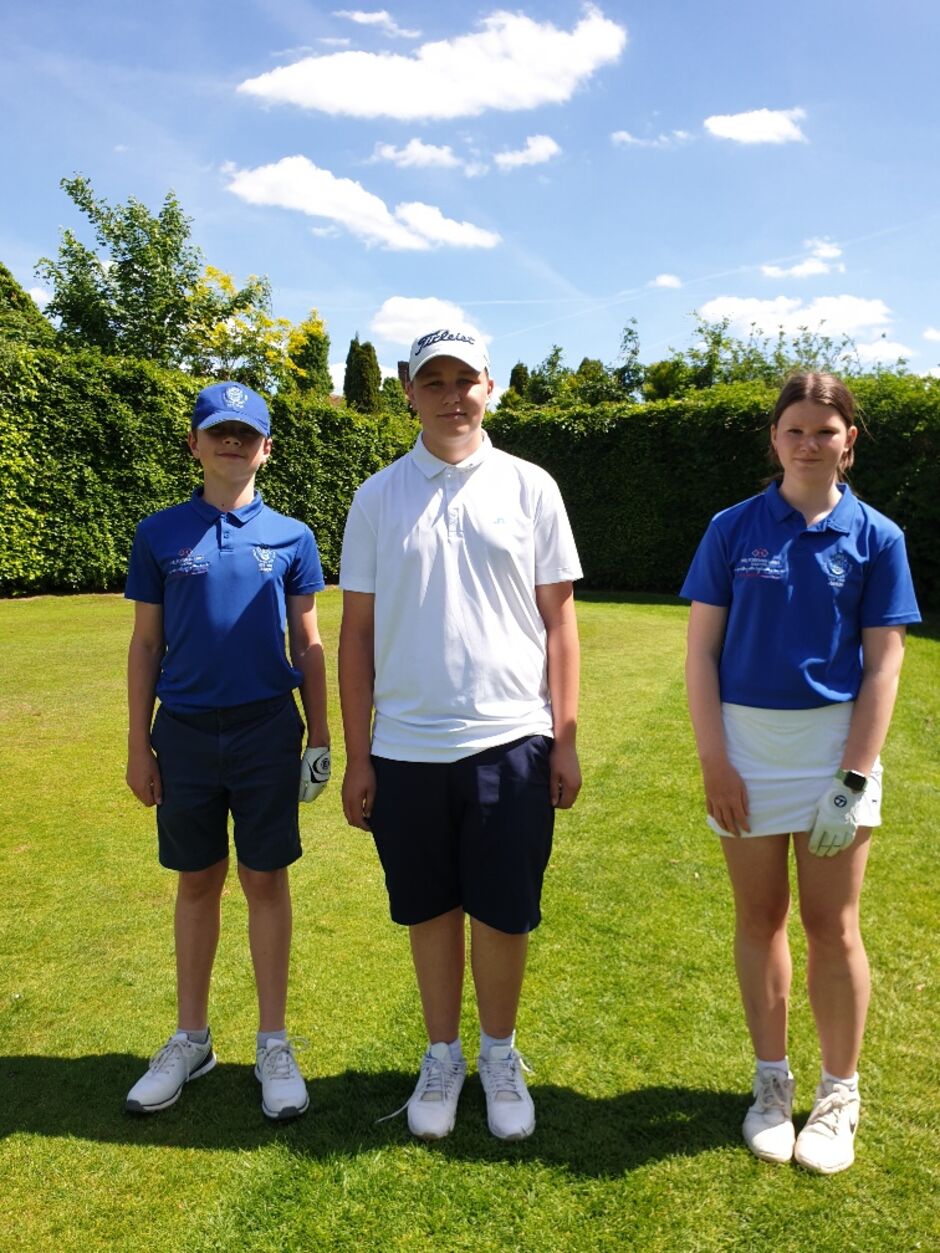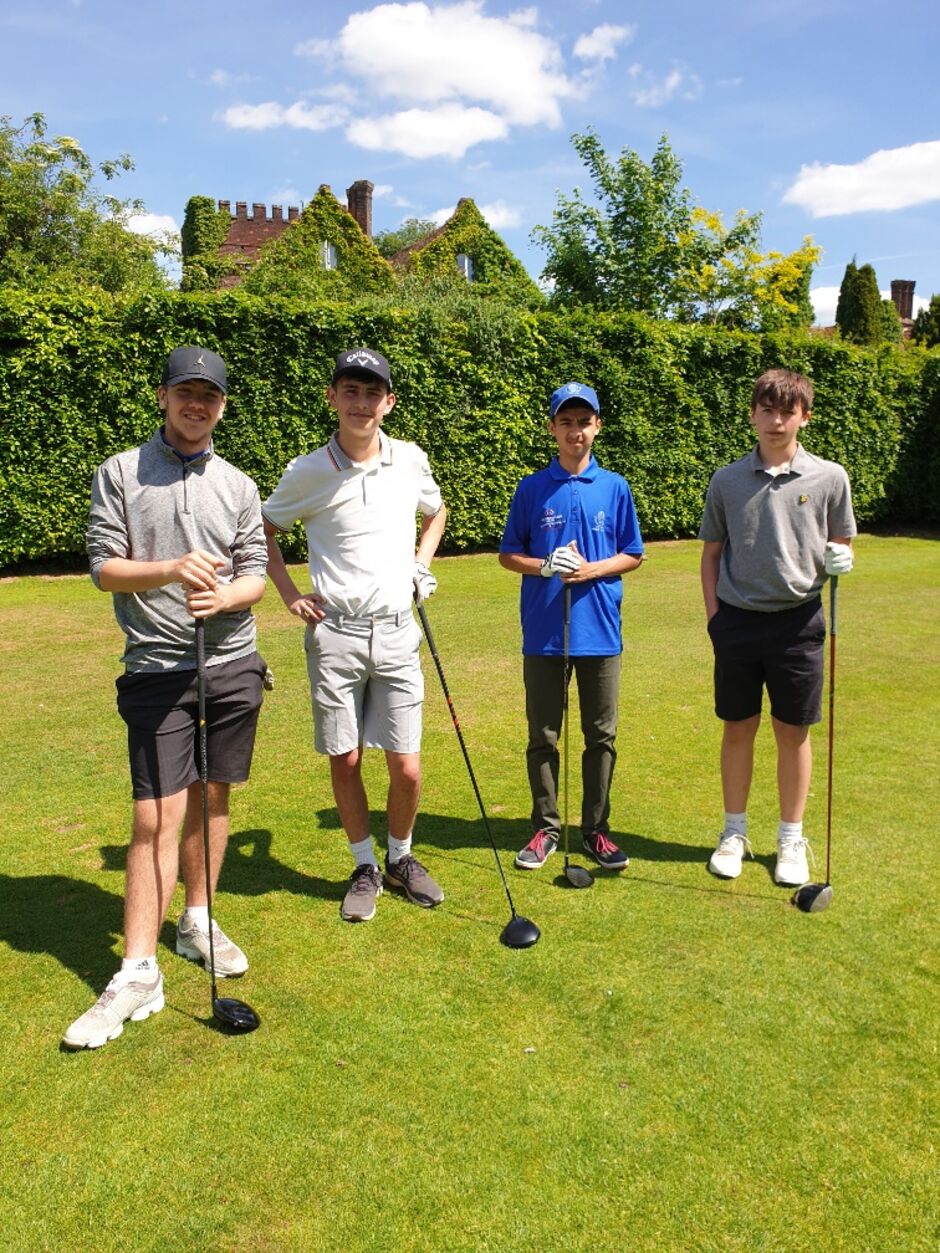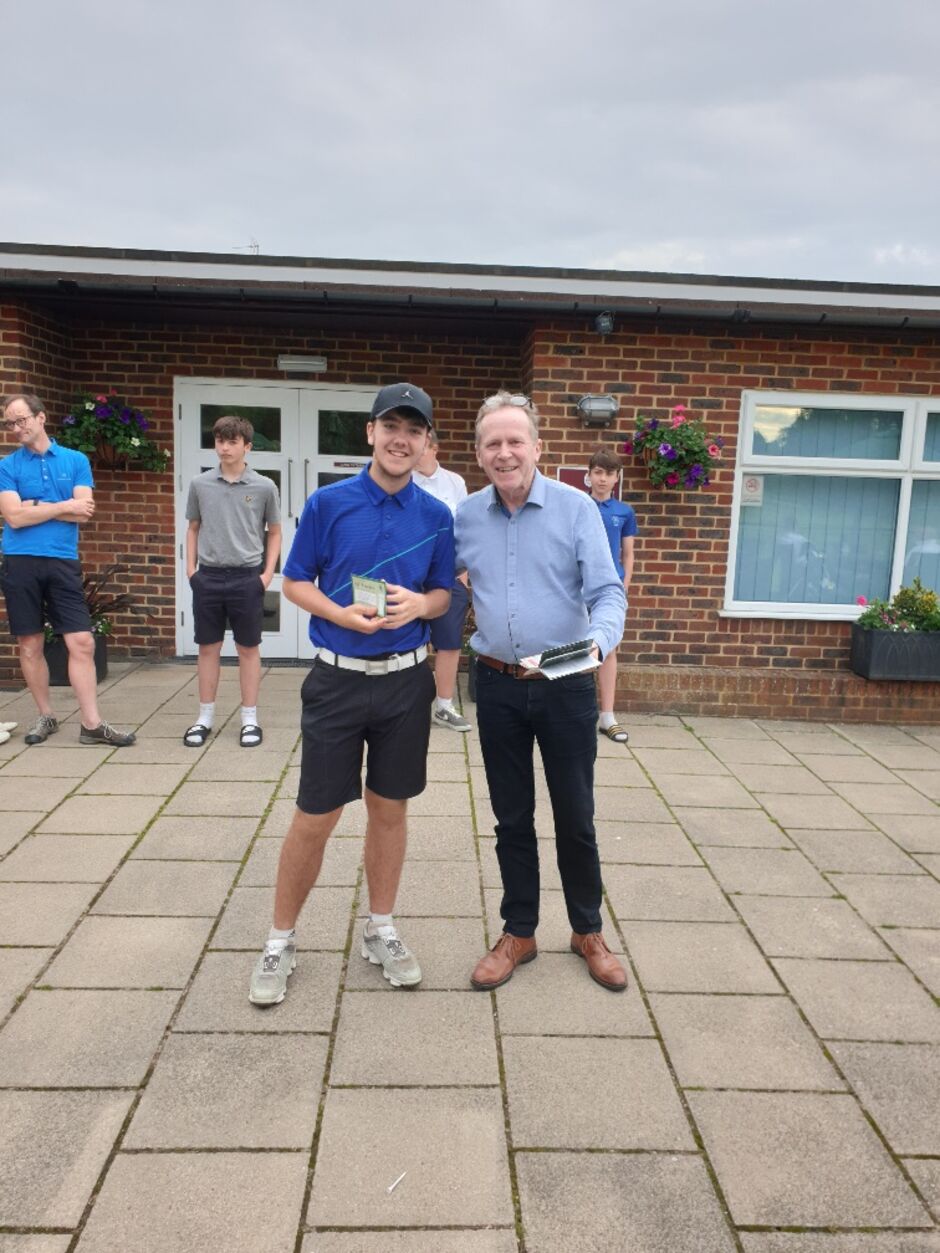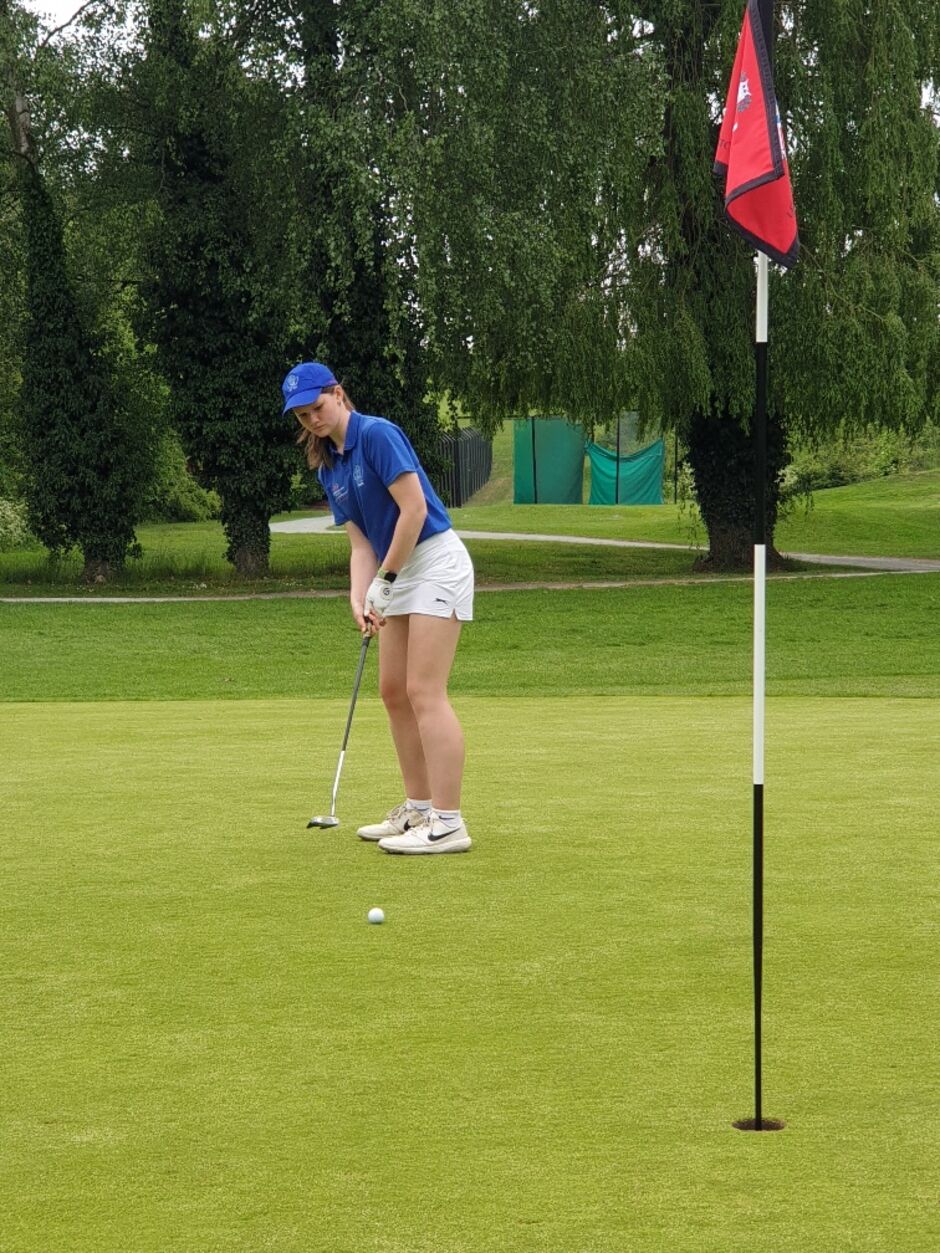 The popular Matthew Amyotte Salver competition was played on Sunday 22nd May
The number of entrants were limited owing to GCSE & A Level exams however the standard of golf from our Juniors continues to exceed expectations. The weather was perfect and the course is improving despite the lack of rain.
The winner of the closest to the Pin on the 2nd hole was Rhianna Askey with Vice Captain Harry Catlin winning the Scratch prize with a gross 80.
For the main event scoring 39 Points – Harry Hall was 2nd and the winner of the MA Salver with a fantastic 43 Points was defending champion - Daniel Green.
---
Julie Cranston Cup
---
Easter Scramble with a Twist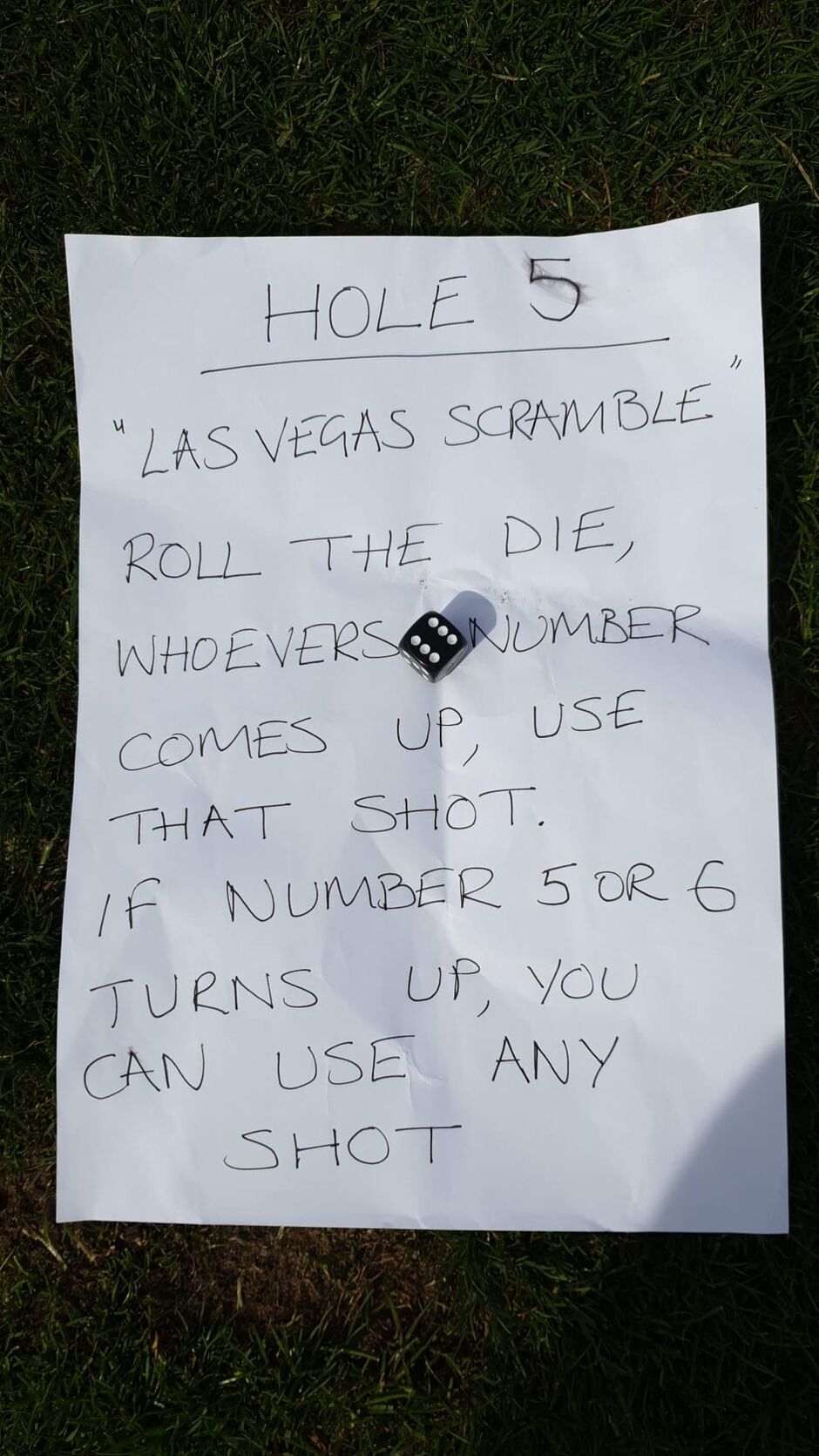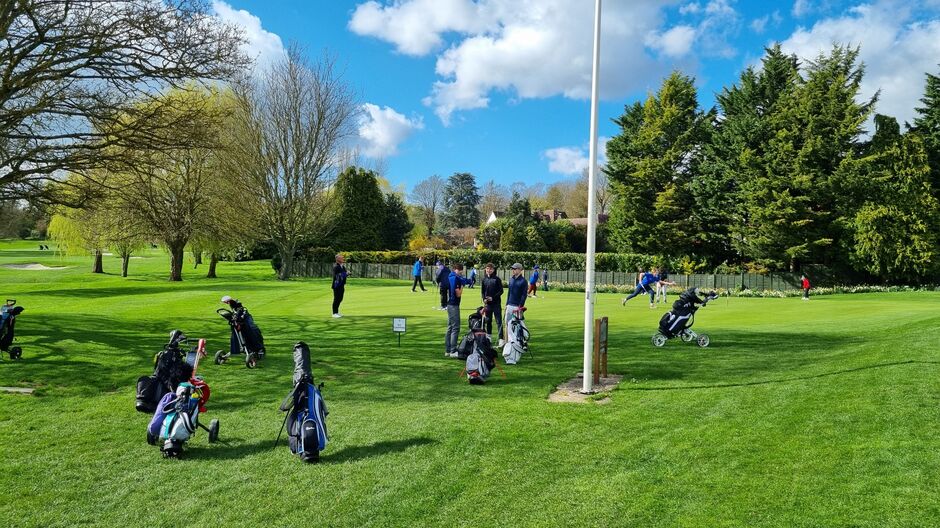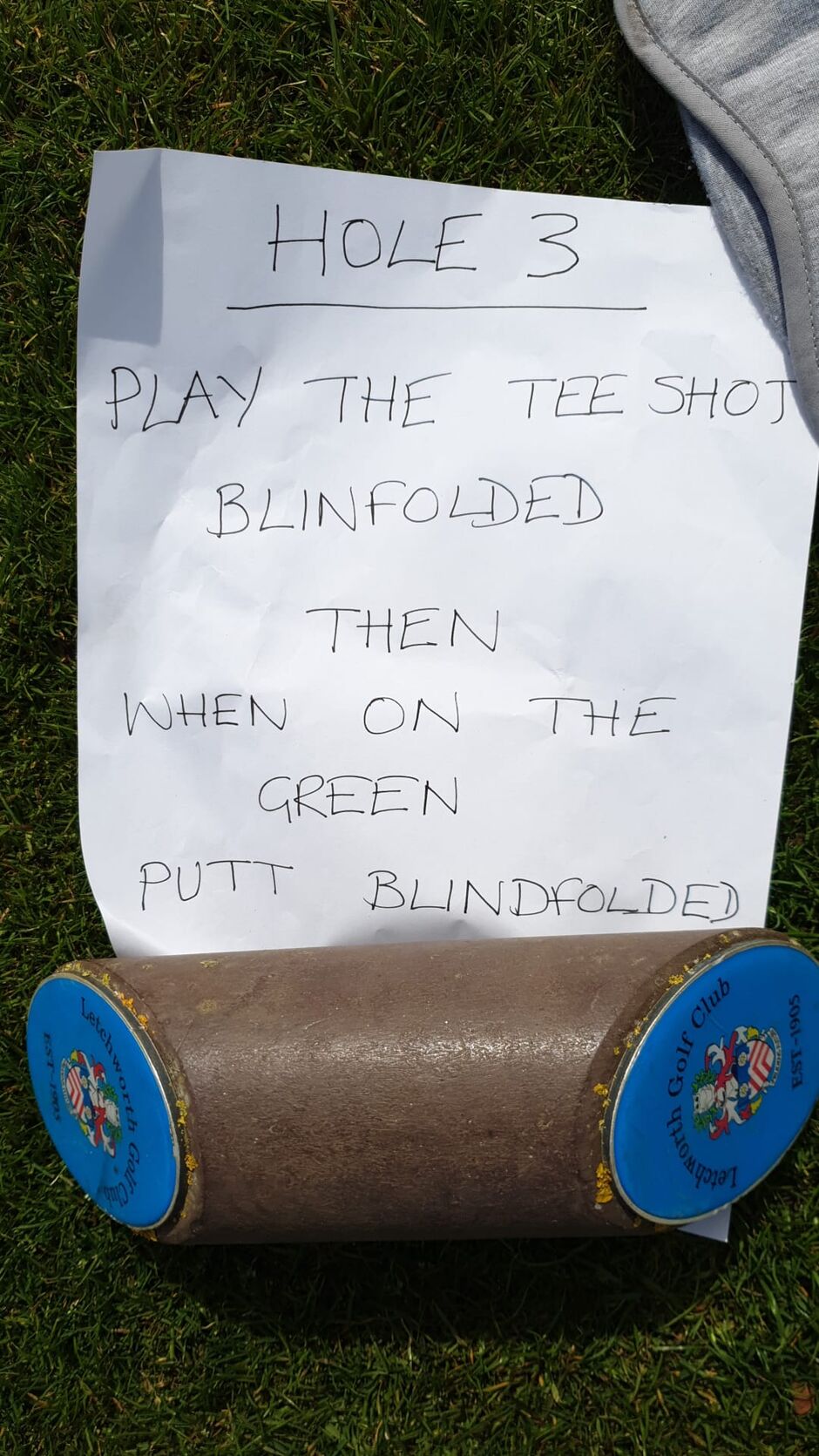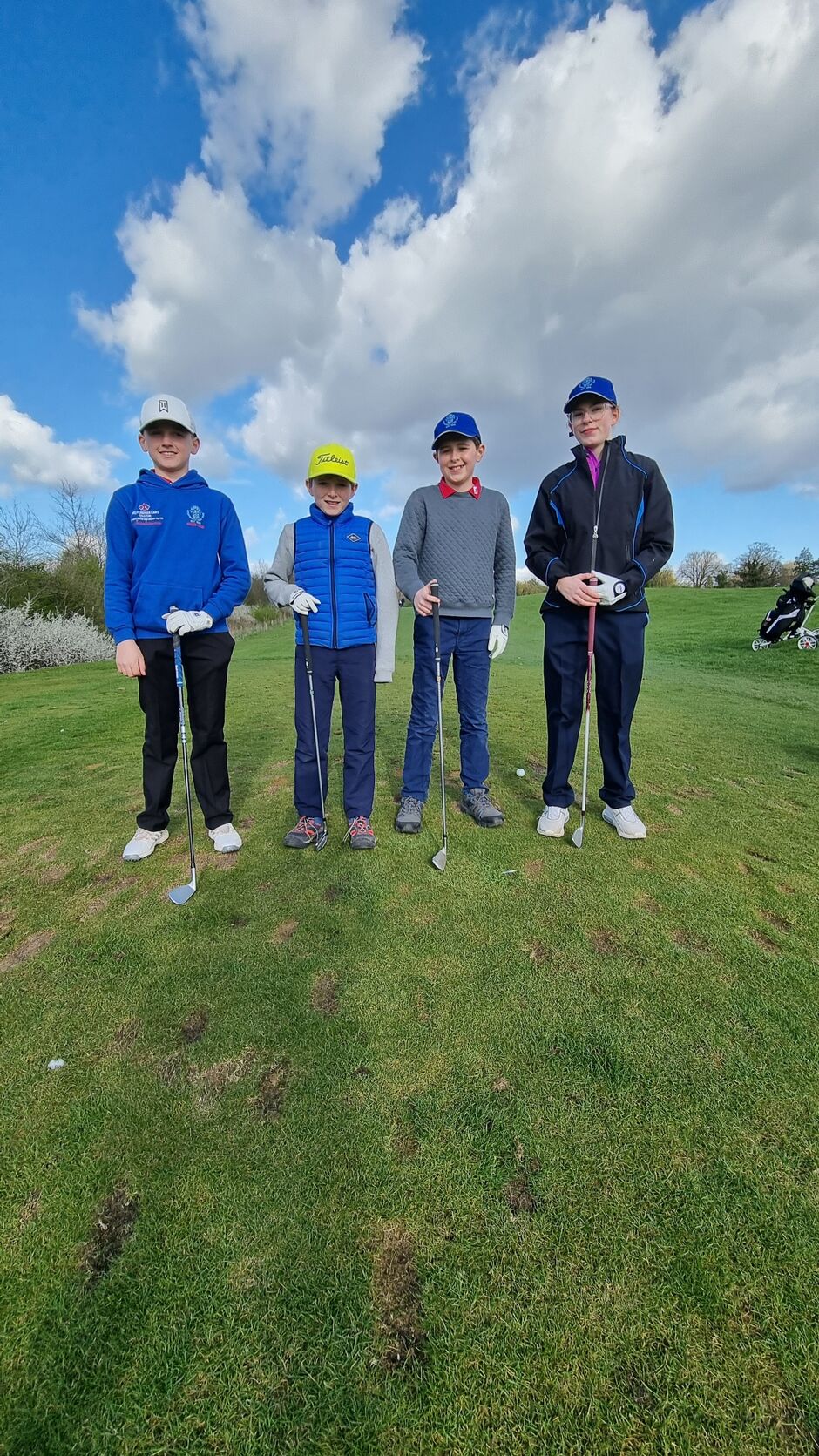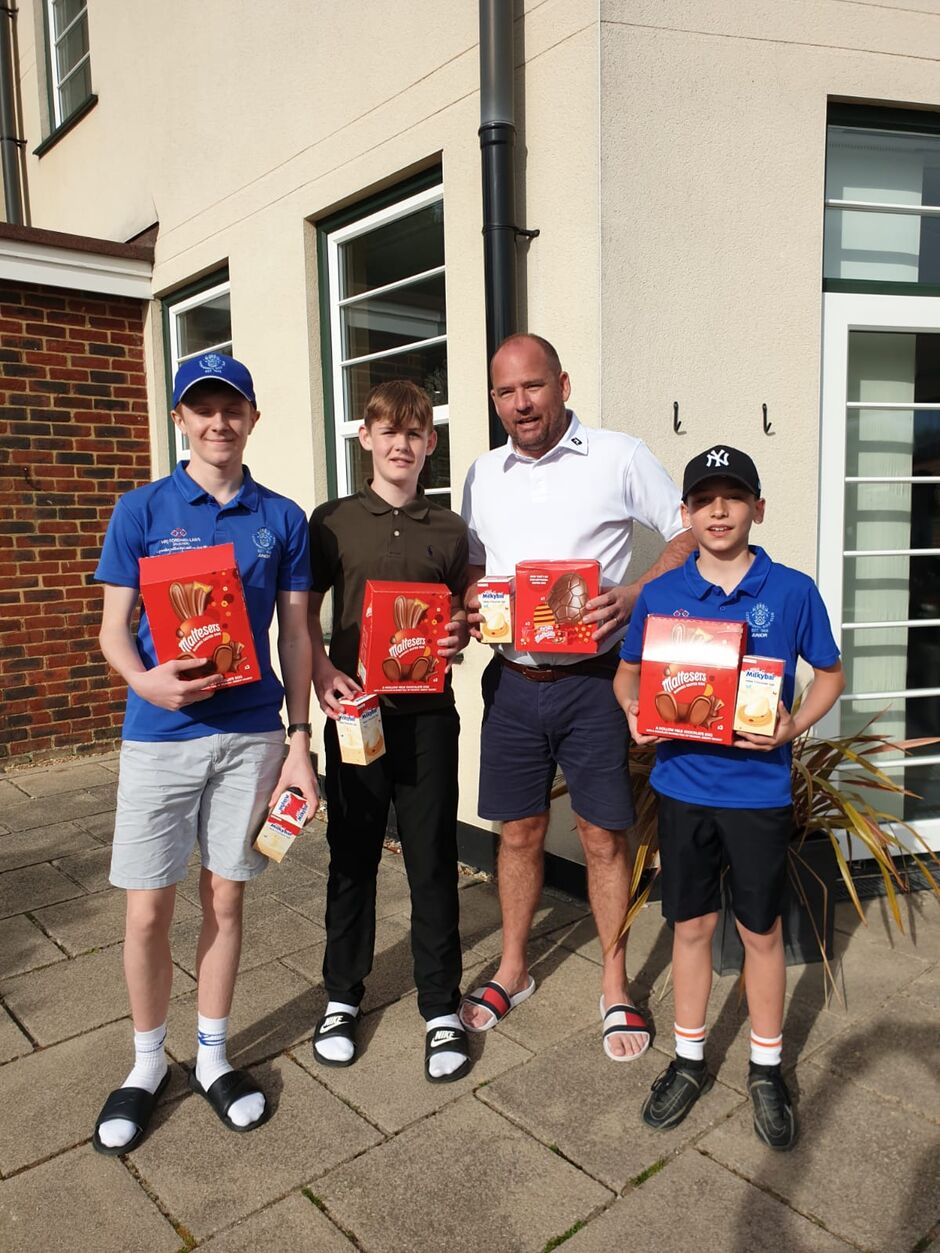 5 teams of 4 players took part on the 17th April. With Directors of the Mike Amos Foundation on hand to support, it was a brilliant day enjoyed by all. With all the players presented an Easter Egg, a huge thank you to the Mike Amos Foundation for sponsoring the day.
Congratulations to the winning team of Freddie Lynch, James Andrews, David Andrews and Austin Hanbury.
---
County iTour News!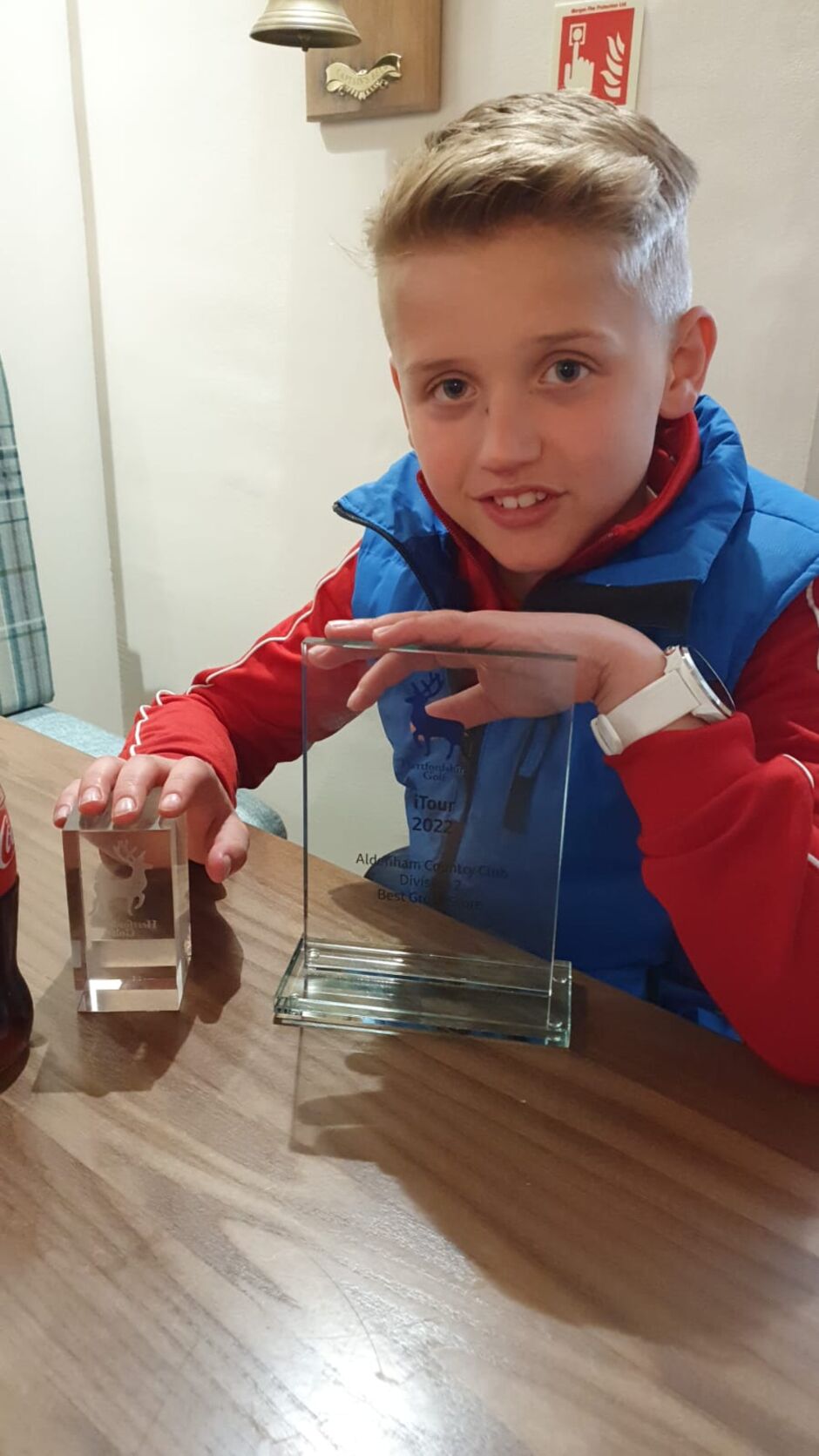 The first iTour event took place at Aldenham Golf Club on the 3rd April 2022. The iTour was created as part of Hertfordshire Golf's junior development pathway as a link for players moving from par 3 Futures Tour events to a more challenging full-size course. The iTour is for players with no official handicap or a high club handicap who need to improve their skills, gain confidence and playing experience.
Two of our Juniors took part, Owen White and Jacob Lovatt. Owen won Division Two with a great score of 43 gross. Jacob finished tied for 3rd in Division One. Congratulations to you both and a brilliant start to the season.
For more information on the County iTour and Futures Tour please click HERE.
---
THE BRAY TROPHY 2022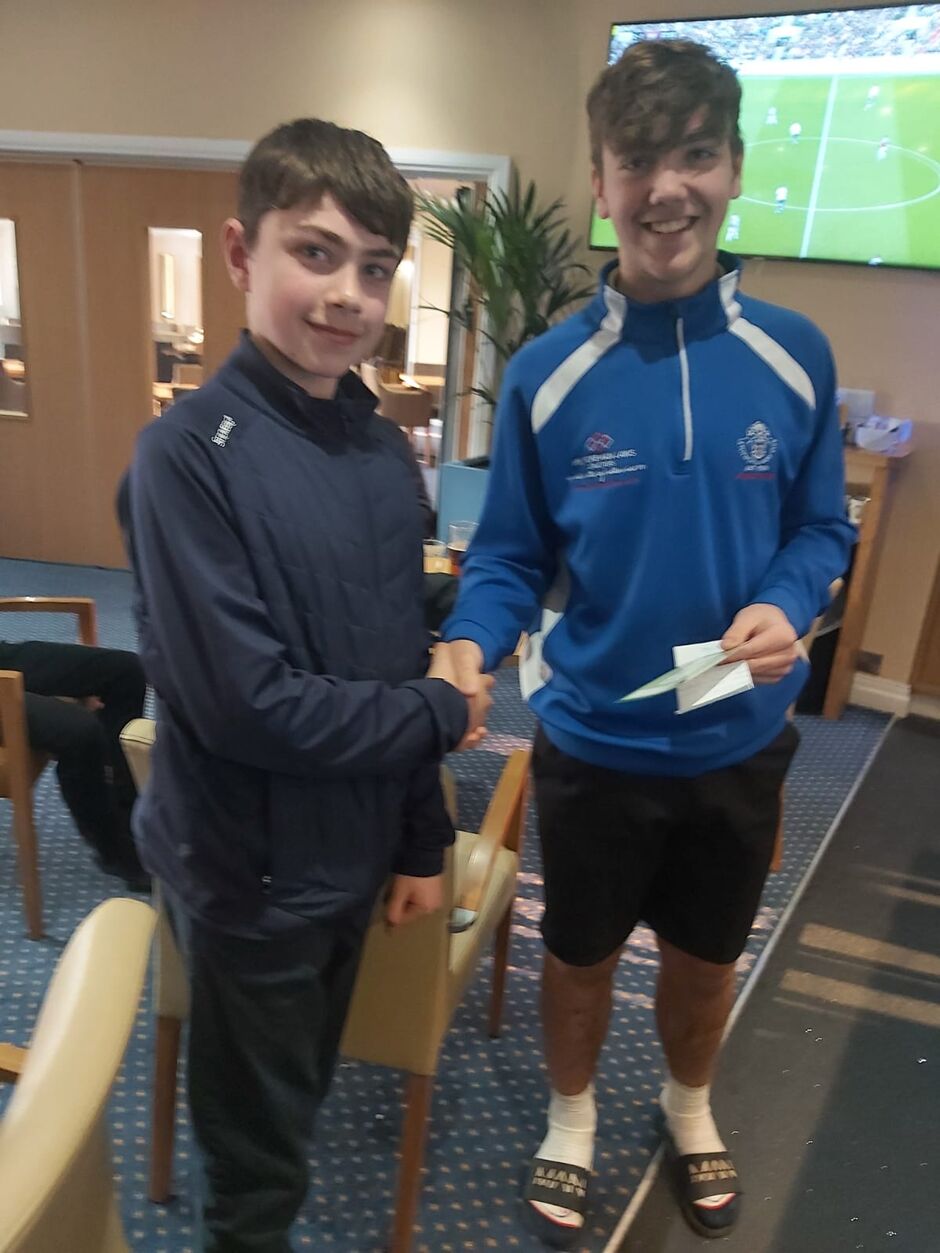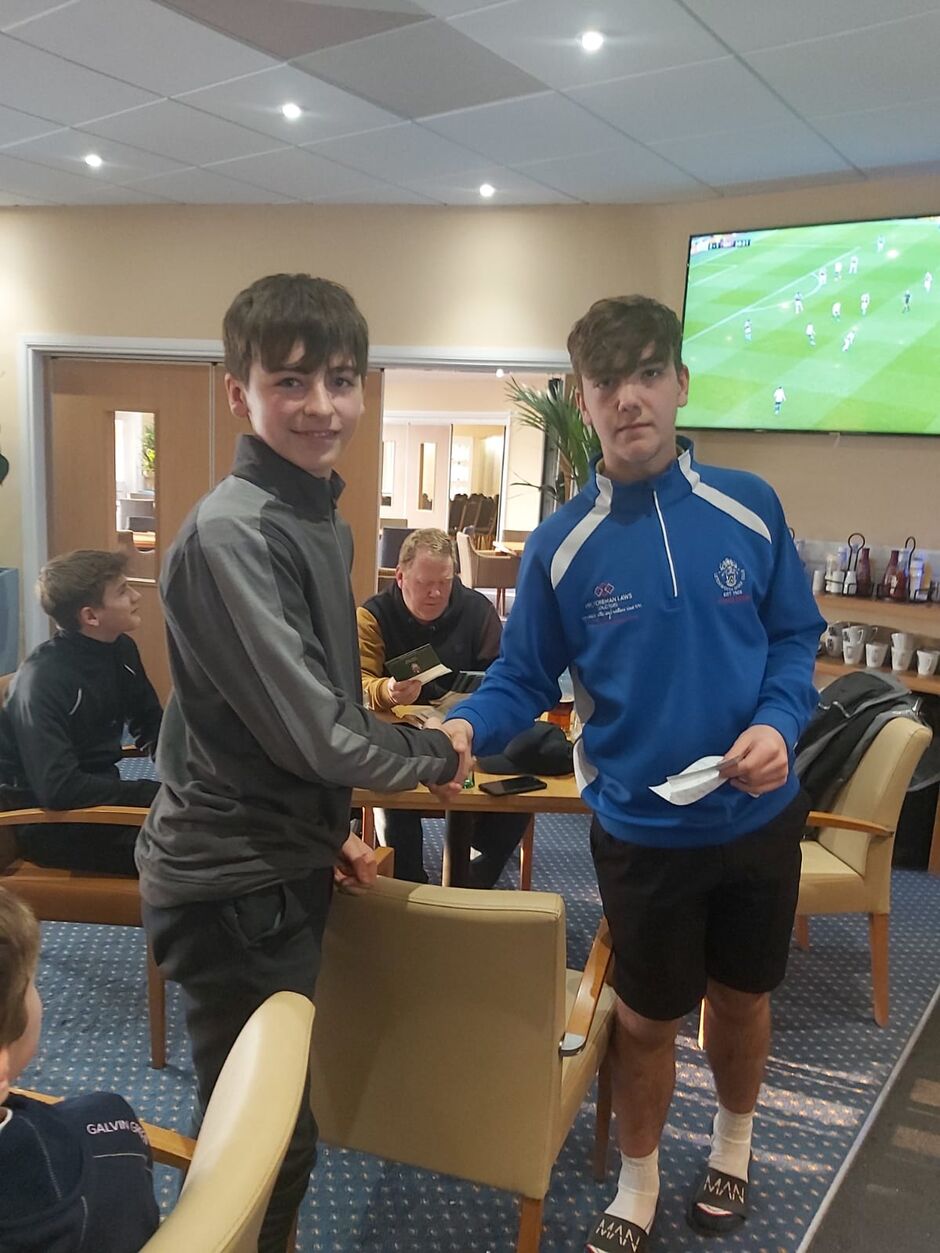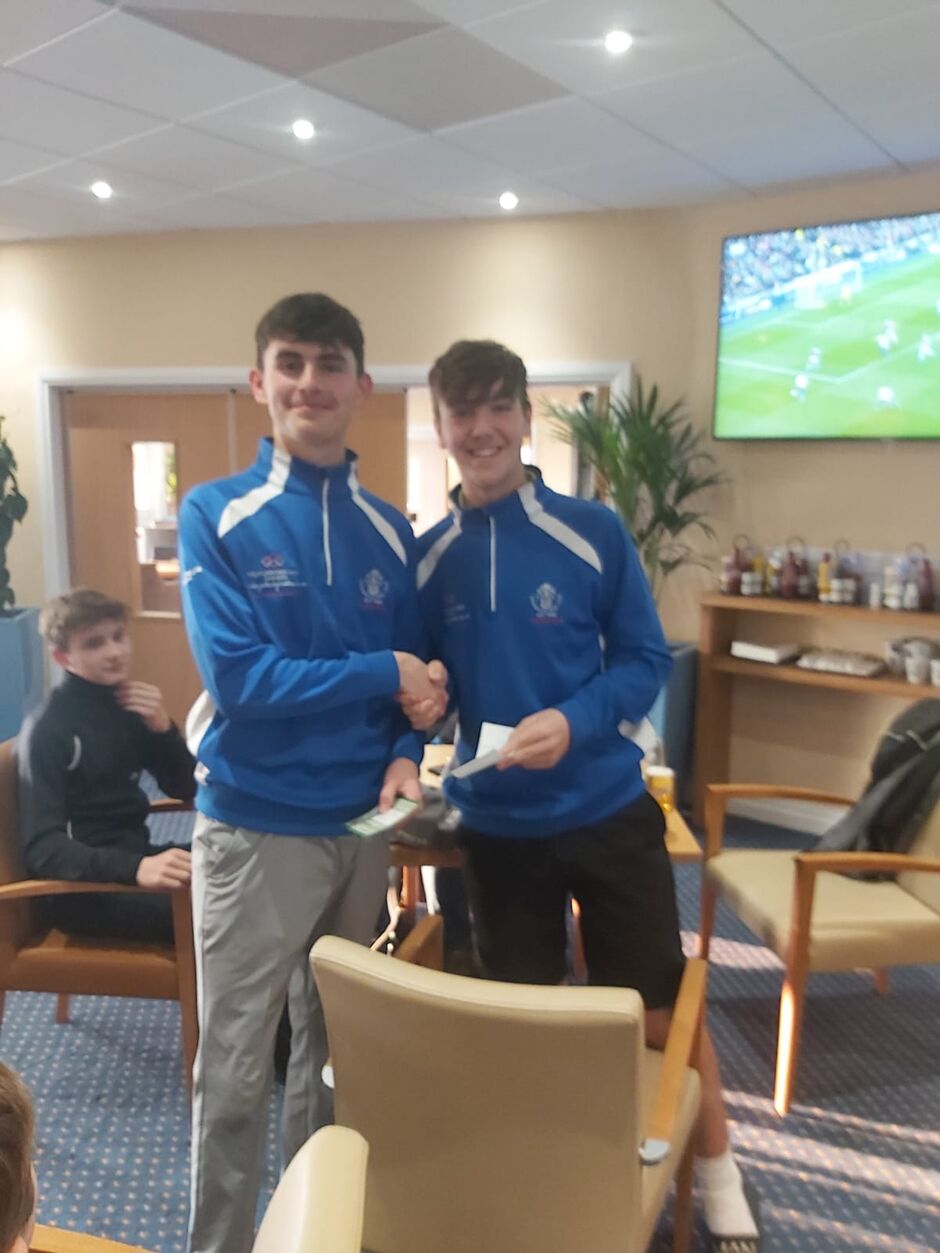 The Bray Trophy was played last Sunday.– this was an 18 hole stableford competition. The conditions were perfect with blue skies and a light breeze. We had 10 players competing and the scoring was lower than expected.
First to finish was Joe Clark who carded 36 points and won the Scratch prize. In 2nd place was Harry Hall with 40 points and the winner of the Bray Trophy with 41 Points was Oscar Kahlow. The prizes were presented by Junior Vice Captain Harry Catlin.
The next Junior event is the Annual Match against LGC Ladies being played on 13th April for The Quin Cup.
The next competition is the popular Easter Egg Scramble on Sunday 17th April – this is the official Welcome Event for 2022 LGC Junior golf season – Open to all LGC Academy & Heritage Junior Golfers – the afternoon starts with a Texas Scramble played on The Academy course in teams of 4 over 3 rounds (18 Holes) this has a Shotgun Start @ 14.00pm and every player will win a prize.
After the golf the teams move across to the Putting Green in front of the Clubhouse for a putting competition with a Twist …… each team will have a Parent / Guardian or Family member – Food and a Welcome drink will be available for everyone who comes along and we will be announcing all the exciting plans we have for Junior Golf at Letchworth this year. The day allows all our juniors to play in a fun event, meet the Junior Organisers and the new Junior PGA Coach Matt Bailey.
This event is being sponsored by The Mike Amos Foundation who have kindly agreed to cover the cost of prizes / drinks & food.
Entry is now open online or contact Junior Convenor, Mark Clark who is helping Ashley Catlin to run the competition. sam.mark.clark@ntlworld.com
---
THE AMOS TROPHY KICKS OFF THE SEASON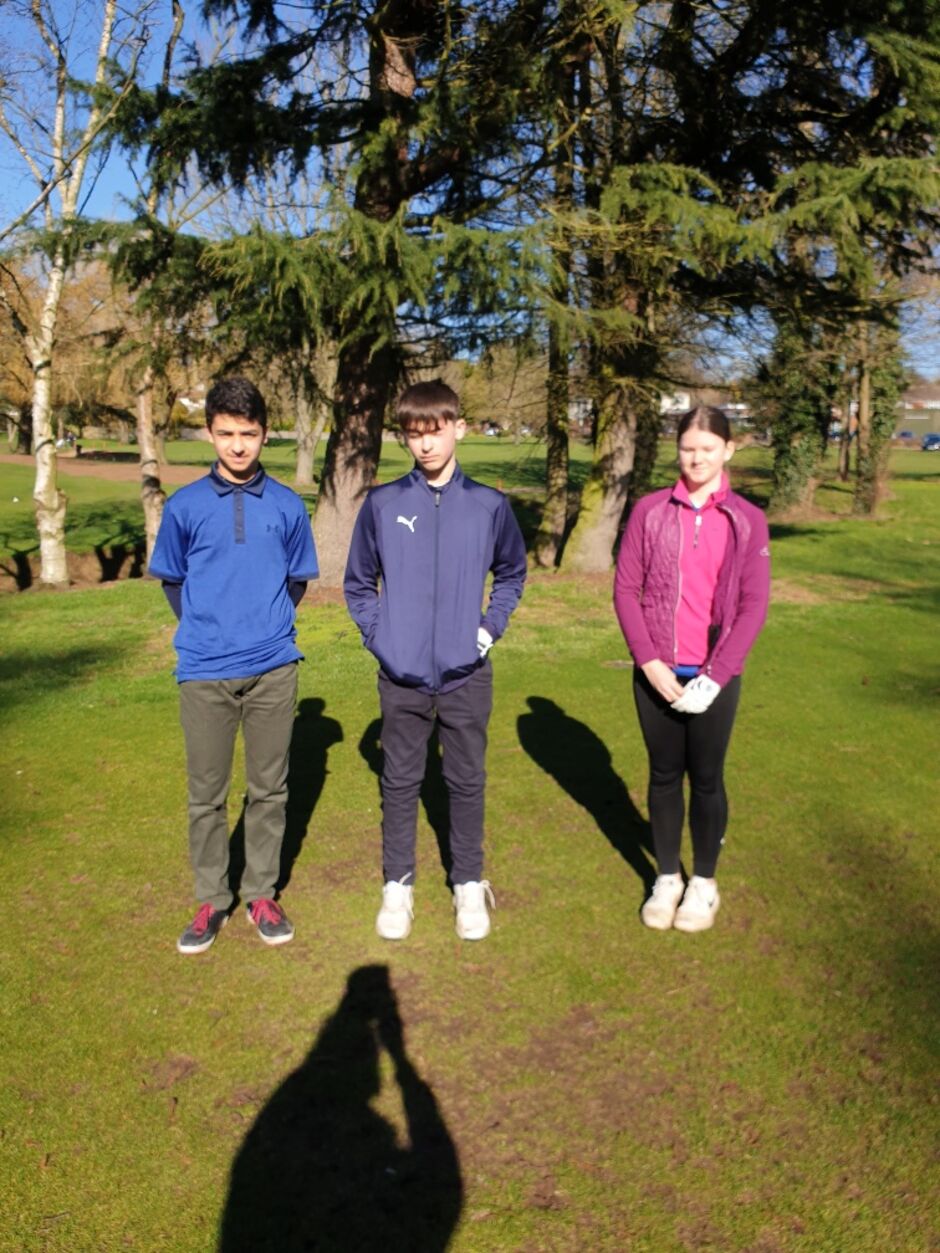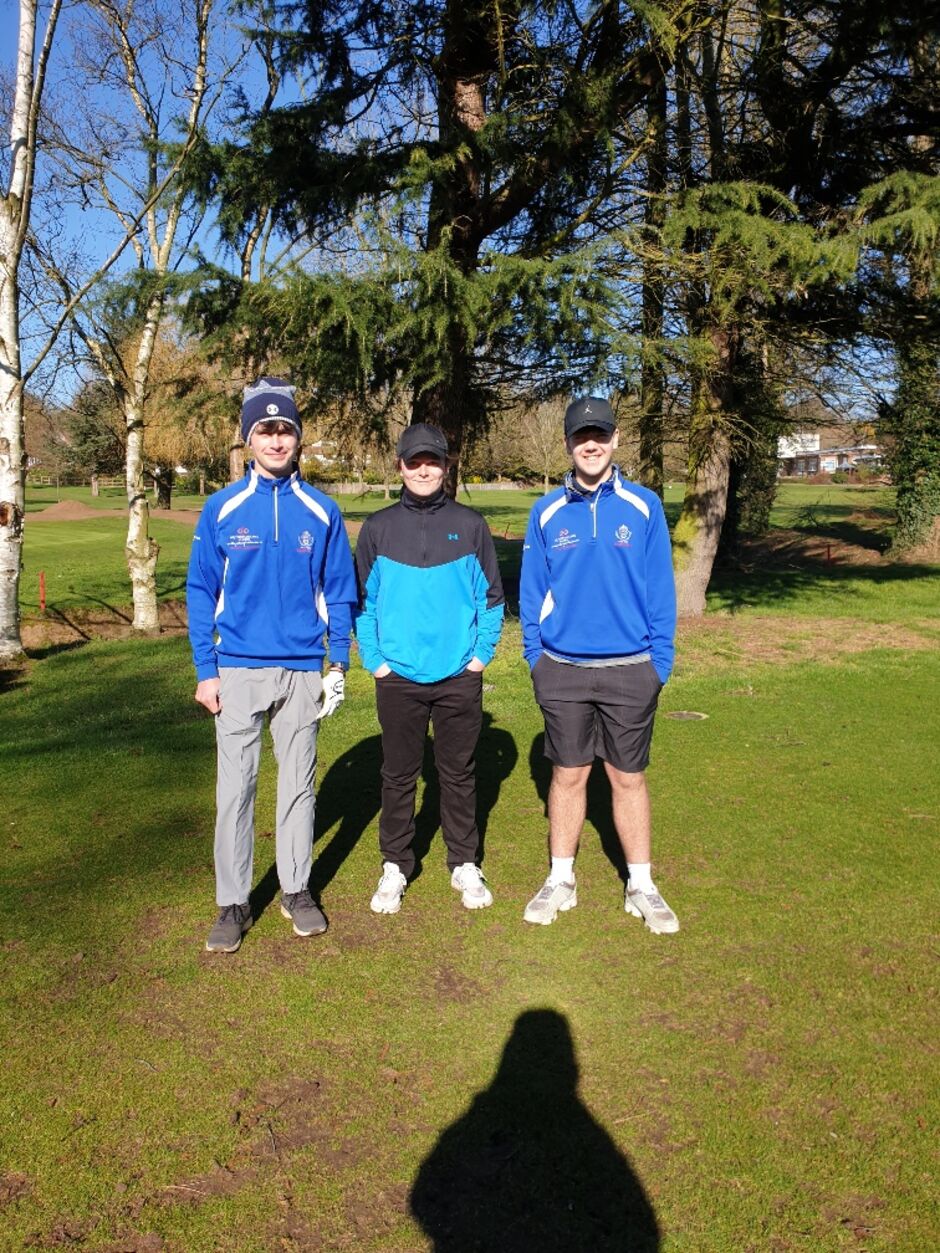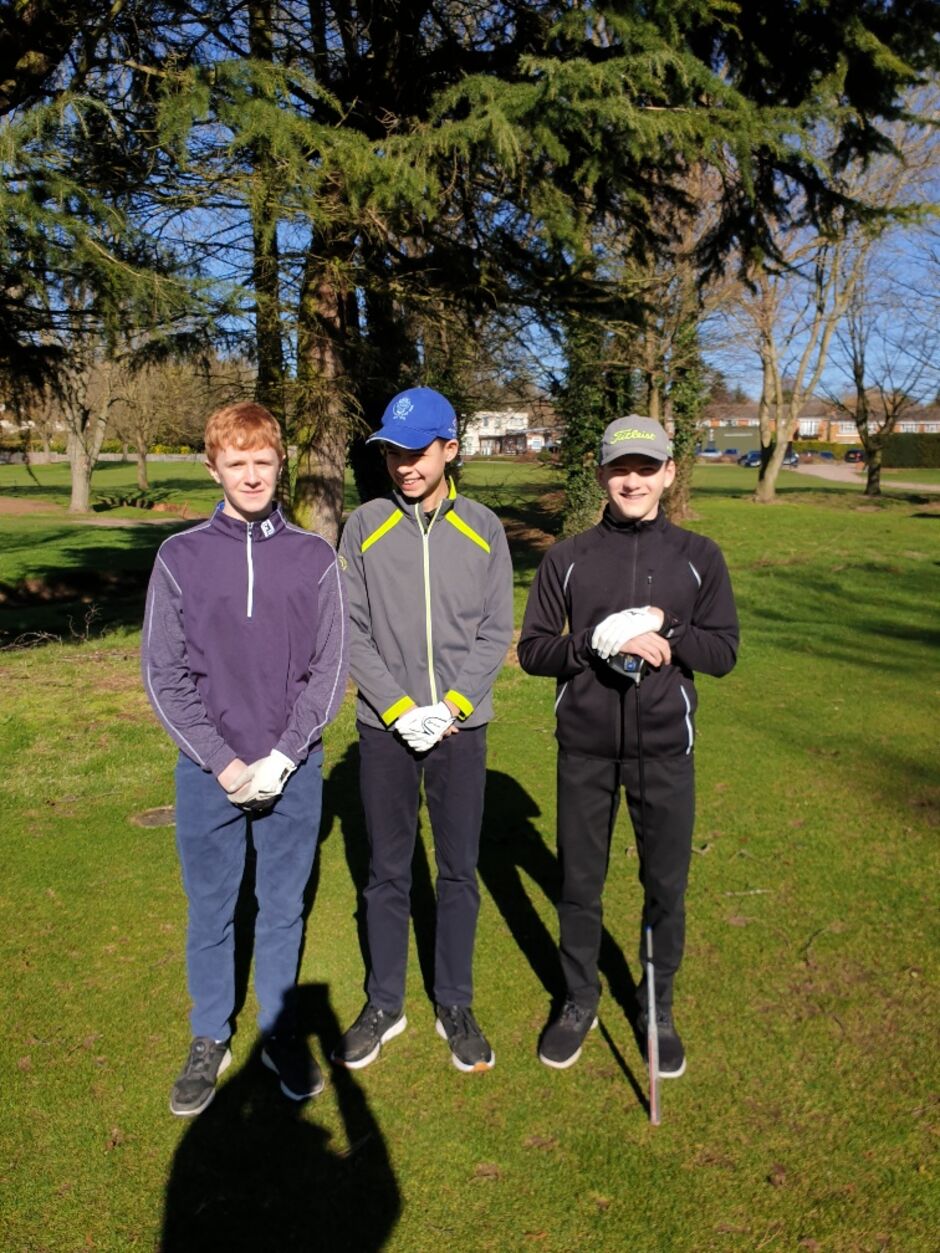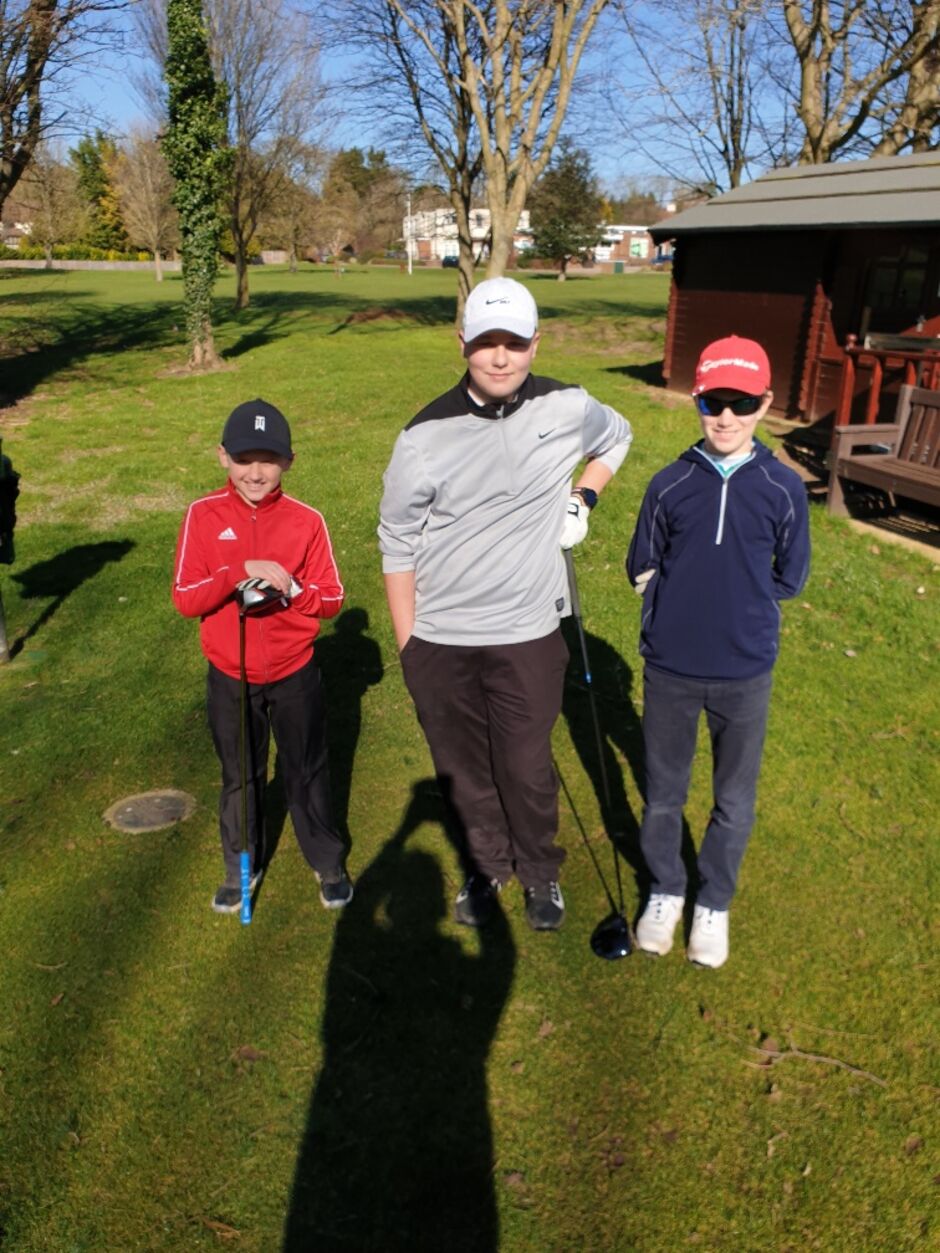 At last we started the LGC Junior season with The Amos Trophy – this was an 18 hole stableford competition played last Sunday 27th February.
The conditions were perfect with blue skies and a light breeze. For many of us this was the first time had had the chance to see the damage caused by the recent storms and the extensive ground works that are being done to improve the course.
We had 12 players competing and the scoring was much lower than we had expected. First to finish was Oscar Kahlow who carded 35 points which included a birdie on the 6th scoring 5 points. The last group included Jacob Lovatt with 39 points and the winner on countback, also with 39, was Daniel Green.
The Gross prize was a tie with Joe Clark coming out the eventual winner.
The prizes were presented by Junior Vice Captain Harry Catlin.
The next competition is The Bray Trophy on Sunday 20th March. Entry is open now online - HERE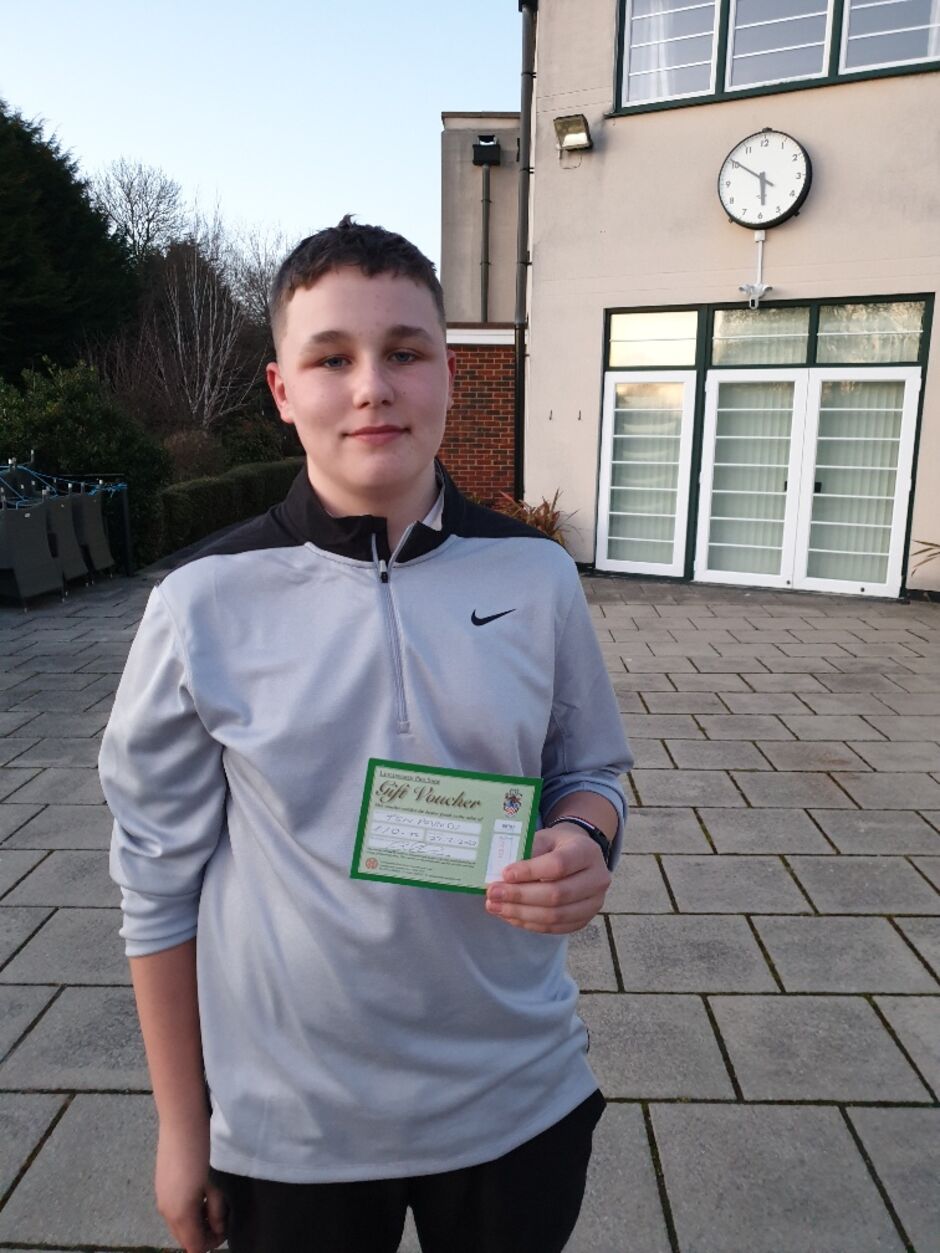 Report by Peter Lennie
---

---
Christmas Texas Scramble 2021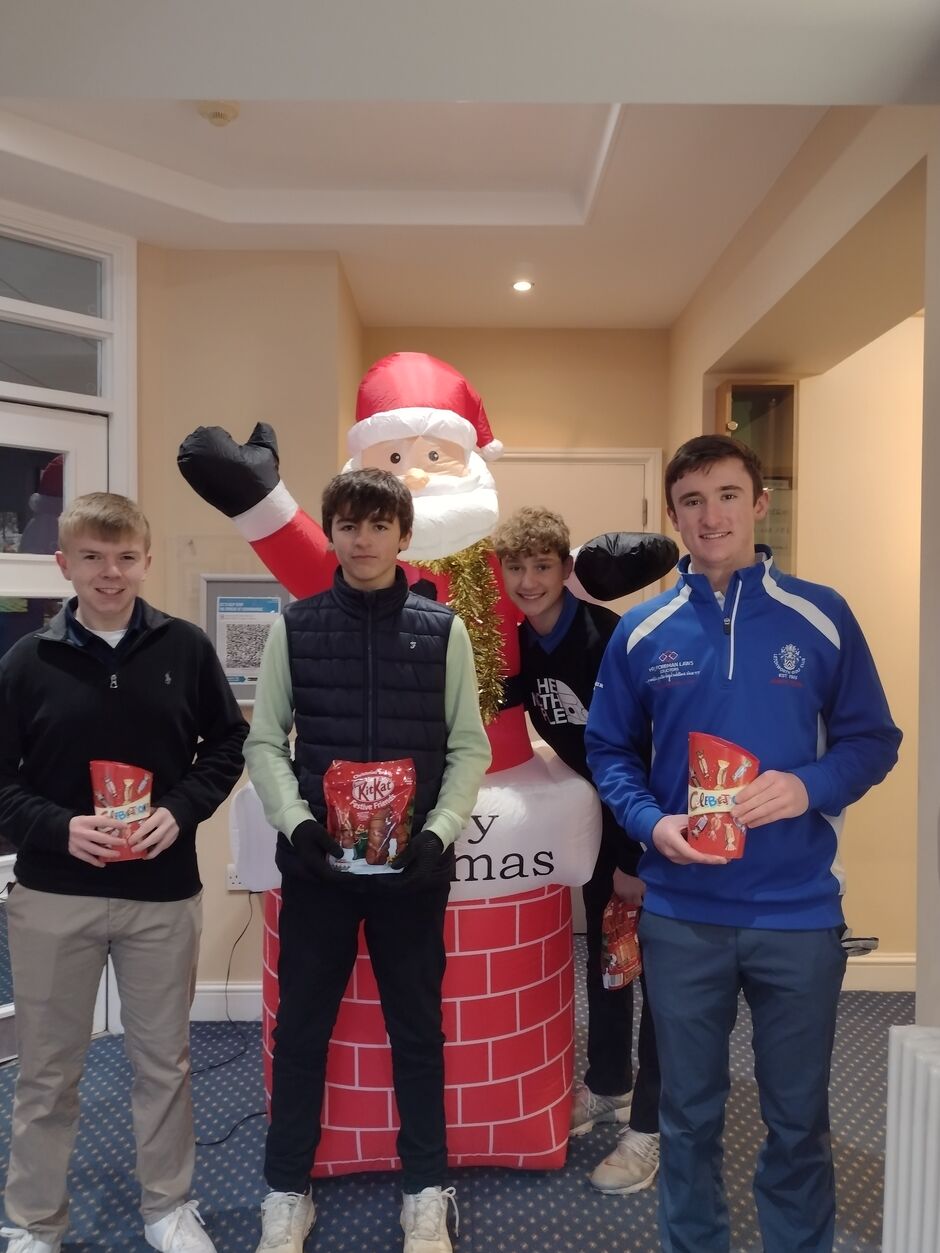 On the 22nd December the Junior section took to the frosty fairways to play in the fun Christmas Texas Scramble. Our winners, after a thrilling putt off, were Oscar Earle, Sam Reay-Jones, Nathan Lloyd and Oscar Kahlow with an impressive 2 under score. Congratulations to all who took part and enjoy the chocolates!
---
2021 Golf Sixes League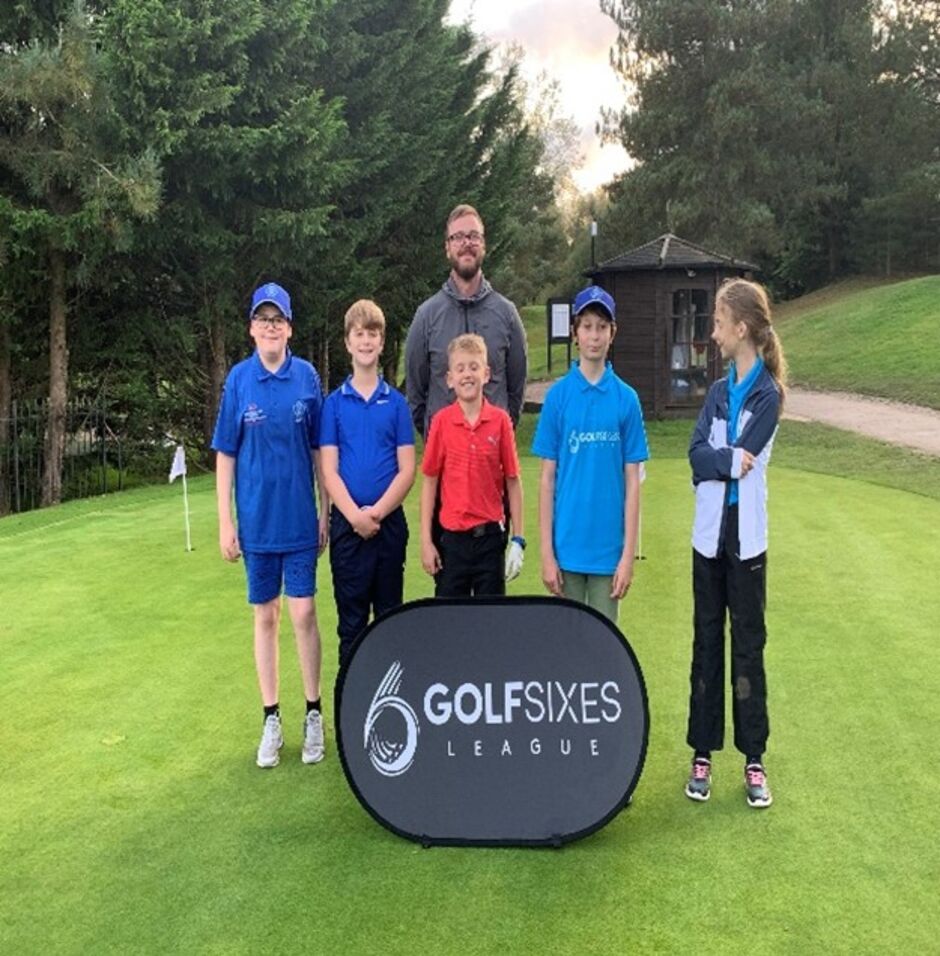 Golf Sixes North Hertfordshire League Finals – Essendon - October 10th, 2021
During sunny spells on the old course at Essendon Country Club, event host senior professional Freddie Russell, set out a course of six holes measuring between 100yds to 180 yds which proved to be quite a challenge on a very wet course for the young players. However, this did not deter the players who racked up impressive scores, once again the parents played a brilliant supporting role of keeping the team's scores, what would junior golf do without them???
The Golf Foundation regional manager Alice Low prepared the trophy table with an array of medals and certificates plus the winner's trophy and presented them to the team members.
The eventual league winners were Cannons Brook with 43.5 points, who posted strong results during the previous five rounds, runners up were Chesfield Downs on thirty-nine points.